We are now a couple of weeks into the new year and round this time my mind starts wondering and thinking about all the new and upcoming releases for this year.
Now I have to admit that when I looked at 2020 releases lists, I was not enamoured by 98% of the books. Hardly anything jumped out at me. However, I was clearly looking in the wrong place. Whenever I want new or upcoming releases, I should just go to Justine's Channel @IShouldReadThat because she always seems to have the ARCs of books I've not heard of that sound amazing!
This list jumped from a meagre 4 books to 11 or 12 books in an instant and I'm now incredibly pumped for all of these books.
Let's forego much of the rambling and get right in because there is a lot to get through!
NB: all publication dates are the UK publication dates.
---
Crescent City: House of Earth and Blood by Sarah J Maas
Did I say super pumped? Actually, I might rescind that comment for this one book because I can't decide whether I would want to read this or not. Despite a few issues, I did end up enjoying Throne of Glass and A Court of Thorns and Roses, but I'm not sure if I'm tired of the Fae and her type of Fae in particular. It's a difficult one. However, I'll keep it on my radar and maybe make my mind up once those first reviews come in.
Publication Date – 3rd March
Chosen Ones by Veronica Roth
It is ten years since five teenagers defeated an enemy known as The Dark One and most people have moved forward, apart from Sloane who still seems haunted by the fame and the Dark One. On the anniversary of peace, a trauma hits that completely derails their peace and uncovers that the Dark One's reign never truly ended.
I love this concept! We all hear books having "chosen one" characters and them having to fulfill their destinies, but there are rarely books that explore what happens afterwards whether it is good or bad. This book seems to do just that and I'm totally here for it.
Publication Date – 7th April
The Foundling by Stacey Halls
After loving The Familiars with every fibre of my being, I was never not having this on my list. This time we are in Georgian London in 1754 and following two women whose lives intertwine around a young child – Clara – who was left at the Foundling Hospital as a baby. It looks like it will explore themes of motherhood, family, class, society and everything I love in a Historical Fiction.
Publication Date – 18th February
Court of Miracles by Kester Grant
Don't let the initial Hunchback of Notre Dame vibes confuse you, especially as the title shares its name with a song from the Disney film (conveniently one of my favourites!). This is a reimagining Victor Hugo's other famous novel, Les Misérables, with also elements of Rudyard Kipling's The Jungle Book. It is set in an alternate 1828 Paris in the days following a failed French Revolution and Eponine (Nina) Thenardier has to go head to head with royalty to save her adopted sister Cosette (Ettie). As well as meandering the dark depths of Paris, she goes deep into the court of Louis XVII where choices of blood, guild, betrayal and war will divide her.
Alternate history, French classics, and retellings. Yes please!
Publication Date – 2nd June
A Throne of Swans by Katherine and Elizabeth Corr
A Swan Lake reimagining, A Throne of Swans follows Aderyn navigating Atratys after the death of her father. Now living under the brutal rule of her uncle, the King, she has to venture out into the Citadel to uncover the truth of her past, deal with a secret she's hidden since her mother's death, and protect the only home she has ever known.
I really like the writing style of The Witch's Kiss trilogy despite only having read the first book, and I'm intrigued to find out what this series will be like. I've heard decent reviews so far so it sounds promising.
Publication Date – 9th January
The Unlikely Escape of Uriah Heep by H.G.Parry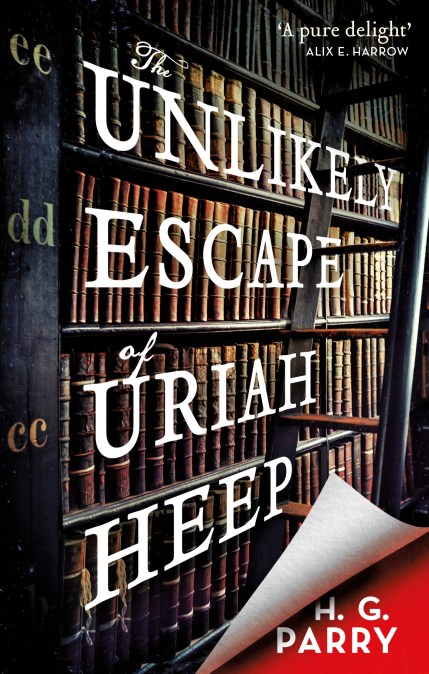 Okay, this sounds fabulous. Our MC Charley Sutherland has a hereditary magical ability to bring book characters into the real world, an ability he cannot quite control. His older brother Rob doesn't possess this skill and lives his life as mundane as it can be. He hopes that if Charley doesn't use his magic, it will disappear and stop causing chaos. However, literary characters are popping up around the city and creating trouble, and this time Charley's magic has nothing to do with it. It appears someone else shares this ability to bring characters out of their books, and it is up to Charley and Rob to prevent this from escalating and tearing apart the fabric of society.
Giving me Pages & Co vibes but clearly for an Adult or YA audience, this is something I will honestly hope to love.
Publication Date – 21st January
A Queen in Hiding by Sarah Kozloff
Here we have an orphaned, exiled and hunted princess (Cérulia) who must master the magic that is her birthright, become a ruthless fighter and be the queen of Weirandale she is destined to be. However in order to do this, she has to win the favour of spirits, assemble a group of rebels and deal with a corrupt aristocracy.
This sounds amazing and what is interesting about this book and series is that all four books will be published within a month of each other. That's four books in four months, perfect for people who like binge-reading series. I'm not someone who does usually binge-read series but if I do like this when I read it, I'm definitely going to be grateful that I don't have to wait a year for the second, third and fourth books!
Publication Date – 21st January
The Sisters Grimm by Menna Van Praag
Here we have four sisters Grimm, daughters all born on the same day to different mothers and each born out of bright-white wishing and black-edged desire. They found each other at 8 years old, were separated at 13 years old and now they are nearly 18, they have to find each other again because no sooner will they meet, they will be introduced to their father in Everwhere. From there, it is a story of discovery and a fight to save their lives as well as the lives of those they love.
Publication Date – 6th February
The Unspoken Name (The Serpent Gates #1) by A.K.Larkwood
Csorwe knows how and when she will die. However, on the day of her foretold death, a powerful mage offers her a new destiny – turn away from her god, leave with him and live. She will be an assassin, a thief, a spy, and help a wizard reclaim his seat of power. But a new fate comes with risk, risk that the gods remember and all debts come due.
Publication Date – 11th February
The Mercies by Kiran Millwood-Hargrave
Inspired by real events of the Vardø storm and the 1621 witch trials, The Mercies follows Maren and the aftermath of a storm that wiped out all the men in the small, Arctic town of Vardø. With all the men killed, the women must fend for themselves. That is until Absalom Cornet arrives from Scotland, a man who was instrumental in bringing down witches in the Northern Isles. His wife Ursa sees a town full of independent women but he sees a place untouched by God and flooded with evil.
Another Historical Fiction that sounds absolutely perfect for me!! YAY!
Publication Date – 11th February
Queen of Coin and Whispers by Helen Corcoran
When Lia becomes queen, she inherits her uncle's corrupt and bankrupt kingdom. In doing so, she also brings in Xania, a new spymaster who took the job to avenge her father's murder. Dealing with dangerous plots, hidden enemies, and a kingdom where controlling the throne means power and duty, can they decide what to sacrifice for their country and each other?
A standalone fantasy with an F/F romance, this sounds like a book that will open more doors into fantasy fiction as a whole.
Publication Date – 6th April
Monstrous Heart by Claire McKenna
Arden Beacon is sent to the lighthouse to carry on the family profession and prove herself worthy of her name. However the coast she is tasked with lighting is teeming with ancient beasts, and her town of Vigil is a place of secrets and rumours, where women are expected to know their place. More than anything, people gossip about Arden's new neighbour, Jonah Riven who is said to have murdered his genteel, perfect wife. He is deemed to be a monster yet Arden cannot get him out of her head.
It looks as if there is a mix of alchemical magic, 19th-early 20th century tech and societal norms, romance, and mythology and I'm totally here for it.
Publication Date – 2nd April
---
There we have it. Twelve new and upcoming releases on my radar for the first half of the year. I will definitely end up adding some more later on but this is a pretty good starting point for now.
What new and upcoming books are on your radar?
What are you most excited to read?
As always, thanks for reading and have a brazzle dazzle day!
xx
Ps. now I've edited my social media you can now Follow my blog with Bloglovin