Hello, and welcome back to what feels like the longest series I have planned and written for this blog. I can't even remember when I started it, but as I said last time, we are on the final stretch!
It is time for instalment 8 on the Top 100 YA books according to Goodreads and before I ramble on for too long – as usual – let's just dive right in!
---
Previous Instalments:
post 1, post 2, post 3, post 4, post 5, post 6, post 7
---
The Winner's Curse by Marie Rutkoski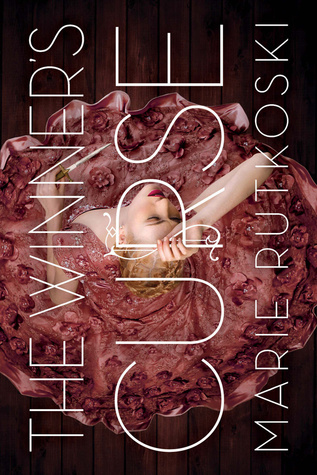 Average Rating – 4.00
Number of Ratings – 85,123
Read Yes/No – No
Thoughts – I'm not sure if I have any in regards to this book. It was one I always heard people talk about but never fancied picking up for some reason.
Illuminae by Amie Kaufman and Jay Kristoff
Average Rating – 4.3
Number of Ratings – 94,358
Read Yes/No – Yes
Thoughts – If anyone has any doubts about reading this book, I firstly recommend figuring out which reading format works best for you because I believe that will make or break how you enjoy it and the rest of the trilogy.
Heartless by Marissa Meyer
Average Rating – 4.05
Number of Ratings – 72,726
Read Yes/No – No
Thoughts – Do you have a book that's been on your TBR for so long that you lose interest in it, or forget about it, and never read it? That's me with Heartless. I've been saying for the last few years I ought to read it but I don't. I think it's time to admit I'll never get around to it and maybe give my copy away.
Crank by Ellen Hopkins
Average Rating – 4.15
Number of Ratings – 119,877
Read Yes/No – No
Thoughts – I hadn't even heard of this book until now. Released back in 2004, I wouldn't have heard of it then either because at 11/12 years old the only books on my radar were fantasy, Artemis Fowl, poetry and children's classics. Nowadays, it could be an interesting read and definitely a thought-provoking one at that but it will never be one I reach for, even if I do see it whilst browsing bookshops.
Half Blood by Jennifer L Armentrout
Average Rating – 4.15
Number of Ratings – 74,786
Read Yes/No – No
Thoughts – If I'd known of it, this probably would have been read during my YA paranormal romance phase, but it wasn't and as I'll never be in that phase again I will definitely leave it unread.
The Sky is Everywhere by Jandy Nelson
Average Rating – 4.01
Number of Ratings – 74,521
Read Yes/No – No
Thoughts – When YA Contemporaries tackle tough subjects, I do find myself gravitating towards them but this is one I never thought about reading. And if there is a love triangle, like this one seems to have, I definitely won't be reading it. Nope. It's not my thing, at all.
Just One Day by Gayle Foreman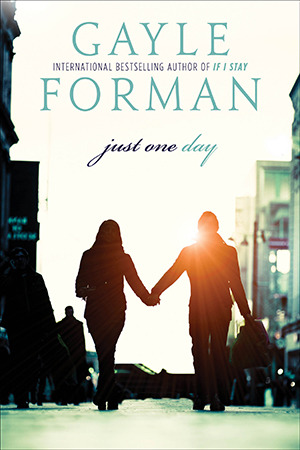 Average Rating – 4.01
Number of Ratings – 74,521
Read Yes/No – No
Thoughts – I have only ever read two Gayle Foreman books and they were If I Stay and Where She Went. I loved the first, hated the second (MC love interest Adam was even more of a jerk in this one), and didn't really gravitate towards any more of her books. I probably would have done though if I hadn't jumped with enthusiasm into YA Fantasy rather than continue reading Contemporaries.
One Of Us Is Lying by Karen M McManus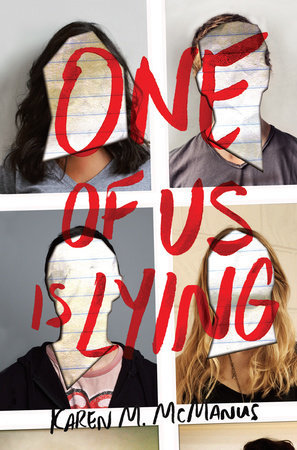 Average Rating – 4.06
Number of Ratings – 135,512
Read Yes/No – No
Thoughts – I've heard of this as a mix of The Breakfast Club and Pretty Little Liars, and honestly that is not my thing. I know it is incredibly popular with a lot of hype but I can't see myself enjoying it.
Amy and Roger's Epic Detour by Morgan Matson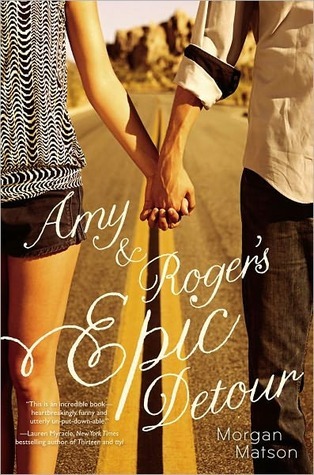 Average Rating – 4.01
Number of Ratings – 83,417
Read Yes/No – No
Thoughts – I know Morgan Matson is very strictly a YA Contemporary author and because of that her books don't jump out at me at all, despite all the popularity and hype I've heard over the years. Again like a broken record stuck on repeat, it's not something I will ever read.
Ruby Red by Kerstin Gier
Average Rating – 4.12
Number of Ratings – 100,049
Read Yes/No – Yes.
Thoughts – Ah, a series I came across on Tumblr all those years ago when I was discovering the growing vastness of YA fiction. I think I must have binge read the entire trilogy because I read it really quickly and I did enjoy it. There was a niggle or two with it being a German trilogy set in London and sometimes the translation didn't work for me, but for the most part I liked it. It's not a series I'll reread but I'm glad I read it.
---
That's all ten books done and dusted!
Yet again, there are only two books out of the whole section I've read and honestly it doesn't surprise me. It's the way it is right now.
Running Total – 30 out of 100 books read.
Books added to TBR – none.
---
How many of these books have you read?
What are your thoughts?
As always, thanks for reading and have a brazzle dazzle day!
xx