My reading habits often throw me into deep water. As a fantasy, sci-fi and historical fiction reader, the vast majority of my books are series and I can't always binge read them in one go. I'm always swapping and changing them around, or throwing the odd standalone in the mix to shake things up a bit. However, it means I don't always finish a full series. I will have every intention of finishing it, but I just don't do it.
It's here where the problem lies.
My shelves are fit to bursting with unfinished series and like with the rest of my reading habits, it is driving me up the wall.
I thought I would share some of these series and hopefully have you lovely readers give me a set to into finishing them. After all, "finish unread completed series" has been one of my reading challenges for the last couple of years now.
---
The Conquerer's Saga by Kiersten White
I read And I Darken a couple of years ago now, loved it, but it was very intense read. I need to be in the mood to read this type of book and I think that might be why I haven't read the other two yet, even though I do have them ready and waiting for me.
Rebel of the Sands trilogy by Alwyn Hamilton
This is a case of "I don't want a favourite series to end" and "I'm not emotionally prepared for the final book!" We'll get there, eventually….
The Sin Eater's Daughter trilogy by Melinda Salisbury
This is a relatively short trilogy compared to many of the others I own, so it's easy to binge read. Besides that, the first book was addictive. I think I've not finished this series yet because when I read the Sin Eater's Daughter back in February, I didn't yet own the other two books so I couldn't binge the series. However, now I have them I don't have that same urgency to finish the series as soon as possible, despite the fact that Mel's writing is fabulous!!
The Winternight Trilogy by Katherine Arden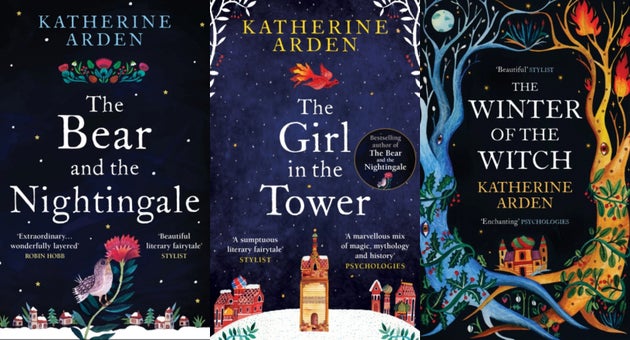 I honestly don't know why I own The Girl in the Tower or The Winter of the Witch because even though I adored The Bear and the Nightingale, I don't have the desire to finish the trilogy. I like it enough as a standalone. I did try reading The Girl in the Tower a couple of months ago but my heart wasn't in it. It's a shame because I do think I would really love the rest of the trilogy.
The Witch's Kiss Trilogy by Katherine and Elizabeth Corr
As books with witches are some of my go-to reads, I can't understand why I haven't finished this trilogy yet. I can't remember whether it was early this year or late 2018 when I read The Witch's Kiss but I really enjoyed it and everyone I know who has read it likes it too. There is absolutely no excuse!!
---
As is my usual wont, five series is enough to talk about. I do have a few more but I didn't want to go into duologies and I realise looking at my shelves that most of them are actually longer, ongoing series (Tracers by Laura Griffin, Chronicles of St Mary's by Jodi Taylor etc…).
So that's about it.
---
Do you have any unfinished series on your shelves?
Thanks for reading and have a brazzle dazzle day!
xx