Hello.
My GoodReads Top 100 YA Books is now at the half way point and I never thought I'd get here! It seems to take a while to get through all of these books, but it's fun and here's to the next 50 books on the way!
It's also been a while since I've done this and I don't like leaving blog series unfinished unless I have a good reason for abandoning them.
Anyway, it's time for books 41-50 so I'd better get started!
---
Obsidian by Jennifer L Armentrout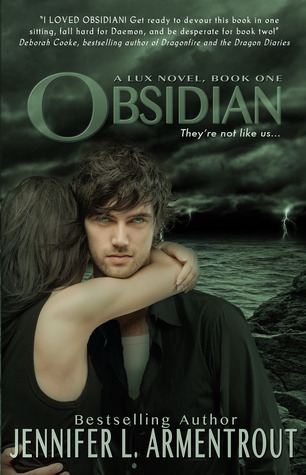 Average Rating – 4.21
Number of Ratings – 16,766
Read Yes/No – No

Thoughts: I heard quite a bit about the Lux series when I first delved into YA books and the book community, but I never gravitated towards it. To be honest, I'm glad I didn't because I really do not feel left out for not having read it. I wouldn't read it now either.
Unwind by Neil Shusterman
Average Rating – 4.18
Number of Ratings – 176,995
Read Yes/No – No

Thoughts: I'd never really heard of Neil Shusterman until I joined the book community. He was not an author on my radar as a teen when this came out and even now, I've not gone out of my way to read any of his back catalogue. However, this sounds very intriguing, not mention horrifically disturbing. That's normally fine with me, but there are cases where I'm thinking let's leave it be and move onto the nice, cushy book in the corner.
Angelfall by Susan EE
Average Rating – 4.16
Number of Ratings – 149,443
Read Yes/No – No
Thoughts: I think we're moving into the paranormal fantasy romance section of this series, because again I was aware of this series when I read those books. However that era of my reading life is long gone, along with the inclination to look at those books I missed.
The Unbecoming of Mara Dyer by Michelle Hodkin
Average Rating – 4.07
Number of Ratings – 143,849
Read Yes/No – No
Thoughts: Normally I can be swayed by BookTube hype into picking up a series, but not this time. No matter how many times I heard people talk about it, it didn't appeal to me and it still doesn't. I see it now pegged as a romance and they're not the YA books I like reading anymore.
Aristotle and Dante Discover the Secrets of the Universe by Benjamin Alire Sáenz.
Average Rating – 4.34
Number of Ratings – 196,072
Read Yes/No – Yes
Thoughts: Simply put, this book stole my feelings. It was beautiful, heartfelt and one of the only YA romances I truly loved. I've not read it for a few years, especially after hearing a few mixed things about the author, but it will always be an important and special book in my heart.
Just Listen and The Truth About Forever by Sarah Dessen
Average Rating – 4.06 and 4.13
Number of Ratings – 222,850 and 200,065
Read Yes/No – No for both
Thoughts: The Truth About Forever should have come further on in this post but I didn't want to repeat myself twice. I've read one Sarah Dessen book over the years, Saint Everything, and to be honest, I think that's enough for me. I did like that book a lot but her others just don't appeal to me at all and I'm happy to let them slide and be read by teens and Young Adults who like this type of thing.
A Monster Calls by Patrick Ness and Siobhan Dowd
Average Rating – 4.37
Number of Ratings – 177,387
Read Yes/No – Yes
Thoughts: Oh my word, this book! It was poignant, incredibly moving, and heart-wrenching. I remember reading it in a night and it was a really difficult read because every so often, I would have to close the book, hold back the tears and stop so many unhappy school memories flooding back. However, I loved Conor's journey and how the monster helped him through it. It still makes me wish I had similar monster helping me when I was kid.
Turtles All The Way Down by John Green
Average Rating – 3.98
Number of Ratings – 226,906
Read Yes/No – No
Thoughts: My interest in John Green books waned when I spent two weeks reading the atrocity that was An Abundance of Katherines. I can't bring myself to read any more of his books and I'm not a Contemporary reader anyway so I'm happy to leave it for those who are interested!
Lady Midnight by Cassandra Clare
Average Rating – 4.44
Number of Ratings – 137,538
Read Yes/No – Yes
Thoughts: Oh the days when I thought I would love this trilogy! I really enjoyed Lady Midnight and Lord of Shadows for the Blackthorn children, the mystery, Kit, and the cameos from past characters I've always loved. However, since DNFing Queen of Air and Darkness, I'm totally over this trilogy and any new Shadowhunter books Cassandra Clare writes. I really didn't like the direction she was taking with QOAAD and it made me realise that I don't want to spend more years reading such an extensive series, especially when a lot of the main characters are just carbon copies of each other. I mean I will still always like The Mortal Instruments and The Infernal Devices but the Shadowhunter ship has now sailed!
---
The stats are now as follows:
Number of books read – 3 out of 10
Running total of books read – 25 out of 100 books.
Okay. Similar to the fourth instalment, I've just hit the books I'm not interested in therefore my number of books read is quite low. I don't mind. It shows me I know what I like and what books I'm inclined to read over others.
---
Have you read any of the books from this list?
What are your thoughts?
Thanks for reading and have a brazzle dazzle day!
xx