So we all have a TBR that's getting out of hand. We wouldn't be us otherwise. Even though I have cut mine down a lot, especially with the help of Lia's Down the TBR Hole (who is now over at Sunflowers and Wonder), I still do have a lot of unread books on my bookshelf and I am very aware of this.
I don't like it, especially when Sarah comes in, stares at my shelves, points at a particular book and asks me why I haven't read it yet. She did this a few days ago with a book she gave to me for my birthday back in April and I have no answer, because I don't know. The number of times I say those small three words is ridiculous and it's getting out of hand.
Ramble aside, I wanted to highlight five of these books (otherwise we'd be here all month) and hopefully have someone kick me up the rear to motivate me to read them.
So without further ado, let's get into them.
---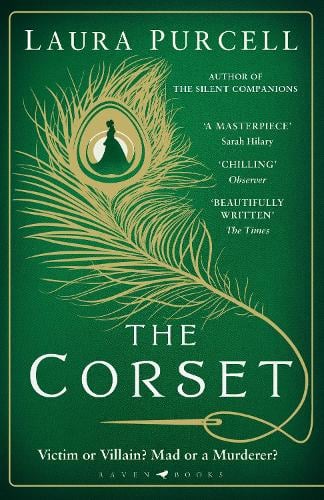 The Corset by Laura Purcell
This was only published last year so it's not so much of a TBR benchwarmer compared to quite a few of my other books, but someone who I run the Lego Club with at my local library pointed this out to me as something I would like and we both had a little awkward moment when I said I actually own it and haven't read it yet. It's now been on my mind ever since because as soon as I heard about this book, I knew I had to have it. Why I didn't read it last year, I don't know because I am like a moth to a flame whenever Victorian gothic settings are mentioned. Unless it's Wuthering Heights (yuck to the highest degree), I love them!
The Sunrise by Victoria Hislop
Okay, so here we have a huge benchwarmer going all the way back to 2014 when I got this on pre-order. Now I think I can definitely put this down to shoving my adult historical fiction on the back burner in favour of all the YA books I was discovering, reading, and loving. It was definitely that time of year and I've been so swept up in that ever since, I've hardly gone back to books like The Sunrise and enjoyed them. It's weird because as a teen, I primarily read adult novels (The Island by Victoria Hislop was one of my first) and now as an adult, I read teen and YA. It's also madness.
However, I know I will be making time for this and all the adult historical fiction I have on my shelves because I do enjoy them and I am getting to the stage where half of YA doesn't cut it for me anymore.
Ink and Bone by Rachel Caine
I have three out of the four books from this series on my shelves and despite all the protestations from Beth and Rachael for goodness knows how long (an eternity it feels like), they remain unread. I don't exactly know why because they do interest me and I got very giddy when I saw the second and third books on the second-hand shelf at my local independent book shop, but I never seem to gravitate towards them when I'm browsing my shelves for a new book to read. Maybe when I'm finally in the mood for a book about books, I will pick this up! We'll see…
The Next Together by Lauren James
I picked this up at the inaugural Northern YALitFest last year but it was on my radar and TBR for about a year or two prior to that. I think it was Beth again who recommended this to me but because it is primarily a romance interspersed with sci-fi, I wasn't totally sold. However, I adored The Loneliest Girl in the Universe and The Starlight Watchmaker is one of the best books I've read recently, so I need to get my act together and read this debut novel. I also have it and the second book signed and personalised so I feel sad that I haven't read and enjoyed it yet. Nonetheless, I do need to be in the mood for romance so I'm not wholly surprised the duology is still sat on my TBR.
Passenger by Alexandra Bracken
I can't even remember why I gravitated towards this book, but it does still sound different compared to my usual books and I do remember that there was a lot of hype surrounding it. Now I don't really hear of that hype anymore, but I do own it and I still want to give it a shot. If and when I do finally read it and it's not for me then I'm okay with that, but it's been on my shelf for two years and I need to prioritise those books over newer releases.
---
And there we have it – five TBR benchwarmer books that will probably continue to hold their places for a while. You know me, I can't do TBRs or specific challenges so these books alongside many others do unfortunately exist and I'll just have to find another way to deal with that.
---
Do you have any TBR benchwarmers?
Have you read any of these? What are your thoughts?
Thanks for reading and have a brazzle dazzle day!
xx