I don't know why I can't call this "what I'm currently reading," but I kind of prefer the sound of "what's on my bedside table?" Also I'm currently watching back episodes of The Bakery Bears (one of my favourite knitting video podcasts) and they ask a similar question to talk about the projects they've done, that they're working on, and also the books they're reading, and it's stuck in my head!
By no means is this a TBR because we all know I cannot make and stick to TBRs. It is definitely along the lines of a "currently reading" post because I have started and read quite a bit of the four books on my bedside table.
And yes, you've read that correctly. I'm flicking between four books. I'm a polygamous reader anyway, even more so in the last few weeks as I have not yet replaced my lost kindle.
That's a story for another day and precisely besides the point, so let's just quit the rambling, jump right in and see what books I'm reading!
---
The Dark Days Club by Alison Goodman
There's always something nice about giving a book a second chance, especially one you know should tick all the preference boxes.
Regency society – yes
Supernatural occurrences – yes
An independently-minded heroine – yes
A steady pace – yes
Good writing – yes
It has all these things, yet I didn't like it the first time I read it. I felt it was too slow and I couldn't connect to the characters. However, I'm liking it a lot more the second time round and I prefer slower pacing, especially if that's what the story calls for. This does, because Alison Goodman is setting up the regency scene, she doesn't want to miss key details out and I'm really grateful because dishonouring history, especially societal history, is a huge pet peeve.
I also have to give huge props to my village library for ordering the second book in so I can read the full trilogy (for some reason that one was missing).
Artemis Fowl and the Arctic Incident by Eoin Colfer
I'm really enjoying re-reading this series. I felt like I had to after reading my ARC of The Fowl Twins because it has been 14 years or so since I last read it and I really wanted to read something utterly fun and carefree. It's not a book I'll want to analyse for a review. It's one to read for the sheer pleasure and nostalgia, like a many people do for Harry Potter. This series was my Harry Potter and so I feel the same way about it.
The only problem is that these books are my bus books, and I have to stifle the chortling that happens when a certain character called Mulch Diggums appears. He's funny and I don't particularly want to draw attention to myself when surrounded by a lot of people on the bus!
Lord of Secrets by Breanna Teintze
I don't usually start reading a book when it arrives in the post, but this time I did because it is the type of fantasy I'm really wanting to read at the moment. I might only be about 50 pages in so far but I'm liking it a lot and I'm intrigued to watch the characters and the story develop. Also, I've heard nothing but good things about it from the ARC reviews, which is optimistic, especially as it jumped out to me when I initially heard about it earlier this year.
I definitely think it will be one I really enjoy and that's nice because I keep DNFing books at the moment and I don't want to do that.

These Rebel Waves by Sara Raasch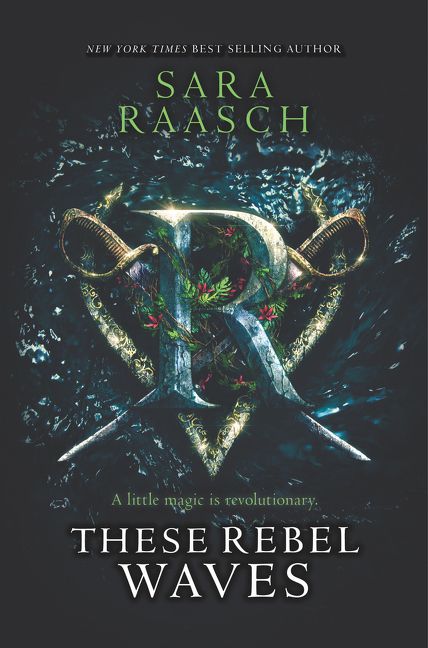 This has been on my radar ever since it came out but I was a little hesitant about reading it for whatever reason I came up with back then. However, it came up a lot in conversation with Sifa and Beth at YALC and because they loved it so much, I wanted to finally give it a try. Saying that, I don't have a lot of expectations for it and I can't really say whether I'm liking it or not as I've not read much of it at all. I might read a bit of it later on as well as extend my library loan because I think I might need it.
---
And those are all the books currently on my bedside table. I have a feeling they will be there for the rest of August, but that's fine. I'm not too fussed. As long as I'm reading regularly again, I don't care.
---
What book(s) are on your bedside tables?
Thanks for reading and have a brazzle dazzle day!
xx