Hello!
I'm back today with a rather haphazard series of mine, dedicated to all the unread and unloved books on my bookshelves. It has been a while since I've done one of these posts and I feel bad about it because I do like doing them. They rekindle the interest I have for certain books and where I'm likely to place them on the TBR.
Today's chosen book is Witchsign by Den Patrick.
Statistics:
Date of Publication: May 22 2018
Format: Hardback
Number of Pages: 464
Series: Ashen Torment book 1
Genre: YA Fantasy
---
Synopsis:
It has been seventy-five years since the dragons' rule of fire and magic was ended. Out of the ashes, the Solmindre Empire was born.
Since then, the tyrannical Synod has worked hard to banish all manifestations of the arcane from existence. However, children are still born bearing the taint of the arcane, known to all as witchsign. Vigilants are sent out across the continent of Vinterkveld to find and capture all those bearing the mark.
No one knows when the Vigilants of the Synod will appear and enforce the Empire's laws.
But today they're coming.
And gods help those who bear the sign of the witch.
---
Random passage:
Dragons are merely part of history to much of the populace. Those who can remember the days when vast reptiles darkened out skies are long in their graves. Only the Emperor recalls those times and he speaks of them rarely. What the parents know is recorded in saga and song, and such tales are often embellished with each retelling.

---
Thoughts:
I do gravitate towards books where characters are persecuted for one reason or another. Books are escapism but sometimes I like seeing how general aspects of everyday life (and I say that with immense sadness) translate into fantasy worlds. It reminds me that even with the addition of magic our worlds aren't so very different, and I feel that more strongly when there is an element of witchcraft or magic that's seen as witchcraft because it is our history.
However, this fantasy interests me because the arcane magic system is tied to dragons. Dragons that have been forced into submission for many years and are only connected to people who bear a witchsign. I really like this idea. It also sounds as if the setting of Vinterkveld is rather Nordic and I'm intrigued to see how that comes across as I've not read anything with that setting before.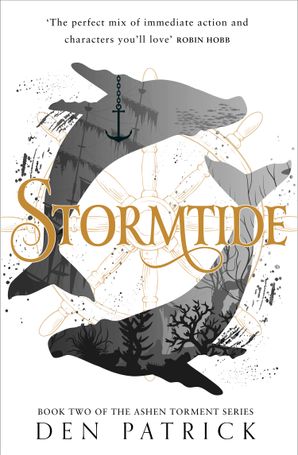 Next to that, it's a YA Fantasy I've heard nothing about. Normally I'll pick up a little bit of chatter about certain fantasies but I'm not sure if this one has fallen under the radar somewhat which seems surprising if it's linked to dragons. I get the impression that a lot of people want dragons! Also, it's the first book in a trilogy so there are two more books to come, and we don't have to wait long for the second book (Stormtide) at all – just until the end of May.


---
I'm certainly interested again! I also wouldn't mind having covers like these to look at either.
I might just shoot this book right to the top of my TBR
What do you think?
Is it a fantasy that interests you?
If so, spread the word as I think this book needs some more love!
That's everything so as always, thanks for reading and have a brazzle dazzle day!
xx