Hello!
Back in September of 2018, I decided to embark on a quest to see how many of the top 100 YA books I have read since discovering YA and the online book community. I went off this list I found on Goodreads and let that, along with my own reading stats, do the talking.
In the first post, I discovered I had read 7 of the 10 books I shared which is pretty good going for someone who reads a lot of YA, regardless of how many times I try to shake things up.
Anyway, I have ten more books to get through in this post, so let's see how I fare this time!
---
The Maze Runner by James Dashner
Average Rating – 4.03 stars
Number of Ratings – > 864,600
Read Yes/No – No
Thoughts – Simply put, I find nothing appealing about this book, the rest of the series, and even the films. Nope. Never going to happen.
Eleanor & Park by Rainbow Rowell
Average Rating – 4.09 stars
Number of Ratings – > 697,800
Read Yes/No – Yes
Thoughts – This was a book I liked on first reading it, but then after reflection, it was nowhere near as good as it was hyped up to be. I think her books are just not for me because I've had that experience with all her YA books. I don't even know why I decided to read this because fantasy and dystopia were always my go-to genres, never contemporary.
Fangirl by Rainbow Rowell
Average Rating – 4.10 stars
Number of Ratings – > 454,100
Read Yes/No – Yes
Thoughts – I should have DNFed this. I find this to be one of the MOST over-hyped books in YA. Despite how much I related to Cath and her desire to write, I got nothing out of the story, the romance annoyed me, and the writing in general was rather lacklustre in my opinion. I really didn't like it and I cannot believe I pushed myself through it.
A Wrinkle in Time by Madeleine L'Engle
Average Rating – 4.02 stars
Number of Ratings – 815,980
Read Yes/No – No
Thoughts – This is one of those children's classics that I would like to read at some point, and not just because a Disney adaptation came out this earlier this year. It's interesting I never picked this up because it is inherently science fiction and I did read a little bit of that as a child. I think most of the older classics like this one passed me by. Hopefully I'll rectify that in the not-too-distant future.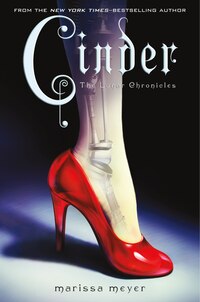 Cinder by Marissa Meyer
Average Rating – 4.15 stars
Number of Ratings – > 551,380
Read Yes/No – Yes
Thoughts – This full series was my introduction to fairytale retellings and it didn't disappoint. I loved the sci-fi twists, the reinvigoration of fairytales I know so well and all whilst keeping the messages intact. I haven't re-read the series for a while but I definitely want to at some point because it is the series that will give me all the fairytale love I need when I don't have access to my beloved Disney films.
The Selection by Keira Cass
Average Rating – 4.14 stars
Number of Ratings – > 676,890
Read Yes/No – Yes
Thoughts – By no means is this series perfect, but I read this very first book in my final year of university and I loved it. Beth pegged it to me as Disney Princess meets America's Next Top Model (or some other reality tv programme like it) and it was perfect for what I needed at that time – a lot of fluff, easy writing, and simple pleasures. I've not re-read the series since and I don't think I will, but it definitely came to me at the right time and I'll always hold it high in my regard because of that.
Clockwork Angel by Cassandra Clare
Average Rating – 4.33 stars
Number of Ratings – > 571,700
Read Yes/No – YES

Thoughts – It's The Infernal Devices. Do I really need to explain again how much I love this trilogy? Simply put, aside from the demon hunting and the love triangle – which is the only one I like in YA – this series has a couple of historical components I find interesting such as the desires of women and how they're perceived in Victorian society, especially on comparing the characters of Charlotte and Jessamine who despite not having many years between them, have completely different ideas on what they want out of life, and the naïve but hopeful scientific vision of the future. It works for me, and it will always work for me.
The Outsiders by S.E. Hinton
Average Rating – 4.08 stars
Number of Ratings – > 771,780
Read Yes/No – No
Thoughts – This is the first time I've really heard about the book. From the Goodreads synopsis, I gather it's set in the 1960s in Oklahoma, and tells the story of Ponyboy Curtis who believes he is an outsider in a society that has two distinct sides.
I can see how this has made the list and how powerful it would be as a book, but I don't see it as a book I would actively pick up. It would be one of those I put on my Goodreads to-read list and ultimately forget about.
Red Queen by Victoria Aveyard
Average Rating – 4.07 stars
Number of Ratings – > 406,680
Read Yes/No – Yes
Thoughts – I actually really liked this book when it was released. I know it isn't perfect and that it uses a lot of popular YA dystopian tropes that we've all seen before, but I had fun reading it. It kept me up for most of the night and I was interested in the world Victoria Aveyard created. It was when I tried reading Glass Sword that I started struggling and I didn't think it was worth trying to push through when there were other series crying out for my attention.
Anne of Green Gables by LM Montgomery.
Average Rating – 4.24 stars
Number of Ratings – > 601,130
Read Yes/No – Yes
Thoughts – I read this for the first time a couple of years ago and absolutely adored this well-loved classic. I don't know why I never read this as a child because I would have totally wanted Anne to be my fictional best friend, and she has such a happy-go-lucky nature that would have helped me out a lot. I never picked up the rest of the books though but I might at some point.
---
Number of books read in this section – 7 out of 10
Running total – 14 out of 100
I seem to be on an even keel at the moment but we shall see what books crop up in future instalments. I'm sure there has to be at least one where I haven't read all the books, especially if they are older classics.
---
How many of these have you read?
Did you like/dislike any of these books?
Thanks for reading and have a brazzle dazzle day!
xx