Hello!
It is time for the rest of these posts to make their mark on 2018 and I want to get through the books that didn't quite impress me before I ramble about those that I truly loved.
I'm not afraid to DNF a book I'm not loving and whilst it feels like I've DNFed a lot of books this year, not many of them are on my "permanent DNF" list, which is rather surprising. However there are still a few and whilst I would love to give them a second chance, I don't think I will. It's just one of those things.
So without further ado, let's get into the books.
---
Witchborn by Nicholas Bowling.
"It's 1577. Queen Elizabeth I has imprisoned scheming Mary Queen of Scots, and Alyce's mother is burned at the stake for witchcraft. Alyce kills the witchfinder and flees to London – but the chase isn't over yet. As she discovers her own dark magic, powerful political forces are on her trail. She can't help but wonder: why is she so important? Soon she finds herself deep in a secret battle between rival queens, the fate of England resting on her shoulders.."
What a coincidence that the first book on this list happened to be the first permanent DNF I had on my shelf this year. Witchborn fell flat for many reasons but the main one being that it simply didn't reach my expectations. I was building up this incredible story of Tudor London and the fear around witchcraft and none of it was there for me, which was a huge shame because this book sounded like something I would love. The pacing was disorientating, I saw little evidence of magical power, and Alyce wasn't very convincing as a main character. It just wasn't for me unfortunately.
The Witches of the Glass Castle by Gabriella Lepore.
Mia's life is thrown through a loop when she discovers her family secret — that she and her brother Dino are witches. After they are sent away to study their craft, they begin down a path that will change their lives forever. Suddenly thrust into a world where handsome warriors command the power of nature and people's thoughts and actions can be manipulated at will, Mia and Dino struggle to navigate their own allegiances and do what they know to be right when everything around them seems beyond their control.
I think this is a case where I read a book at precisely the wrong age. The Witches of the Glass Castle is what I would have enjoyed at 15/16 when YA was emerging, not 26 when I'm tired of reading the same YA clichés repeatedly. Secondly, there was no world building, no reason why each witch had a different powers, and why certain witches hated each other. It felt as if everything was the way it was just for the sake of it, and I didn't like it. Again, it simply wasn't for me.
How To Hang A Witch by Adrianna Mather.
After Sam's father is hospitalised, she has to move from New York to Salem with her stepmother, Vivian. Unfortunately, Sam is related to Cotton Mather, one of the men responsible for the Salem Witch Trials, and to say she feels unwelcome in Salem is an understatement… She is particularly unnerved by The Descendants, a mysterious and tight-knit group of girls related to those persecuted in the Trials. At the same time, she must deal with Elijah, the handsome but angry ghost who has appeared in her house, and her new neighbour Jaxon only complicates things further.
I DNFed this further on in the book than I should have done, and if I'd known about certain aspects of story, I probably wouldn't have even picked it up from YALC this year. I wasn't mad keen on the writing style, the protagonist, the unnecessary bitchy relationship between her and her step-mother, the generic mean-girls cliques… basically everything. At risk of repeating myself yet again, it wasn't for me.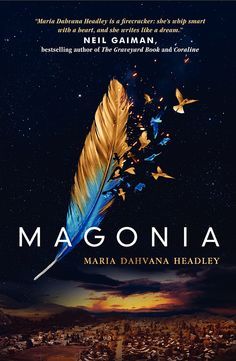 Magonia by Maria Dahvana Headley
Since she was a baby, Aza Ray Boyle has suffered from a mysterious lung disease that makes it ever harder for her to breathe, to speak—to live. So when Aza catches a glimpse of a ship in the sky, her family chalks it up to a cruel side effect of her medication. But Aza doesn't think this is a hallucination. She can hear someone on the ship calling her name…
Magonia is a book I've had on my shelf for the last couple of years that I picked up a week ago because I wanted something short and different than all the fantasy I've read recently. What I read of this wasn't bad. I actually rather liked it. However, I simply reached a point in the book where I felt disinterested in the plot and it didn't intrigue me enough to keep reading. 
Winterkill by Kate A Boorman
Where Emmeline lives, you cannot love and you cannot leave…  

The Council's rules are strict, but they're for the good of the settlement in which Emmeline lives. Everyone knows there is nothing but danger the other side of the Wall, and the community must prepare for the freezing winterkill that comes every year. But Emmeline struggles to be obedient under the Council's suffering embrace – especially when she discovers that a Council leader intended to snatch her hand in marriage. Then Emmeline begins to hear the call of the trees beyond the Wall…
Oh where do I start with this book because I had a few issues with this. First off, the setting and the world building wasn't very clear. It was a rather utopian setting that came across as being located in a fantasy-esque world, yet everyone was speaking French and English, two very real-world languages. I wasn't bothered by the inclusion of French phrases in the narrative or anything because I love the French language and it was easy to understand, but I felt disorientated by this evident lack of clarity. Secondly, the intended romance between Emmeline and the Council member (two characters I quite liked for their curiosity and extended world view) didn't sit well with me and because of this, I couldn't bring myself to continue reading it, even if circumstances changed later on in the book.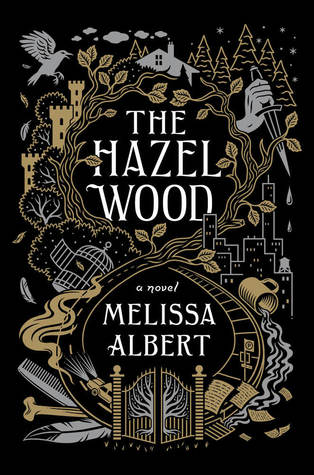 The Hazel Wood by Melissa Albert
Seventeen-year-old Alice and her mother have spent most of Alice's life on the road, always a step ahead of the uncanny bad luck biting at their heels. But when Alice's grandmother, the reclusive author of a cult-classic book of pitch-dark fairy tales, dies alone on her estate, the Hazel Wood, Alice learns how bad her luck can really get: her mother is stolen away―by a figure who claims to come from the Hinterland, the cruel supernatural world where her grandmother's stories are set. Alice's only lead is the message her mother left behind: "Stay away from the Hazel Wood."
I had this on my unfinished shelf with the intention of picking it back up again when the time is right, but with all the books on my TBR, that's not going to happen. I'll end up forgetting about it and I don't like treating my books that way. It's easier to leave it as it is because I know it won't get read anytime soon. 
Out of the Blue by Sophie Cameron
When angels start falling from the sky, it seems like the world is ending. Smashing down to earth at extraordinary speeds, wings bent, faces contorted, not a single one has survived.

As the world goes wild for angels, Jaya's father uproots the family to Edinburgh intent on catching one alive. But Jaya can't stand this obsession and, still reeling from her mother's recent death and the sudden disappearance of her ex-girlfriend, she's determined to stay out of it.

Then something incredible happens: an angel lands right at Jaya's feet – and it's alive …
Another book I put down because I wasn't in the mood for it, and I'll probably never pick back up again. Out of the Blue is one of those books I wouldn't have bought had the stall holder at YALC not sold this to me. She was immensely passionate about this book and it's concept, but when I came to read it in August, I found that I wasn't really bothered by it. I didn't feel any connection to the characters, and the writing was a little flat for my liking. It was all a little 'meh' for my tastes. 
---
And seven books later, that's all my permanent DNFs for the year. As I have physical copies of nearly all these books I wouldn't be surprised if I unhaul them by the end of the year too. 
I don't like DNFing books but when I've lost interest in a story or I don't like where it's going, I don't see the point in carrying on when there are so many other great books to read and often not a lot of time to read them in. 
---
What books did you DNF this year? 
Have you read any of the books in my list? What are your thoughts?
Thanks for reading and have a brazzle dazzle day!
xx