Hello!
Welcome to the second post in my Bibbidi-Bobbidi-Books series, recommending books based on Disney songs! Not usually having much luck with series, the first post based on Tangled's When Will My Life Begin did better than I expected so I can't wait to see where this goes. However, it does mean I need to step up my reading game!
Anyway…
A while ago on Twitter, I asked probably one of the hardest Disney questions I could ask – what is your favourite Disney song? Luckily, a few of you answered and I can say you all have brilliant tastes in Disney music because your favourites are almost identical to mine! It definitely makes a series like this easier and enjoyable to create.
One such song is the Belle Reprise from Beauty and the Beast and I think I've found a few books that work rather well.
Belle Reprise is very similar to When Will My Life Begin in that it is the typical Disney "I Want" song. Actually, I think I made this connection in that first post, but the obvious distinction and difference is Gaston and his egotistical, self-centred marriage proposal. Also, Belle is surrounded by villagers who snigger, judge and are unkind to anyone who doesn't fit into their society. Compared to Rapunzel, she has a greater need to get away, and to find the place where she belongs.
My Book Recommendations:
Hunted by Meagan Spooner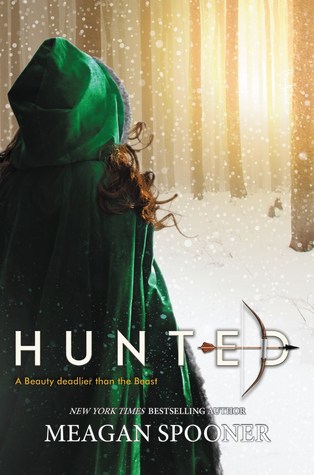 Okay so I'm starting off with a Beauty and the Beast retelling (my favourite one of all), but can you blame me?
Yeva, like Belle wants a life outside of her village where she doesn't have to marry and be the lady that society wants her to be. This screams Belle Reprise, although her prospective husband in Solmir is nothing like Gaston. He is a decent guy who cares, but her independent spirit is not cut out for marriage to him. She needs to be outdoors, roaming the forests, hunting for food and more importantly the Beast she knows her father was close to discovering. When her father loses his fortune and moves Yeva and her two sisters (Lena and Asenka) out of the village, she finally gets her chance to hunt the Beast back to his own territory and discover a world she's only ever heard about in fairytales.
I'm no stranger to professing my love for Hunted but what I love about this retelling the most is that Meagan Spooner has managed to modernise the original Barbot de Villeneuve story whilst retaining the fairytale characteristics that we love about retellings. The writing is descriptive, fluid, it takes you on a journey, and more importantly it pulls you in so you can't help but be immersed into the story and the characters of Yeva and Beast. It also captures Beast's torment exceptionally well, giving him a lot more depth and complexity.
In my opinion, it is one of the best Beaty and the Beast retellings out there and I think it has the Belle reprise vibe more so than any of the others.
The Order of Darkness series by Philippa Gregory
and particularly when it comes down to the character of Lady Isolde. She is one of two main characters embarking on a journey across Christendom in the 1450s to search for destiny, truth and understanding of the world. Similarly to Belle, she leaves her small world, and has to be stubborn and brave in order to survive and live the way she wants to live. Secondly, she is no stranger to ignorance, prejudice, and misguided judgement. She takes it in but as a result of her independent spirit and early life, she doesn't allow it to consume her and I really love that strength that is reminiscent of Belle and her desire for someone to love and understand all of her.
I am dipping in and out of this book at the moment because this particular edition is an 856 page brick! t is also very different to Philippa Gregory's other books in that it is more YA than Adult, religion plays a huge role in the story, and it's not really based on specific historical figures. However, I do think it's a decent read.
Rebel of the Sands by Alwyn Hamilton
Okay the setting of this might scream Aladdin more than the French countryside of Beauty and the Beast but I think it works perfectly. Amani lives in Dustwalk, a little village where everybody knows everybody, yet she is virtually alone in the world. Her parents are both dead, and she lives with extended family (uncle, aunt and cousins) who are not exactly the nicest of people. Her uncle wants Amani to become one of his many wives, her aunt wants her married off so that she's no longer a burden, and she wants to travel to the far-off city of Izmud, a place she'd always heard about from her mother's stories. Brave and stubborn as she is, she dares to act and takes fate into her own hands.
Although the book takes a completely different turn from Beauty and the Beast, this song certainly captures everything Amani feels at the beginning. She doesn't want to be in Dustwalk for the rest of her life, she certainly doesn't want to be married off to a husband who would ultimately abuse her (which I imagine would happen if Belle did marry Gaston), and those stories of a magical, faraway city are too tempting to ignore. She sounds a bit like Belle, doesn't she?
It is also a fantastic book to a great series. Alwyn Hamilton does a great job at weaving so much description and action that you feel as if you are there in the middle of the desert with everyone. It is a YA series not to be missed.
---
Again, I think three books will be my limit otherwise this post would be too long. However, I think they are three good books that capture the essence and spirit of the song and Belle's feelings this point in the film.
I hope that maybe you found some recommendations that suit your reading tastes.
What books would you recommend based off Belle's Reprise?
Thanks for reading and have a brazzle dazzle day!
xx