Are you someone who cannot go a day without reading and finishing a book?
Are you someone who always knows what you want to read and has the next few books lined up and ready to go?
If yes, then YAY!
However, are you also someone who burns out easily and then struggles to get back into reading?
If yes, then YAY! again because that's a sign you are human and not a robotic cyborg – apologies Cinder and Iko! I love you really!
Anyway, all this is good and bad as the latter is probably the sign that you are in a reading slump. Yes, the dreaded slump that can last for an eternity and drive you up the wall in the process.
But, how do you know you are in a reading slump? What are the symptoms, and how do you go about curing it?
Well no fear, the reading slump clinic is here and open for business!
---
Symptoms:
You longingly stare at your shelves, having no desire to pick anything up.
It doesn't matter if you can see the ARC you've been meaning to review for a few months, or the unread finale of a new favourite series. Your eyes glaze over them completely uninterested.
When you do start picking up books, you read blurb after blurb and nothing stands out.
Forget about whether it interested you in the book shop or it was a recommendation from a friend, booktube video, or blog. If it doesn't interest you at the moment, just wait until the right mood strikes.
You decide to choose a book at random but when you start reading, you can't concentrate on the words.
It's a case when words are simply words, and not portals into magical realms.
You start to hallucinate and the images are those of book covers you highly anticipate and aren't released for months.
Seriously, go away Queen of Air and Darkness, The Bone Season 4, Muse of Nightmares, and City of Ghosts.
All you can think about are the shows and films you need to catch up on
No Netflix, now is not the time to update Good Witch (the series and prequel films) and Call the Midwife, or finally add the likes of Castle, NCIS, Bones, Charmed, Midsomer Murders, Murdoch Mysteries…etc.
You've pinned/bookmarked Book Depository, Amazon, Wordery, or any other book outlet to your browser and in fits of boredom you can't stop browsing and adding books to the cart.
What is a book-buying ban? Didn't you tell yourself not to buy any books until after YALC? Yes *sulks in the corner* but the Christina Henry retellings are online for cheap and I need them in my life! Also, as she will be at YALC it's not technically breaking the ban, right?
---
Cures:
No longer put off that re-read of The Infernal Devices or any other beloved series.
Watch all the Netflix and Youtube you want. Books won't hate you or feel guilty for being left on the shelf whilst you recover.
Re-organise and cleanse your bookshelves. Get rid of those books you rated lower than 3 stars or have no intention of reading anymore.
Throw out the TBR and the reading challenges. Read what your heart wants you to read.
Find a fun and wacky audiobook to listen to when travelling to work, doing household chores, cooking etc..
Buddy read with a friend. Sit, chat, discuss the book at length until the reading mojo has returned!
---
When all that is done, you'll find yourself like Belle, gazing in awe and wonder at your own shelves and entering all the magical worlds you've been waiting to savour.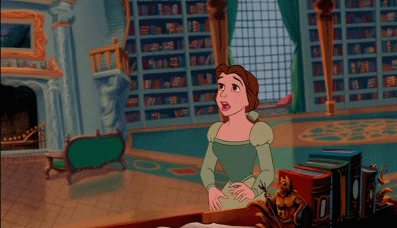 Have a brazzle dazzle day!
xx