Hello!
Welcome to the post where I ramble and rave about a few Young Adult books I consider to be rather under-hyped. By this I mean those books I've rarely heard spoken about in the YA book community and seem to fall under the radar. You know we all have these lists of books we can't wait to read and love as soon as they are released, but at the same time, there are some smaller authors whose books don't receive the same fuss and they're missing out because the books happen to be really good and showcase some important messages! Three of these might be on the younger side of YA but the themes portrayed transcend the age range of the characters and the target audience.
So let's jump in and share the love!
---

The Bone Sparrow by Zana Fraillon.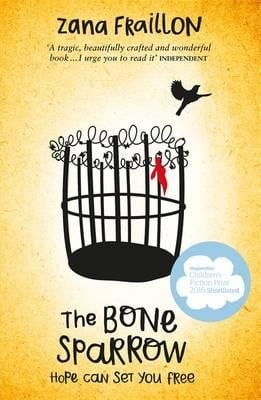 This is one book I talked about a lot when I first read it because the subject matter of refugees and conditions inside refugee camps/centres was very high profile and in the UK national news nearly every day. It upset me to see so many people being treated cruelly simply because they wanted to be further away from the wars destroying their lives. Whilst it is fictional, I think this book does an amazing job at highlighting the horrors facing innocent people in these centres who just wanted to escape persecution. Told in dual perspective, it follows a young boy called Subhi who was born in an Australian detention centre and dreams of life beyond the fences. His vivid imagination brings him close to Jimmie, a girl on the outside of the fences who is curious about the centre and is looking for someone to tell her the stories left to her by her mother. They forge such a great and loving friendship that proves one's situation in life doesn't matter. With the messages and friendship, it's The Boy in the Striped Pyjamas and THUG combined. Unfortunately, THUG took all the attention (although well deserved) so The Bone Sparrow slipped under the radar and didn't generate the response it ought to have done.
Being Miss Nobody by Tamsin Winter
Set within the UK educational system, Being Miss Nobody follows our main character Rosalind who struggles at school due to her Selective Mutism. As she can't talk back, she becomes an easy target for bullies and the subject of general school gossip. Wanting to find a safe space to talk about things, she starts a blog and finds her voice within the words. However, as things escalate with her blog, is she starting to become a bully herself?
This is one damn powerful book that highlights the huge problem UK schools have with bullying and cyber bullying in particular – it is easy to be cruel when you are hiding anonymously behind a screen and no one knows your true identity. I found this book to be pretty relatable to me and my school days and I think it is one of those books every school library should have because there will always be someone else who relates to it. It's also hugely relevant in today's society where nearly every high schooler has some form of social media outlet.
Juniper Lemon's Happiness Index by Julie Israel
This is one YA Contemporary I'm surprised I loved because it does have a romantic sub-plot to the story, and you all know, I'm not always the biggest fan of that. However, the main focus of this novel is Juniper and her coming to terms with the death of her older sister Camilla, who was pretty well regarded by her family and friends. There is a mystery surrounding Camilla's death because before she died, she writes a letter and only addresses it with 'you'. Juniper is determined to find out who this 'you' is and it certainly brings some mystery to what would usually be a typical run-of-the-mill YA Contemporary. I quite liked the mystery and although a lot of people are annoyed by how it ended, I thought it was fitting and sensible. However, the friendship between Juniper and the other secondary characters is what makes this book. It is incredibly supportive, strong and realistic, which is amazing to see. I love reading about this kind of friendship and it's one I always want to portray in my own writing because it is such an important aspect of teen and young adult life.
The Island at the end of Everything by Kiran Milwood Hargrave
This is one of the most minimalist and beautiful covers I've ever seen in YA fiction and you can certainly judge a book by its cover in this case because the content is just as beautiful and enchanting. The story follows Ami, who lives on the island of Culion, an island the government designates to housing people living with leprosy. As Ami is untouched by the illness, she is forced to leave the island and move to an orphanage on the nearby island of Curon. With love on her side, Ami wants to make the perilous journey back to Culion and stay with her mother no matter the risk. To me, this is the MG/YA equivalent of The Island by Victoria Hislop as it discusses the same themes and deals with ignorance, discrimination, fear and everything we need to be increasingly aware of. It's a book everyone ought to read and discuss.
The Bone Dragon by Alexia Casale
It has been a while since I talked about this book, but The Bone Dragon was probably one of the first MG/YA Contemporaries/Magical Realism that I read on discovering YA and I really loved it. It follows Evie (in first person perspective) who has finally found the strength to tell her adoptive family about her volatile and abusive early childhood. After having an operation to remove a shattered rib her uncle then carves this rib into a dragon-shaped talisman, which turns into a symbol of strength and recovery. What I love the most about this book is the general family dynamic between her adoptive parents (Amy and Paul) and her Uncle Ben. They are incredibly loving, supportive, and they want to give Evie the world whilst coming to terms with their own loss and issues as a result of that. They're all dealing with their own pain and being able to help and support each other is a dynamic I don't really read about so it was amazing and refreshing. I also like the unreliableness of Evie's narrative because it keeps you on your toes a little and you don't quite know what Evie will do next.
---
And there we go. Five YA Contemporaries that I find to be rather underrated, also known as the contemporaries I will read over any of those mentioned in the YA community on a fairly regular basis. Yeah, you're not going to find me reading those like To All the Boys I Loved Before, Turtles All The Way Down, Everything Everything, Since You've Been Gone etc…
I like the ones which deal with heavy subjects and a lot of them don't get much attention which is sad because they're really important books that deserve to be read and discussed as much as all the others.
Anyway, I've repeated myself enough and this post is slightly longer than I expected so that is that.
---

What do you think?
Are there any other underrated YA Contemporaries I've missed?
Thanks for reading and have a brazzle dazzle day!
xx