Hello!
Welcome back to the weekly posting of anything to do with d/Deaf Awareness!
I'm on a bit of a book kick with this at the moment as this will be part two of the books with d/Deaf representation post that I published a couple of days ago. That edition was mainly centred on YA and I'll leave the link here if you missed it. As you can see from the title, this edition is more focused on adult fiction and memoirs and it's not so much d/Deaf representation but deafness as a subject and way of life – something I believe it is important to distinguish.
Secondly, I will come outright and say that I haven't read any of the books included in this list. I've only just come across them within the last day or so, but I still thought it would be a good idea to share and spread awareness of them. Similarly to yesterday's post, I will also be leaving Goodreads and Book Depository links for each book so you can check them out if you are interested. I might not leave my own opinions though because I would probably end up repeating myself for every book and that would be boring to say the least.
With that out of the way, let's just get right into it.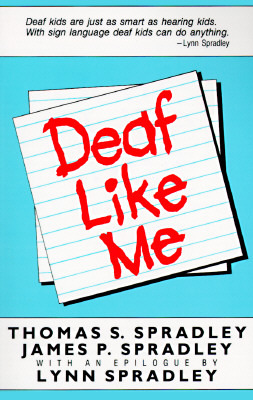 Deaf Like Me by Thomas and James Spradley
Deaf Like Me is the moving account of parents coming to terms with their baby girl's profound deafness. The love, hope, and anxieties of all hearing parents of deaf children are expressed here with power and simplicity. In the epilogue, Lynn Spradley as a teenager reflects upon being deaf, her education, her struggle to communicate, and the discovery that she was the focus of her father's and uncle's book. At once moving and inspiring, Deaf Like Me is must reading for every parent, relative, and friend of deaf children everywhere.
Seeing Voices by Oliver Sacks
Like The Man Who Mistook His Wife for a Hat, this is a fascinating voyage into a strange and wonderful land, a provocative meditation on communication, biology, adaptation, and culture. In Seeing Voices, Oliver Sacks turns his attention to the subject of deafness, and the result is a deeply felt portrait of a minority struggling for recognition and respect–a minority with its own rich, sometimes astonishing, culture and unique visual language, an extraordinary mode of communication that tells us much about the basis of language in hearing people as well. Seeing Voices is, as Studs Terkel has written, "an exquisite, as well as revelatory, work.
Finding Zoe by Brandi Rarus and Gail Harris
Brandi Rarus lost her hearing at age six. She met her husband Tim after seeing him at the Gallaudet Uprising, and they fell in love a year later, devoting their lives to each other, improving the lives and communication for the Deaf, and later, raising their three hearing sons.

Despite being head over heels for her boys, Brandi kept dreaming that she'd have a daughter someday. She didn't know when or how, but she knew a little girl was out there waiting for her.

When Zoe was born to Jess, a high school student who knew she couldn't raise a baby on her own, Jess did her best to find the ideal couple to raise her little girl. But when the adoptive family discovered Zoe's increasing hearing loss, they made the agonizing decision to let her go.

Set against the backdrop of Deaf America, Finding Zoe is story about a remarkable family and gives us a poignant insight into their culture and its history. It's a story about doing what is right and watching how the pieces can just fall into place, as it did when Zoe found her true family
A Loss For Words by Lou Ann Walker
From the time she was a toddler, Lou Ann Walker was the ears and voice for her deaf parents. Their family life was warm and loving, but outside the home, they faced a world that misunderstood and often rejected them.
Signs of Attraction by Laura Brown
Do you know what hearing loss sounds like? I do.

All my life I've tried to be like you. I've failed.

So I keep it hidden.

But on the day my world crashed down around me, Reed was there.

He showed me just how loud and vibrant silence can be, even when I struggled to understand.

He's unlike anyone I've ever known. His soulful eyes and strong hands pulled me in before I knew what was happening.

And as I saw those hands sign, felt them sparking on me, I knew: imperfect could be perfect.

Reed makes me feel things I've never felt. It's exciting…and terrifying.

Because he sees me like no one else has, and I'm afraid of what he'll find if he looks too closely.

The only thing that scares me more than being with him? Letting him go.
Painter of Silence by Georgina Harding
Iasi, Romania, the early 1950s. A nameless man is found on the steps of a hospital. Deaf and mute, he is unable to communicate until a young nurse called Safta brings paper and pencils with which he can draw. Slowly, painstakingly, memories appear on the page.

The memories are Safta's also. For the man is Augustin, son of the cook at the manor house which was Safta's family home. Born six months apart, they grew up with a connection that bypassed words. But while Augustin's world remained the same size Safta's expanded to embrace languages, society – and a fleeting love, one long, hot summer.

But then came war, and in its wake a brutal Stalinist regime, and nothing would remain the same.
Okay, so I am going to vocalise my opinion on this book because I actually did read and DNF this a few years ago. I didn't get very far with it, maybe 50 pages or so, because I wasn't convinced by the d/Deaf representation. It's just one of those things. However, I still wanted to include it because someone else might still like it and understand what the author wanted to do with her Deaf character.
---
And whilst there are probably quite a few more, I'm leaving it at that. These are just some books that stood out to me and would probably be added to my own tbr at some point…well except Painter of Silence of course.
Do you know of any other books I could add to this list?
Thanks for reading and have a brazzle dazzle day!
xx