Or I should say, books I picked up because the hype was too huge to ignore!
Welcome back to Monthly Recommendations, the Goodreads feature and group created to share with you all our recommended reads and book-related goodness. May's topic is dedicated to all the books that we read because of BookTube and the wider online book community.
The true title was books that BookTube made me read, but I wanted to tweak that for a few reasons:
I know it wouldn't have been said in this way but "made" sounded too forceful and we're not about forcing people to read certain books with supervillain-like mind control!
Apart from a few channels, I don't really watch a lot of BookTube anymore, so it feels incumbent upon me to widen the focus to all the online book community.
I know the latter is explained on the Goodreads post but I felt it necessary to repeat!
Truthfully, I could post every single YA book I've read on here and know I'd found about them from the online community. The number of books I bought due to BookTube and Tumblr (my initial blogging platform) skyrocketed, even though I'm now trying to practise some restraint. It is crazy how much the online community changed my reading and book-buying habits. Anyway…
Due to this, what I've decided to do is limit my number of books or series to 10. If not, this post would be incredibly long and I don't want you reading nearly a thousand rambly and repetitive words I know I'd be inclined to type. On the subject of not wanting to rambling, let's just dive into the books:
---

Because You Love to Hate Me

This book is a given really considering it was a joint project between authors and active/popular BookTube channels such as PeruseProject, Thoughts On Tomes, and Little Book Owl. These three do so happen to be a few of those I do watch so this book was promoted a lot and hyped up because of it. I also thought the premise sounded amazing, and even if it wasn't a collaboration I would have read it as it features stories from my favourite authors. Luckily enough, I did enjoy it and there were only a couple of stories I didn't particularly like.
Daughter of Smoke and Bone by Laini Taylor
As a fantasy lover, I couldn't escape these books. Whenever I came across them online it was as if the entire community was telling me to read them and luckily I agreed with the hype. You know I agree with the hype as I talk about them a lot!
The Bone Season by Samantha Shannon
I was coming across this online just as it had been released. Before then I knew nothing about it, and it was thanks to Mary at Books and Cookies (a blog and BookTube channel I read and watched a lot a few years ago!) that I finally picked it up. I was hooked from the first page and the premise was amazing! As most of you know, I still rave about this book and its two current sequels so I cannot wait to see where it goes next.
The Wrath and the Dawn duology by Renee Ahdieh
I can't quite remember how I came across these, perhaps it was a retellings video/blog or something but once I saw the first book, I couldn't escape it. The hype was everywhere and I knew I had to try these books because I hadn't read another retelling like them before. The only annoying thing is that they weren't huge in the UK and I don't think they still are to an extent, so I had to order them online instead of buying them from my local Waterstones.
The Lunar Chronicles by Marissa Meyer
A few years ago, this was one of the biggest series you could find in the online book community. I swear that 8 out of 10 readers I spoke to had nothing but love and admiration for this series and it was everywhere. I don't think it has taken off in the UK as much as I've seen it explode for the US, but it is certainly a fantasy retelling with a difference. I love it and I need to re-read it again because I'll love it more now the hype has significantly died down.
Red Rising trilogy by Pierce Brown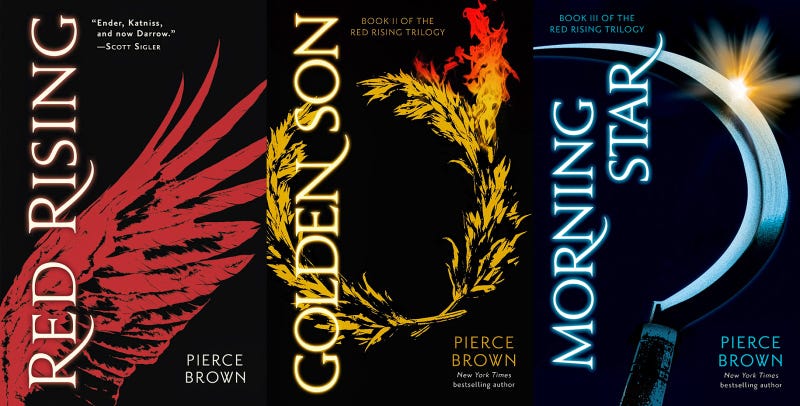 Another channel I used to watch a lot, especially when I was first getting into the Top 5 Wednesday posts was WhyMermaids, and Rebecca from that channel used to go on about this series a lot. Part of my desire to read this series did come from her love for it, but two of my closest friends were also going on about it, and so I couldn't resist. I haven't yet completed this series – just need to read the last book – but I treated myself for my birthday and bought them all in paperback/hardback so I am now more likely to pick them up and re-read them.
Anna and the French Kiss series by Stephanie Perkins
This set of three books – I can't really call it a trilogy – is arguably the biggest YA Contemporary series I've ever seen in the online book community and it was everywhere when I first joined. Tilly at Tilly and Her Books always used to go on about Anna and the French Kiss and although I was clearly more fond of fantasy, I couldn't resist not trying them out when I wanted some fluffiness. And God damn the fluffiness was everything I needed at certain moments. Also I'd come back from my Year Abroad at that point and Anna and Isla satisfied my need for the French atmosphere I was missing. I still like Anna and Isla a lot but I do think they are a little over-hyped now.
Aristotle and Dante Discover the Secrets of the Universe by Benjamin Alice Saenz.
Around the time I discovered Anna and the French Kiss, I swear this particular book was one of the, if not, the biggest YA Contemporary standalones. All the praise for that can go to BookTube and the online Tumblr community because nearly everyone I spoke to loved it. I was gratefully gifted this book by one of my Tumblr friends and I'm so glad as I couldn't really find it at home and once I read it, I understood the hype. I adored  everything about it and even now when I re-read it, it is just as good. I don't personally know if I'm bothered by a sequel that is supposed to be coming out, and I don't know if it will be released in the UK anyway but that doesn't stop this book from being the book to remind me there are YA Contemporaries I can read and love.
The Raven Cycle by Maggie Stiefvater
If there was another incredibly hyped series I saw everywhere, it was the Raven Cycle. I hadn't really heard much of Maggie Stiefvater beforehand so this was new territory for me and I didn't know how I would like such a series. And out of all the books and series on this list, this is the series I found overhyped the most. I liked it but I had a few character and writing issues with it that dampened my enthusiasm and fondness for the series *cough* Adam and his unilateral hearing loss that could have been great deaf representation but failed to deliver *cough*. The covers are still some of the most visually stunning and creative I've seen but it didn't deliver as much I hoped it would considering the overall hype.
Carry On by Rainbow Rowell
Of course, I've had to end on a bit of a sour note because this was one incredibly hyped book I ended up loathing. In fact I read nearly every single Rainbow Rowell book due to online hype and I was disappointed with all of them. Nonetheless, Carry On was the book that made me decide to refuse to listen to anymore Rainbow Rowell hype. I got the Harry Potter vibes but it was too much of a cheap-knock off with ridiculous character names for me to take seriously. To me, if someone said they'd written a villain called "Humdrum" I'd say they were trying to create a comical Disney villain reminiscent of Madam Mim from Sword and the Stone. It came across as being too juvenile, and the blend of contemporary writing and knock-off fantasy concept didn't work for me at all. I can see why a lot of people call it fun and it might be fun for you if you've not read it yet and like that kind of thing, but it's not my cup of tea. If there is one good thing to say about this book, it is that it has taught me to be very wary of online hype, and if I dislike every book I've read from a certain author, I'm not going to find a book that would change my opinions.
---
And with that saltiness, comes the end of this post.
Also, you know how I said at the beginning I'd stop rambling so my word count wouldn't hit the thousands, well…
I have a max word count of 1550 at this point – the size of a small essay I used to write at uni!
Yikes!
Anyway, that is that.
---

What books did you read thanks to the online book community?
Did you find the hype deserving or undeserving?
Like me with Carry On, what are some of the overhyped books you didn't like or even hated?
Thanks for reading and have a brazzle dazzle day!
xx