Hello!
I'm changing my blogging schedule this week and deciding to post every day because this week (14th-20th May) happens to be Deaf Awareness Week in the UK. It has coincided with quite a few other awareness weeks such as Mental Health and Epilepsy but it is Deaf Awareness Week I want to focus on. Saying that, there might be a collaboration at some point later on in the week.
Anyway, last year I published a post dedicated to books with d/Deaf Characters. Like I probably said in that post, I'm always on the look out for more d/Deaf representation because I don't think it is explored in fiction as much as it ought to be. I also think the perspective is quite narrow, and it throws up queries on whether other experiences with deafness are valid enough to be immortalised in fiction.
Regardless, if you do a bit of digging there are quite a few books out there. I've actually come across quite a few that I'm going to separate this into two posts, one for YA and the other for Adult fiction.
I'm also going to throw this out there that I will have only read two books from this new list and they will be in this first post so I'm not 100% sure on the accuracy or realism of the representation. If you have read some of them, let me know your personal recommendations so I can add them to my ever growing list of books to read.
So, are we ready to find some fictional d/Deaf representation?
Let's go!
---
Read My Lips by Teri Brown
Popularity is as easy as a good secret.

Serena just wants to fly under the radar at her new school. But Serena is deaf, and she can read lips really well-even across the busy cafeteria. So when the popular girls discover her talent, there's no turning back.

From skater chick to cookie-cutter prep, Serena's identity has done a 180…almost. She still wants to date Miller, the school rebel, and she's not ready to trade her hoodies for pink tees just yet. But she is rising through the ranks in the school's most exclusive clique.

With each new secret she uncovers, Serena feels pressure to find out more. Reading lips has always been her greatest talent, but now Serena just feels like a gigantic snoop…
I'm not going to deny that this a book I personally get a not-so-sure vibe from but that doesn't mean it's not a bad book. I probably would have read this a few years ago when I was still at school but it's not one I'd pick up now. However, I'm still adding it here because it does highlight deafness and lip reading and that's not something I've really seen.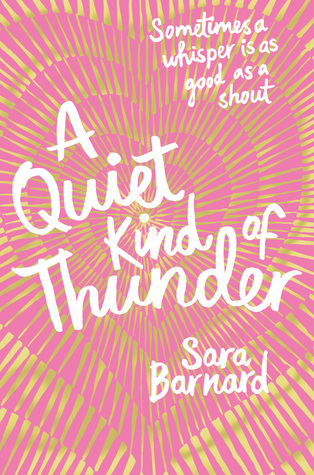 A Quiet Kind of Thunder by Sara Bernard
Steffi doesn't talk, but she has so much to say.
Rhys can't hear, but he can listen.
Their love isn't a lightning strike, it's the rumbling roll of thunder.

Steffi has been a selective mute for most of her life – she's been silent for so long that she feels completely invisible. But Rhys, the new boy at school, sees her. He's deaf, and her knowledge of basic sign language means that she's assigned to look after him. To Rhys, it doesn't matter that Steffi doesn't talk, and as they find ways to communicate, Steffi finds that she does have a voice, and that she's falling in love with the one person who makes her feel brave enough to use it.

From the bestselling author of Beautiful Broken Things comes a love story about the times when a whisper is as good as a shout.
This is one of the books I have read and dear lord, I will shout and shout at how amazing this book is! For me personally, the representation in this is spot on and I can see both myself and my sister in Steffi and Rhys which is something that has never happened before. Also, what I love about it is that the Sign Language dialogue is British Sign Language. When I was first coming across d/Deaf characters and Sign Language in fiction (books and tv), most of it was American and ASL, so it was nice to come across a book which represented BSL for a change. I also loved the addition of BSL on the chapter headings as it was such a nice way of incorporating more BSL into the story.
Hollow Earth by John and Carole E Barrowman
Imagination matters most in a world where art can keep monsters trapped—or set them free.

Lots of twins have a special connection, but twelve-year-old Matt and Emily Calder can do way more than finish each other's sentences. Together, they are able to bring art to life and enter paintings at will. Their extraordinary abilities are highly sought after, particularly by a secret group who want to access the terrors called Hollow Earth. All the demons, devils, and evil creatures ever imagined are trapped for eternity in the world of Hollow Earth—trapped unless special powers release them.

The twins flee from London to a remote island off the west coast of Scotland in hopes of escaping their pursuers and gaining the protection of their grandfather, who has powers of his own. But the villains will stop at nothing to find Hollow Earth and harness the powers within. With so much at stake, nowhere is safe—and survival might be a fantasy.
This is the second book on this list that I have read and I will say now that it is one of the side characters (Zach) who is d/Deaf, not the two main characters. I haven't read the rest of the series so I don't know if full representation is there or not and whether he had some character development, but I did like how Matt and Emily accepted and included him in their quest.
Deaf Child Crossing by Marlee Matlin
Megan is excited when Cindy moves into her neighbourhood — maybe she'll finally have a best friend. Sure enough, the two girls quickly become inseparable. Cindy even starts to learn Sign Language so they can communicate more easily.

But when they go away to summer camp together, problems arise. Cindy feels left out, because Megan is spending all of her time with Lizzie, another deaf girl; Megan resents that Cindy is always trying to help her, even when she doesn't need help. Before they can mend their differences, both girls have to learn what it means to be a friend.
So I know instantly that the representation in this is going to be pretty accurate because it is written by Marlee Matlin, arguably the most well-known Deaf actress of the 20 and 21st Century. In that respect, you could call this an #OwnVoices book. I'm not totally sure though because I have just this minute stumbled across this book. Nonetheless, this is one book I would probably add to my to-read list as I have liked Marlee Matlin in the past.
Of Sound Mind by Jean Ferris
High school senior Theo is fluent in two languages: spoken English and sign. His parents and brother, Jeremy, are deaf, but Theo can hear, which has over the years cast him in the role of interpreter for his family. Unfortunately, it's not a welcome duty, especially in the case of his mother, Palma. She is a successful sculptor who, being deeply suspicious of "hearies," expects Theo to act as her business manager. And Jeremy relies on Theo for company and homework help. It's become especially frustrating lately because Theo has met a fascinating new girl at school, Ivy, with whom he wants to spend as much time as possible. Theo's father, Thomas, is the only one who has never burdened him, but that changes when Thomas has a stroke. Palma, frightened and self-absorbed, cannot bring herself to nurse her husband, leaving Theo with the full burden to bear. But with the help of Ivy and some of her friends, Theo is finally able to change his family's dynamics and find time to plan his future.
I'm now intrigued in this book because I have a feeling I would certainly relate and connect to Theo. When my dad is busy, I'm the family interpreter so I know how it feels to have that sense of responsibility and also guilt when you want to do something for yourself. The reviews are very hit and miss but I still think it would be a book worth checking out.
Tone Deaf by Olivia Rivers
Ali Collins was a child prodigy destined to become one of the greatest musicians of the twenty-first century—until she was diagnosed with a life-changing brain tumor. Now, at seventeen, Ali lives in a soundless world where she gets by with American Sign Language and lip-reading. She's a constant disappointment to her father, a retired cop fighting his own demons, and the bruises are getting harder to hide.

When Ali accidentally wins a backstage tour with the chart-topping band Tone Deaf, she's swept back into the world of music. Jace Beckett, the nineteen-year-old lead singer of the band, has a reputation. He's a jerk and a player, and Ali wants nothing to do with him. But there's more to Jace than the tabloids let on. When Jace notices Ali's bruises and offers to help her escape to New York, Ali can't turn down the chance at freedom and a fresh start. Soon she's traveling cross-country, hidden away in Jace's RV as the band finishes their nationwide tour. With the help of Jace, Ali sets out to reboot her life and rediscover the music she once loved.
I think this is one book I have come across before but never thought to pick up. It's also one that highlights an interesting perspective of someone who was Hearing but became Deaf from medical circumstances.
Five Flavours of Dumb by Anthony John
The Challenge: Piper has one month to get the rock band Dumb a paying gig.

The Deal: If she does it, Piper will become the band's manager and get her share of the profits.

The Catch: How can Piper possibly manage one egomaniacal pretty boy, one talentless piece of eye candy, one crush, one silent rocker, and one angry girl? And how can she do it when she's deaf?

Piper can't hear Dumb's music, but with growing self-confidence, a budding romance, and a new understanding of the decision her family made to buy a cochlear implant for her deaf baby sister, she discovers her own inner rock star and what it truly means to be a flavor of Dumb.
Is this a YA Contemporary I would personally pick up? Probably not. However, I would be intrigued to see how it portrays the representation of cochlear implantation because it is a divisive issue between Hearing and Deaf communities.
---
And that's it. Seven books with d/Deaf representation. What I like about this mix is that it looks at deafness from various perspectives, and I think that's something we all ought to remember. All of us who know what it is like living with deafness have different experiences and opinions. Some might be the same but as we look at the world through our own unique eyes, not one experience will be identical to another.
---

Are there any other YA novels you know of (not included in this list or last years) that have d/Deaf representation?
Have you read any of these? If so, what are your thoughts?
Thanks for reading and have a brazzle dazzle day!
xx