Hello!
Everybody having a Disney kind of day?
I'm listening to a Disney radio station whilst writing this so it can hopefully get me in a Disney mood. Luckily it's playing a lot of park music at the moment so it is not too distracting but even that can get me sidetracked for a little bit.
---
Anyway, music is a perfect segue for this post because the bit of Disney animation and film history that I want to move onto today is Music Land (not to be confused with the Silly Symphony short of the same name), a package film released in 1955 after the opening of Disneyland. I stumbled across it whilst looking for production information on Peter Pan and I was intrigued by its rarity, so much so, I couldn't let it remain unnoticed for any other amateur Disney film historian.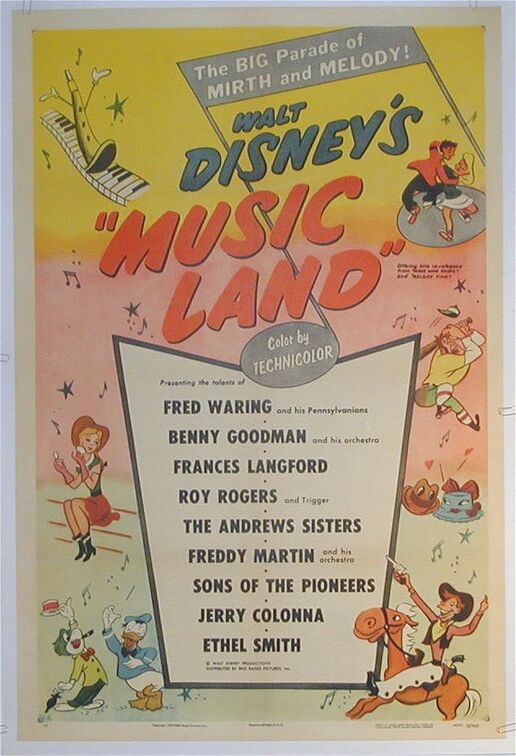 From the little information I could find, here are a few facts:
It was released into theatres on 5th October, 1955
It was the last animated Disney film to be distributed and produced by RKO Radio Pictures as Peter Pan and subsequent releases would be dealt with in house under Buena Vista Distribution.
Disney were contracted to owe RKO a certain number of films before moving over to Buena Vista Distribution, so Music Land was thrown together as a package film, borrowing sequences from Make Mine Music and Melody Time.
The animation sequences included:
It is due to this amalgamation of Make Mine Music and Melody Time that Music Land is not considered part of the Disney Animated Feature Film Canon.
Back then, Disney was in the habit of re-releasing many of its classics in cinemas to generate some all-important income but Music Land never had the same treatment, probably due to its rushed production and lack of importance to the Disney Animated Canon and the Studios as a whole.
It did however get one more showing in 1970 at the National Film Theatre – or the BFI (British Film Institute) if you prefer – in tribute to Walt Disney.
With no home video release, that's the last time anyone would see Music Land as a film. In that respect, that makes the film rarer than Song of the South and Victory Through Air Power, although you can see each segment in the most recent releases of Melody Time and Make Mine Music. 
---
Due to the scrambling around for any bits of information, of which everything I find is the same, I'd say this film and any more knowledge of it is truly lost outside of Disney's deepest archives. That is a huge shame because I believe that releasing Music Land does present a huge turning point for Disney in their move to become a bigger and significant movie studio. With the release of Music Land and the formation of Buena Vista Distribution, Walt Disney created a surfeit of power of which he could use to further the legacy of Disney – it gave him the leverage to do everything in house and cut the strings tying him to outside forces.
---

What do you think?
Had you heard of this unknown film?
Even if there is not much knowledge about it, do you think it still exists somewhere?
Let me know your thoughts.
---
Thanks for reading and have a brazzle dazzle day!
xx