Hello!
It always comes as a bit of a shock to me whenever I am the bearer of any blog award nomination and I won't deny that this particular nomination hit me the most. I don't know if I'd describe my blog as lovely. Yes, I know I spend a lot of my time writing up post after post and tweaking aspects that I'm not satisfied with, but my friends and I would agree that I don't have a life!

Whether I am right or not, Emma at Thoughts of a Brown Eyed Girl seems convinced that I have a lovely blog, so thank you! Kind, unexpected gestures are always well-received, whether we are newer or long-time followers.
So I need to quit the rambling now before I consider this post to be longer than absolutely necessary. Let's just move on.
---
The rules:
Thank the person who nominated you and provide a link to their blog and/or One Lovely Blog Award post.
Display the award logo in your post and/or on your blog.
Share 7 facts or things about yourself.
Nominate up to 15 bloggers that you admire and inform them of their nomination.
Erm, 7 facts? I struggle writing 3 and I don't profess to be interesting enough to tell you something about me that hasn't already been said before.
Let's see how this goes.
---
7 Facts About Me:
1. My middle name is Caroline – I used to hate it when I was little because I considered it old-fashioned and uncommon. Ironically, they're the same reasons why I now like it and I'm grateful that my parents decided against having "Louise" as my middle name because that was such a common trend in the 90s, especially with a name like Emma. I really would have hated being the third 'Emma Louise' in my high school year. Nope.
2. My favourite city in the UK is Lancaster – I think some of you might have already twigged this little fact as I'm constantly referring to Lancaster whenever I read a book about witchcraft, but after living there for three years whilst at university, I've never wanted anything more than to go back and live there full-time. It's small, compact, full of interesting history and Williamson Park and the Castle are two of my favourite places to relax in – on a rare day when there's no rain, of course!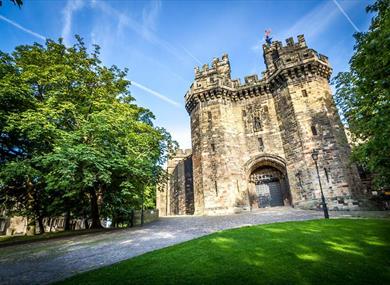 (Williamson Park and the Ashton Memorial, and Lancaster Castle, the latter image taken from Google)
3. Out of everyone in my family, I'm the only one who's ever needed to wear glasses from a really early age – I think I was 3 or 4 when we found out I was incredibly short-sighted and needed to wear glasses all the time. Also the considerable strength of my lenses means that I have to get them specially thinned so they'll fit in the frames. Luckily I've had the same lens prescription for 10 years now so I hope it remains that way for a while.
4. I'm allergic to both tree (particularly birch trees) and grass pollen – This little fact crept up on me a few years ago and I wasn't expecting it. I'd wondered why my hay fever symptoms had worsened and struck me earlier into the season but I didn't realise until I had a blood test that it was due to birch pollen. I'm not as allergic to birch trees as I am to grass but it means hay fever drives me mad for the entirety of spring and summer. Thank goodness I've grown more fond of audiobooks because they are a godsend when pollen likes to attack my eyes.
5. If anyone gives me the choice between going to Disneyland and Walt Disney World, I will always pick Disneyland. I'd be able to deal with Californian heat better than the Floridian humidity, I'd rather experience the history and atmosphere of the park that Walt Disney himself took pride in overseeing to completion, and I feel more comfortable in smaller parks. For me, it would be just like going to Disneyland Paris but in America and not France.
6. I've finally jumped on the "art therapy" book hype train. I bought these two books a couple of months ago and I always feel like doing a bit every day, especially when frustration has got the better of me. I also use that time to listen to an audiobook so I don't feel like I'm wasting any valuable reading time.
7. I am replete of all facts about me!
There's nothing else of interest to know about me. Truly. I am the most dull and boring person you will ever know, whether that be personally or just online.
TAG TIME
Christina @ Chrikaru Reads
Holly @ Nut Free Nerd
Kate @ Reading Through Infinity 
If you have already done this tag/award then don't feel obligated to do it again if you don't want to.
---
I suppose that is it from me for this post so…
Thanks for reading and have a brazzle dazzle day!
xx