Or more accurately, yes I do read more than just YA fiction!
Hello!
Welcome back to the second part of my anticipated and interesting releases post. When I set off to write the original post I didn't anticipate on wanting to write a second. However, whilst there is nothing wrong with being excited for any upcoming YA releases, I do like to keep abreast of all the Adult/General Fiction and Non-Fiction releases in case something does catch my eye. In this respect, The Guardian newspaper's book section is a dangerous place indeed for a bookworm dragon who can't buy any more books until after YALC.
So.
Shall we get started?
---
Time's Convert by Deborah Harkness
Fiction – Historical/Fantasy
Expected Publication Date – 25th September
From the #1 New York Times bestselling author of A Discovery of Witches, a novel about what it takes to become a vampire.

Set in contemporary Paris and London, and the American colonies during the upheaval and unrest that exploded into the Revolutionary War, a sweeping story that braids together the past and present.

On the battlefields of the American Revolution, Matthew de Clermont meets Marcus MacNeil, a young surgeon from Massachusetts, during a moment of political awakening when it seems that the world is on the brink of a brighter future. When Matthew offers him a chance at immortality and a new life, free from the restraints of his puritanical upbringing, Marcus seizes the opportunity to become a vampire. But his transformation is not an easy one and the ancient traditions and responsibilities of the de Clermont family clash with Marcus's deeply-held beliefs in liberty, equality, and brotherhood.

Fast forward to contemporary London, where Marcus has fallen for Phoebe Taylor, a young employee at Sotheby's. She decides to become a vampire, too, and though the process at first seems uncomplicated, the couple discovers that the challenges facing a human who wishes to be a vampire are no less formidable in the modern world than they were in the 18th century. The shadows that Marcus believed he'd escaped centuries ago may return to haunt them both–forever.

A passionate love story and a fascinating exploration of the power of tradition and the possibilities for change, Time's Convert will delight fans of the All Souls trilogy and all readers of magic, the supernatural, and romance.
I knew a spin-off series was coming but I didn't know when. I've just seen the information for this on Deborah Harkness' Twitter feed and I am beyond excited. I don't need to tell you yet again how much I love the original All Souls Trilogy so it is not a surprise that this book will be one of my biggest and most anticipated of all releases. I'm not a great fan of the cover art but hopefully the content will deliver, so it doesn't matter.
Shapeshifters: On Medicine and Human Change by Gavin Francis.
Non-Fiction – Medical
Expected Publication Date – 3rd May
To be alive is to be in perpetual change: growing, healing, learning, aging. In Shapeshifters, award-winning writer and doctor Gavin Francis considers the transformations in mind and body that continue across the arc of human life.

Some of these changes we have little choice about. We can't avoid puberty, the menopause, or our hair turning grey. Others may be welcome milestones along our path – a much-wanted pregnancy, a cancer cured, or a long-awaited transition to another gender. We may find ourselves turning down dark paths, towards the cruel distortions of anorexia, or the shifting sands of memory loss. New technologies can upgrade us, and even without them our bodies can transform in rare, almost magical, ways – with gigantism, or the sun-sensitivity and facial hair that led porphyria sufferers, once upon a time, to be suspected as werewolves.

Medicine now has unprecedented power to alter our lives, but that power has limitations. As he helps patients face transformations both temporary and sustained, Francis draws on history, art, literature, myth and magic to show how the very essence of being human is change.
I've always been fascinated by how we react to social change and the impact it has on us. I read quite a lot of it from the perspective of people from the Victorian era or the World War years, and now it is time to look at it from the present day. I think I'd like to be able to compare and look at how far we've come in just a short period of time.
Transcription by Kate Atkinson
Fiction
Expected Publication Date – 6th September
Transcription is a bravura novel of extraordinary power and substance. Juliet Armstrong is recruited as a young woman by an obscure wartime department of the Secret Service. In the aftermath of war she joins the BBC, where her life begins to unravel, and she finally has to come to terms with the consequences of idealism.
I've been interested by Kate Atkinson's books for a while now and haven't had the chance to pick one up. However the release of this new book may be the motivation I need to discover what everyone is talking about.
Paris Echo by Sebastian Faulks. 
Fiction – Historical
Expected Publication Date – 6th September
Does an understanding of history and a deep cultural awareness help us to live a better, richer and more useful life? Or is it just as good to rely on the internet for data and to live only in the moment?

Set in 2006, Paris Echo follows Hannah, a 31-year-old American post-doctoral researcher looking into the lives of women during the German Occupation of Paris in 1940-44; and Tariq, a 19-year-old boy who has run away from his home in Morocco, searching for sex and adventure.

Through their culture clash we are taken back into the hidden Paris of the Dark Years, the Algerian war and the simmering discontents of the Banlieue. This is not the Paris of croissants and little bistros. This is a haunted city of injustice and bad faith, of ghettos and betrayal.

As both characters fight to preserve their integrity and their sanity, they find their future shaped by the lives of the dead, by the ghosts of the Paris Metro.
I've often struggled getting into any books by Sebastian Faulks, no matter how much I've wanted to read, but this one definitely sounds like a book I would try to push through because the subjects of The Algerian War and Women in the Second World War dominated my degree. I've looked at them from different angles and forms of media but it has been a while so I would love to see how Sebastian Faulks tackles them.
I Still Dream by James Smythe
Fiction – Science Fiction
Expected Publication Date – 5th April
1997.

17-year-old Laura Bow has invented a rudimentary artificial intelligence, and named it Organon. At first it's intended to be a sounding-board for her teenage frustrations, a surrogate best friend; but as she grows older, Organon grows with her.

As the world becomes a very different place, technology changes the way we live, love and die; massive corporations develop rival intelligences to Laura's, ones without safety barriers or morals; and Laura is forced to decide whether to share her creation with the world. If it falls into the wrong hands, she knows, its power could be abused. But what if Organon is the only thing that can stop humanity from hurting itself irreparably?

I STILL DREAM is a powerful tale of love, loss and hope; a frightening, heartbreakingly human look at who we are now – and who we can be, if we only allow ourselves.
This sounds really intriguing. We all know that technology has completely changed the way we live but this book looks like it will take that one step further. I think this will be an important insight into our technological age and our relationship to technology as a while. I also need to get into reading more adult sci-fi so this sounds like it will be a good starting point.
---
I know this post was for upcoming releases, but there are also some newly published books that have caught my eye:
Bookworm: A Memoir of Childhood Reading by Lucy Mangan.

Non-Fiction – autobiography
Date of Publication – March 1st
When Lucy Mangan was little, stories were everything. They opened up new worlds and cast light on all the complexities she encountered in this one.

She was whisked away to Narnia – and Kirrin Island – and Wonderland. She ventured down rabbit holes and womble burrows into midnight gardens and chocolate factories. She wandered the countryside with Milly-Molly-Mandy, and played by the tracks with the Railway Children. With Charlotte's Web she discovered Death and with Judy Blume it was Boys. No wonder she only left the house for her weekly trip to the library or to spend her pocket money on amassing her own at home.

In Bookworm, Lucy revisits her childhood reading with wit, love and gratitude. She relives our best-beloved books, their extraordinary creators, and looks at the thousand subtle ways they shape our lives. She also disinters a few forgotten treasures to inspire the next generation of bookworms and set them on their way.

Lucy brings the favourite characters of our collective childhoods back to life – prompting endless re-readings, rediscoveries, and, inevitably, fierce debate – and brilliantly uses them to tell her own story, that of a born, and unrepentant, bookworm.
I think this will be a given for any reader who spent a lot of their childhood reading, especially some of the same books that are mentioned in the blurb. I know I definitely walked through the wardrobe into Narnia, fell down the rabbit hole into Wonderland, explored chocolate factories, and surrounded myself with many talking or anthropomorphic animals. I know I'll enjoy the jaunt down reading memory lane!
Feel Free: Essays by Zadie Smith
Non-Fiction – Essays
Date of publication – 6th February
Since she burst spectacularly into view with her debut novel almost two decades ago, Zadie Smith has established herself not just as one of the world's preeminent fiction writers, but also a brilliant and singular essayist. She contributes regularly to The New Yorker and the New York Review of Books on a range of subjects, and each piece of hers is a literary event in its own right.

Arranged into five sections–In the World, In the Audience, In the Gallery, On the Bookshelf, and Feel Free–this new collection poses questions we immediately recognize. What is The Social Network–and Facebook itself–really about? "It's a cruel portrait of us: 500 million sentient people entrapped in the recent careless thoughts of a Harvard sophomore." Why do we love libraries? "Well-run libraries are filled with people because what a good library offers cannot be easily found elsewhere: an indoor public space in which you do not have to buy anything in order to stay." What will we tell our granddaughters about our collective failure to address global warming? "So I might say to her, look: the thing you have to appreciate is that we'd just been through a century of relativism and deconstruction, in which we were informed that most of our fondest-held principles were either uncertain or simple wishful thinking, and in many areas of our lives we had already been asked to accept that nothing is essential and everything changes–and this had taken the fight out of us somewhat."

Gathering in one place for the first time previously unpublished work, as well as already classic essays, such as, "Joy," and, "Find Your Beach," Feel Free offers a survey of important recent events in culture and politics, as well as Smith's own life. Equally at home in the world of good books and bad politics, Brooklyn-born rappers and the work of Swiss novelists, she is by turns wry, heartfelt, indignant, and incisive–and never any less than perfect company. This is literary journalism at its zenith.
Having only read White Teeth and not been the biggest fan, I've been trying to find the right time to get back into Zadie Smith. She has been rather prolific of late and after reading some of her articles online I want to hear more of what she has to say.
The Immortalists by Chloe Benjamin
Fiction – Literary Fiction
Date of Publication – 9th January
If you knew the date of your death, how would you live your life?

It's 1969 in New York City's Lower East Side, and word has spread of the arrival of a mystical woman, a traveling psychic who claims to be able to tell anyone the day they will die. The Gold children — four adolescents on the cusp of self-awareness — sneak out to hear their fortunes.

The prophecies inform their next five decades. Golden-boy Simon escapes to the West Coast, searching for love in '80s San Francisco; dreamy Klara becomes a Las Vegas magician, obsessed with blurring reality and fantasy; eldest son Daniel seeks security as an army doctor post-9/11; and bookish Varya throws herself into longevity research, where she tests the boundary between science and immortality.

A sweeping novel of remarkable ambition and depth, The Immortalists probes the line between destiny and choice, reality and illusion, this world and the next. It is a deeply moving testament to the power of story, the nature of belief, and the unrelenting pull of familial bonds.
I don't really know anything about this book apart from its intriguing synopsis and that it sounds like something I like to read about in adult fiction.
In Search of Mary Shelley: The Girl Who Wrote Frankenstein by Fiona Sampson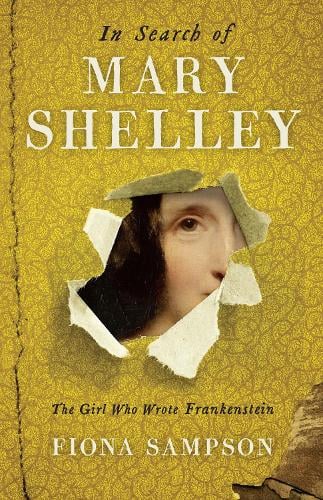 Non-Fiction – biography
Date of Publication – 4th January
Mary Shelley was brought up by her father in a house filled with radical thinkers, poets, philosophers and writers of the day.

Aged sixteen, she eloped with Percy Bysshe Shelley, embarking on a relationship that was lived on the move across Britain and Europe, as she coped with debt, infidelity and the deaths of three children, before early widowhood changed her life forever.

Most astonishingly, it was while she was still a teenager that Mary composed her canonical novel Frankenstein, creating two of our most enduring archetypes today.

The life story is well-known. But who was the woman who lived it?

She left plenty of evidence, and in this fascinating dialogue, Fiona Sampson sifts through letters & records to find the real woman behind the story.

She uncovers a complex, generous character – friend, intellectual, lover and mother – trying to fulfil her own passionate commitment to writing at a time when to be a woman writer was an extraordinary and costly anomaly.

Published for the 200th anniversary of the publication of Frankenstein, this is a major new work of biography by a prize-winning writer and poet.
Frankenstein is a remarkable classic and it's one of the first Victorian gothic novels that I loved. When I discovered that Mary Shelley was only a teenager when she first penned Frankenstein, I instantly wanted and needed to know everything that influenced her to write such a novel. I hope this book provides all that and more.
---
At nine books in total, I'm leaving that there. I guarantee more books will come along and shout "buy me," but I can't run the risk, even if they do sound particularly intriguing!
I'll be happy once the Northern YA Lit Fest and YALC are out of the way because then I'll be able to buy all these books and hopefully at a cheaper price too.
Anyway…
---

What are your general fiction/non-fiction anticipated releases?
 Thanks for reading and have a brazzle dazzle day!
xx