Hello!
Welcome back to 'showcase', the series with the most basic of names where I showcase some of the unread books on my shelves. I don't know yet if it will be the push I need to start reading some of those unread books but we can only wait and see. If you want to see my first post in this new reincarnation, you can click here!
Anyway, moving on to this week's book and I have chosen
An Almond for a Parrot by Wray Delaney aka Sally Gardner.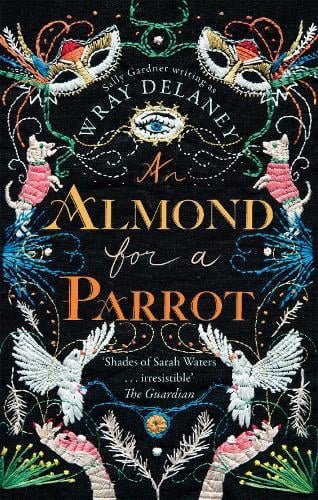 Date of Publication – 27th July 2017
Format – Paperback
Number of pages – 400
London, 1756: In Newgate prison, Tully Truegood awaits trial. Her fate hanging in the balance, she tells her life-story. It's a tale that takes her from skivvy in the back streets of London, to conjuror's assistant, to celebrated courtesan at her stepmother's Fairy House, the notorious house of ill-repute where decadent excess is a must…Tully was once the talk of the town. Now, with the best seats at Newgate already sold in anticipation of her execution, her only chance of survival is to get her story to the one person who can help her avoid the gallows. She is Tully Truegood. Orphan, whore, magician's apprentice. Murderer?
Random passage:
"You see," I said, "I was right not to point it out."
"Ads bleed," he replied. "You are either a simpleton or a genius. Don't you understand what you can do? You and I can see the dead woman. No one else can until you make her visible to them. Even I can't do that."
"Is everyone blind then?"
I thought about this revelation as we walked across the square. I had never seen so many people all gathered in one place. Was I really to believe that not one of them could see what I could see?
---
I'm not entirely sure what drew me to this book, perhaps the interesting cover that is designed to look like a piece of embroidery, or the 18th Century setting? What did strike me though was the reaction of one of the booksellers in Waterstones when I bought the book. She ID'd me! Me, a 25-year-old! To be fair, I do look younger than I actually am. She felt awkward as soon as she said it and both our reactions made for a quite a funny moment. From the explanation she gave, the publishers were unsure whether the book should be YA or Adult, due to some of the explicit themes and subjects that run through the story, and even that Waterstones branch was unsure how to promote it. Thinking about it, I can't even remember what section I found it in. In any case, it's made me even more intrigued by the book.
Secondly, for a relatively newer publication, I've not heard any chatter surrounding it at all. I suppose this is good though because then I can go into it with a clear mind and little to no expectations.
---
Have you heard of this book?
Is it something that would interest you?
Thanks for reading and have a brazzle dazzle day!
xx