Hello!
If there is one thing I love as a reader, it is finding a great book and discovering that there are more to come in the same world. Standalones are fabulous and well developed ones are irresistible, but there is something about reading the start of a series and falling headfirst into an all-enveloping and enticing world.
If you take a look at my shelves, you see that there are a lot of series so it is given that I will have some favourites and favourite series starters. I can't guarantee they will all be new to you, in fact I'm certain they won't be, but I still love them nonetheless. This is the post I'm dedicating to all of the series starters because whilst I groan under their subsequent weight, they're worth it.
I have 10 to get through, so on with all the gushing!
1. The Bone Season by Samantha Shannon.
Whilst it is slow to get going due to the complex world building and terminology, it is one I instantly fell in love with. Once you get past all that, it is your typical story of a teenager/young adult who is more powerful than she thought and the leaders want that power for themselves. Okay that sounds very cliché, but Sam Shannon wields it in a way that is unique and interesting enough to want more. She also draws you in with tons of action and characters you care about. All I can say is, It is certainly enough for me to highly anticipate the remainder of the books in this seven-book series.
2. A Darker Shade of Magic by VE Schwab.

If magic, four different Londons, and a dimension-jumping character isn't enough to draw you into this series, then I hope the writing does it for you. V.E.Schwab is the master of coming up with amazing concepts and unforgettable characters, and A Darker Shade of Magic is up there as one of the best. Similarly to The Bone Season, it takes a while to get going but once it does, you don't want to travel anywhere else except multi-dimensional London. I think it sets up the world and the other two books brilliantly, without giving too much away. Even when I initially read this book a few years ago, I knew I'd found a new favourite fantasy trilogy.
3. Daughter of Smoke and Bone by Laini Taylor.
This wasn't my first foray into Laini Taylor's writing style, that happened to be her short story collection, Lips Touch, but it was Daughter of Smoke and Bone that proved to me her wonderful abilities as a wordsmith and working a good vs evil story into something so full of magic and mythology. Although I'd heard good things about it, I initially worried about finding the world too dense and complicated for my liking, but once I got past the first few chapters, I was enthralled by it all, even if was just the banter between Karou and Zuzana. There is an element of predictability but you don't mind when the story is written so beautifully and detailed. Some people might not like the flowery writing style but I love it and it feels like I am reading a classic. It's also a book that gets better and more understandable with every read, so you know it is a story worth telling and keeping hold of.
4. Harry Potter and the Philosopher's Stone.
Harry Potter is my Toy Story of the literary world. From the age of 8 it sent me on this path of magic, witches and wizards, and good vs evil that I've never diverged off, even when I fell a little out of love with the series.
Secondly, It is the definition of magic. Magic that sparks a new generation of readers every year, and one that constantly changes our cultural landscape. Like Harry, most of us fall in love with the Wizarding World and call it our home.
This book is a part of me and my reading journey and I can't imagine my life without it.
5. Northern Lights by Philip Pullman.
This here is the start of a trilogy full of fantasy, exploration, talking animals called daemons and multiple dimensions. Our heroine Lyra is 11 years old and doesn't understand the extent of her world, until she listens in on a covert lecture about Dust. From there she stumbles into an Oxford where children are stolen and ends up travelling to Northern climes to deal with armoured bears and witch clans.
I've loved this crazy and action-packed book since I was 11, and I know I've probably said this before but it got me hooked on anything fantasy-related.
6. The Surgeon by Tess Gerritsen
A creepy-ass serial killer who likes to target and torture lone women, a female Boston Police Detective who lives to prove herself, and a fiercely independent trauma surgeon who wants nothing more than to escape the horrors of her past. That's the basics of what Tess Gerritsen threw into the foundations of the Rizzoli and Isles series and she certainly started with a bang.
You shudder, and blink twice at the exquisite and precise detail.  You pray to God that you never come across something so vile in your own life. You wish to stop reading and take a breather, but in the end you keep turning page after page until all you see is the back cover or an excerpt/link directing you to check out and purchase The Apprentice.
If Tess Gerritsen could write another book as well as this one, I would do nothing but read her books every single day of the week.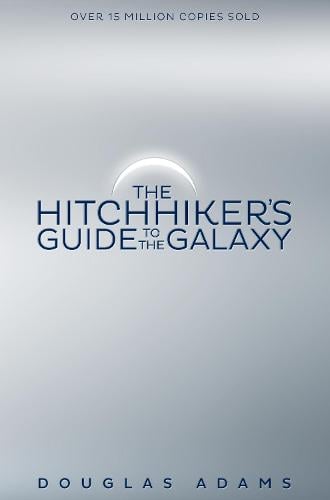 7. The Hitchhikers Guide to the Galaxy
I can't think of another book that two of my closest friends had been badgering me to read for ages, and that secondly opened my eyes to the crazy hijinks of Science-Fiction. It is hilarious, bizarre, and imaginative in so many different ways. Apart from Illuminae and Gemina, I don't know any other books like it and I love it! It is also my favourite of the series so far.
8. Just One Damned Thing After Another
Another shameless plug of this crazy and whirlwind of a series because what can be better than the mix of history and time travel. Although if you are one of the historians from St Mary's it isn't 'time travel.' Instead one is investigating historical events in contemporary time.
 Just be wary that things can and will go horrendously wrong. All you need to live through the carnage is a large cup of tea and a remarkable sense of humour.
This series with it's stereotypically British characters is fantastic and hilarious. As a fan of history, I love being able to jump into and experience various events, even those that I didn't know much about.
Secondly, I've never known such a perfect title for a series starter! Everything is just one damned thing after another and whenever you think you might get a little bit of peace and quiet, something is surely about to happen.
9. Clockwork Angel
Whilst The Infernal Devices is not the series that got me hooked on the Shadowhunter world, it is the series I love the most. With Victorian London, demons, vampires, shape-shifters, steampunk creations, and the roles of women combined, there is nothing better. Secondly, here is the beginnings of a love triangle I don't hate! Yes, you've heard that right. A well-written and established love triangle that doesn't leave you sticking out a tongue in disgust of Tessa falling for the wrong guy. Nonetheless, I am a Jem fangirl all the way. He's just a sweetheart and one I will fiercely protect.
10. A Discovery of Witches.

Again, another shameless plug for a series that has dominated my blog since December. If you want witches and vampires in a very adult and scholarly environment, then this is your book! It is primarily a Romeo and Juliet based love story between Matthew and Diana but it leads to the important discussion of the differences between us, and how we cannot automatically assume the worst just because of someone's birth and circumstances. It is also the story of Diana learning about her witch heritage that she has ultimately tried but failed to repress. I know there are very mixed reviews about this series but I love it and it is probably my favourite in terms of witchcraft and the mix of magic with science and history. It might be slow to start off with but I obviously believe it is well worth it.
---
And that is that.
My top 10 series starters.
I know there are probably some other obvious ones I have missed off but these are the most current and the ones I can never stop thinking about.
I think if I had to have a few honourable mentions, I'd have to go with This Savage Song by VE Schwab, If Only They Could Talk by James Herriot, and The Strings of Murder by Oscar de Muriel. All good books to fabulous and different series.
---
Anyway, what are some of your favourite series starters?
Thanks for reading and have a brazzle dazzle day!
xx