Today, Anastasia would say I am on a journey to the past, uncovering some of the reasons behind my love for languages and why they are a huge part of my identity. I never really know how old I actually was when I first babbled in foreign tongues and formed a sign but it doesn't really matter. Languages were all around me and I simply got infected by the bug. French came before British Sign Language but that detail is insignificant.
We've already seen how 25 year old Emma keeps on top of languages, but how did young Emma's brain soak them up.
Muzzy VHS videos.
As my primary school didn't teach languages, I went to an after-school French club, maybe once or twice a week. I don't really remember much of them now but it was run by an MFL teacher at the local high school and as well as using fun and games, she taught us using these videos. I think she used them as an end-of-lesson summary as well as listening practise. They might have successfully helped me to learn French but I'm no longer afraid to say that I didn't like them. Placid, shy and easily frightened little me was scared of the fluffy green bear called Muzzy.
They've certainly stuck in my head though because I can also remember the adverts on tv. Sometimes my brain will recite the spiel they used to have on the advert and it will run around my head like a hamster on a wheel.
Tots TV
And here we've jumped from a programme I didn't like to one I loved! It ran from 1993 to 1998 and I could have watched a lot of the episodes as I would have been between 1 and 6 years old. Apart from the theme tune and Tilly being my favourite character, I surprisingly don't recall much of it. And again, I was also only reminded of the programme a few days ago when I saw someone reference it on Facebook. It was a fun and educational programme and the BBC need to bring it back!
Noddy books (or as the French call him, Oui-Oui)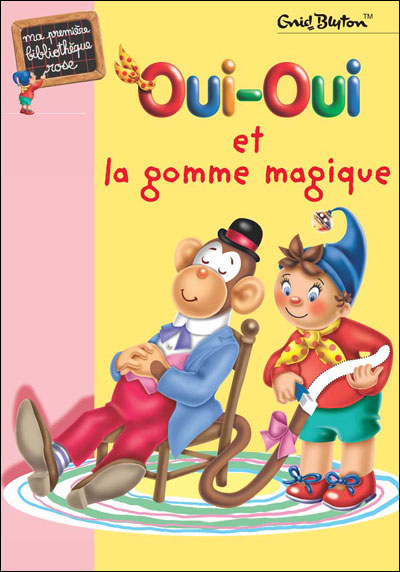 My grandparents used to spend two months of the year in France and they always brought back some presents for my sister and I. My sister got a lot of bead sets and crafty things, where as I would get a couple of books, and this particular Noddy book was one of them – to translate it "Noddy and the magic rubber."
I'm certain I read it, but the question is whether I understood it or not and I honestly don't know. My French proficiency as a child is a complete mystery to me!
My maternal grandparents
I spent about 70% of my early years with my grandparents and it would have been during that time when my grandmother would mutter words of French around the house. Going to France for two months a year and staying in the lesser touristy areas, she would pick up words and phrases and ultimately bring them back home for me to learn. It was never forced but often at dinner times, we'd say the odd command in French – the one I remember the most being "puis-je avoir le beurre, s'il vous plaît" (can I have the butter please?).  I think we did it so much that it became automatic.
---
And on racking my brain, I think that might be everything, If I had to point to one of them and say, "this is the reason why I was good at French throughout my school days," the finger would land on the after-school lessons. I revisited a lot of the same topics and vocabulary at high school and often it felt like I didn't have to try. Granted I had to learn the complicated grammar from scratch, but apart from that there were never many late nights cramming vocabulary for an upcoming test.
If I had to use one word to describe my language learning – in regards to French – I think it would be 'fortunate.' 'Grateful' is another word that comes to mind.
Whatever the word is, being exposed to other languages at an early age has certainly made its mark.
---
Thank you for joining me on this trip down memory lane.
I might be back at some point with a similar post for BSL!
Have a brazzle dazzle day!
xx