Hello!
Welcome to the first tag post of the year. This tag is the Totally Should've Book Tag and I was tagged by Michaela at Journey Into Books . I think I have seen this tag go around the blogosphere so I'm glad to finally get to it!
So, let's just get right in!
Totally Should've Gotten A Sequel

Most of the books I love as standalones end up getting a sequel anyway but one I wish had a sequel was The Host by Stephenie Meyer. Now I'm sure I did hear rumours of a sequel at one point but nothing happened, which was a real shame. I think this world would benefit from a sequel because it is such an interesting concept and it has far-reaching consequences. I also loved this book more than I expected to and I wanted more from it.
Totally Should've Had A Spin-off Series.
I just need more of Zuzana and Mik. Also I would love to know more about the story from Eliza's perspective because I really liked her in Dreams of Gods and Monsters, and she didn't get as much recognition as I would have liked.
Totally Should've Finished Differently
I just need or want a certain character to not die.
Totally Should've Had A Film Franchise
I have no idea for this one considering a lot of the book series I do like have films or tv series.
Totally Should've Had A TV Show
Similarly to the film question, I don't really know. However, I am highly anticipating the tv show for A Discovery of Witches by Deborah Harkness because I've been wanting an expansion of this world for a while now and it's finally coming!
I also think the world inhabited by Illuminae, Gemina and the anticipated Obsidio would make for a great TV show.
Totally Should've Had One Point of View.
I'm usually okay when it comes to multiple POVs but I got incredibly lost by The Casual Vacancy and I really didn't enjoy it.
Totally Should've Had A Cover Change.
I can't think of any because most of the books I have and know of – especially series – tend to get a cover change anyway.
Totally Should've Stopped Reading.
Multiple answer alert for this question!
I really didn't like any of these books. I found them all to be boring and I stupidly read them until the very end in case they improved.
Totally Should've Kept The Cover.
Oh, what an easy question.
I don't like the original covers (which I unfortunately have and can't afford to replace) and I'm not the greatest fan of the most recent covers, even though it runs across the entire Shadowhunter universe. However, I loved these minimalist covers that TMI came out with a few years ago. They don't have people on the cover, which is a bit of a pet-peeve of mine, and they're pretty. We all love the pretty covers and I think if these had been given more of a chance, they would have lasted longer. It's a shame really.
Totally Shouldn't Have Prejudged.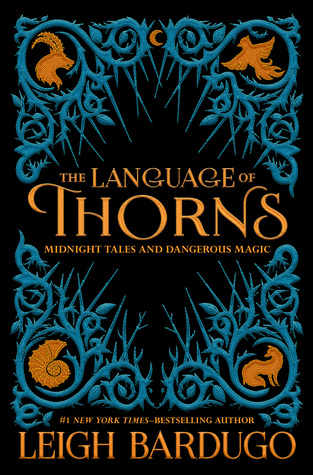 By this I'm saying that I shouldn't have prejudged The Language of Thorns to be absolutely amazing because it fell a little flat for me. I did like it but I wasn't as mad for it as I wanted to be.
And that slight disappointment ends this tag.
I don't know how many of you have done this tag so I'm going to say if you're reading this and haven't done it, you are tagged!
---
Thanks for reading and have a brazzle dazzle day!
xx