Hello!
How was everybody's Christmas and New Year? Hope you all enjoyed the festivities and spent quality time with friends and family!
My own Christmas was a quiet and relaxing affair as it was just me and my parents. We did drive up to my grandparents and spend about an hour with them, but for the most part, it was the three of us. As that was the case, we certainly had enough turkey between us – most of it has now gone in the freezer! It does seem over-indulgent to have more than one's fair share of food (well, what else do you expect at Christmas) but when it was originally ordered and paid for from the butchers, we were expecting five to seven people at our dining room table. Other plans and circumstances obviously whittled that down but at the end of the day, it was still nice. Besides, the smaller our gathering, the fewer arguments ensue! In fact, we had none! A Christmas miracle, you may say.
Anyway, amongst a few other things, I was gifted a few books. All of these were books I wanted and I'm really excited to start reading them.
So, what were they?
From left to right:
The Handmaid's Tale, and Hagseed by Margaret Atwood
A Study in Scarlet by Arthur Conan Doyle
The Pickwick Papers, and The Old Curiosity Shop by Charles Dickens
The Red Queen by Philippa Gregory
The Magpie Murders by Anthony Horowitz.
I've been eyeing the latter since it was first released so I was thrilled to unwrap it!
And, my copy of Hagseed is hand-signed, which I was not expecting.
I'm still surprising myself by how much I love this little haul! I know it will be added to soon though as there is a book or two en route from York, thanks to the thoughtfulness of my sister's boyfriend. We're not sure when my sister is due back home so these books and my backlist will have to keep me patient in the meanwhile.
---
Knowing me and my reading preferences, it is of little surprise to discover that the above books don't feature in my December wrap up.  I originally hadn't planned to write a wrap-up but a burst of reading motivation happened and I couldn't stop! It clearly helped that two books were re-reads and loved onea at that, so that's all good.
I can't ramble on for too long, otherwise, this post will be much longer than I want it to be. With that being the case, here are the books I read in December: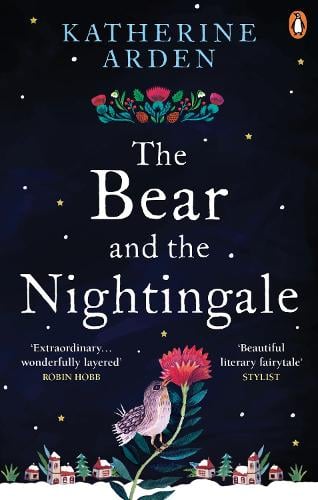 The Bear and the Nightingale by Katherine Arden: A beautifully written and atmospheric story about a young girl's independence, destiny and beliefs. It read like a fairy tale and it was the perfect book to curl up with when the weather turned cold. I loved it, and I also felt challenged by the conflicts, which is something I've not experienced that much in YA fiction.
Rating – 5 out of 5 stars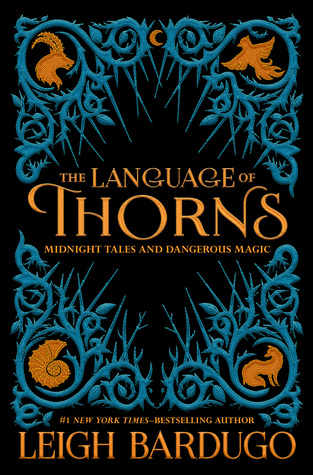 The Language of Thorns by Leigh Bardugo: Fairytales, the Grisha world, Leigh Bardugo's writing – supposedly a perfect combination of factors. I hands down expected to absolutely love this book, and I was hugely enjoying it at the beginning but unfortunately, it ended a little flat. It's nothing major but it is always something that happens with compilations, there are some stories that I love and the others are a little hit-and-miss. Out of this collection of six fairy tales, the hit-and-miss tale happened to temper my enjoyment of the entire book and I don't think it helped that the said story was the last one – When Water Sand Fire. I just didn't get it and I thought it dragged on for too long, I was also reading this book whilst travelling back and forth from Lancaster one weekend and I think the combination of freezing temperatures, excitement at seeing friends, and tiredness made me lose focus.
Rating – 3 out of 5 stars
A Discovery of Witches, and Shadow of Night by Deborah Harkness: You always have that one book you re-read that pulls you out of a reading slump, and in December this happened to be mine. I obviously needed a bit of supernatural romance between a vampire and witch! I first read these books about three or four years ago and I loved them then. It came down to the eclectic mix of the supernatural, the history, and genetic science, and I can happily say that it drew me in again. And this is despite the rather quick romantic beginnings between Diana and Matthew. I don't usually condone that, and in fact, you know I hate it. I just passed it by and let myself get drawn into a world of witches, vampires and demons that I've really missed. I must have missed it more than I thought because it has got me back into watching Charmed again and I've not watched that for ages! Also, A Discovery of Witches is being turned into a tv show for Sky so it was about time I picked up the trilogy again.
Rating – 5 out of 5 stars

When A Child Is Born by Jodi Taylor: I don't have a little summary of this short story because it is just as mad and crazy as all the other main stories in the Chronicles of St Mary's series. I suppose the best thing to say is that when Maxwell, Peterson and Markham jump back in time to witness the coronation of William the Conqueror, History has other plans for them and they have to deal with that. I actually listened to this on audiobook (again with Zara Ramm on narration) and it was as good as it always is. I also realised part way through listening to this that I'd read it before so it was nice to have something easy and fun to listen to over the festive period.
Rating – 5 out of 5 stars

Christmas Present by Jodi Taylor: It is Christmas Eve and in this particular short story, Maxwell, Peterson and Markham go back to Boudicca's attack on Camulodunum. They are on a covert, off-the-books assignment and only they can carry it out with immense wittiness and hilarity. This short story falls between books 4 and 5 and is apparently necessary to understanding something about book 5. I say that quite vaguely because I'm only on book 3 of the main story. Regardless of this fact, I still enjoyed it and it was a really quick listen
Rating – 5 out of 5 stars
and lastly:

A Christmas Carol and Other Christmas Writings by Charles Dickens: This one is a Christmas tradition of mine although I didn't quite read all of it. I read + listened to A Christmas Carol and took in some of the short excerpts at the beginning of the book which were enjoyable enough. I think I would have read the entire book had I been in the mood for Dicken's rambly writing style. Maybe one day I'll get to the other stories/segments.
Rating – 4 out of 5 stars
---
You'll be glad to know that's the end of this long post. Honestly, I didn't intend for it to be so long but my planned schedule messed things up for me again. So much for trying to be super organised!
---
Anyway, enough rambling.
Did you get any books or book-related items for Christmas?
What books did you read in December?
Thanks for reading and have a brazzle dazzle day!
xx