Hello!
I don't know if this post will be going up before or after a post all about the books I am thankful for, but writing that particular post inspired to think of many other works of fiction and other things in general that I am thankful for.
When I am not reading, I tend to binge-watch a lot of different shows, whether that be on the tv, through DVD, online somewhere, or via Netflix. I need an element of fiction in order to relax at the end of a tough day and sometimes it is easier for me to fall into a tv show instead of a book, especially when my eyes can't concentrate on words.
So, what are some of the shows I'm thankful for?
And of course, all these channels or services noted will be UK based.
Good Witch – Netflix UK
If you follow me on Twitter then you might have noticed that I am pretty addicted to this fun, gentle, good-humoured family drama. It's something I watch when I need a pick-me-up because it is light-hearted and easy to enjoy. It's also a show where I like 99% of the characters and that, for me, is an incredibly rare characteristic. It's following the lives of inhabitants in the small, fictional town of Middleton and the dramas that they face are real and human, and I'm really attracted to that. They might wrap up a little too conveniently but it's a show about hope and belief, so it doesn't bother me. There are three seasons of this show at the moment, with a fourth in production, so I hope it carries on for a while.
I'm now just waiting for Netflix to add the rest of the prequel films because I want to be able to watch them all in order from the beginning without having to flick between it and YouTube.
 Murdoch Mysteries – Alibi/UK TV Drama
I'm a big fan of my detective and crime shows, and MM happens to be my favourite because it combines a lot of my own personal, fictional interests – mysteries, Victorian/turn of the century settings, light-hearted comedy, social history, steampunk… I think I also must have a thing for Canadian-produced dramas because both this and Good Witch are produced in Canada. I do catch some of the same featured actors and actresses in both shows which is always nice to see.
Anyway, I can't remember how I got into this show but once I did, I couldn't get enough of it. It has a nice mix of qualities that keep me coming back for more, although I'm getting very impatient because the current series isn't being shown on Alibi until January. Perhaps if I wasn't following it on social media, I'd be a little more patient.
Call the Midwife – BBC 1 and Netflix
There's a bit of a trend here – social history, real-life drama, a cast of great characters, a different pace of life, down-to-earth messages…
I liked the series when it was first on tv but now I've become a little addicted. I'll have spates where I just marathon all 6 series (including the Christmas specials) and like Good Witch, it has become a show I'll watch when I'm feeling low. It has a quality that I'm attracted to and I'm always intrigued to see where it will go next.
Rizzoli and Isles – Alibi/UK TV Drama
I'm thankful for this series in a lot of ways, but one of the main reasons is because it introduced me to, arguably my favourite crime author, Tess Gerritsen. I discovered the books after watching the series and I became hooked with both. In a sense, I actually prefer the show over the books because all the characters have this amazing friendship that continues to blossom over the entire series. It is has a very close-knit cast, and I'll never forget how real it was when they were dealing with the loss of one of the actors. It was an incredibly touching moment and I want to cry just thinking about it. It might have ended after 7 series but I will gladly watch it for as long as it is repeated on tv.
All Creatures Great and Small – Yesterday/UK TV Drama.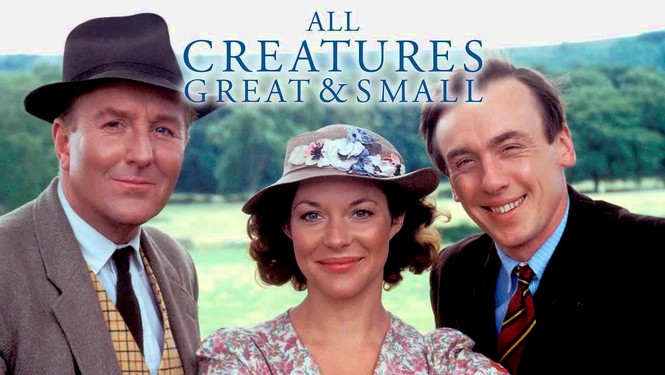 So if this post does go out after my book post, then you won't be surprised to see this on my list. If it is shown here first, then don't be surprised to see that I'm incredibly thankful for the books too. I think that is also a theme for all these programmes apart from Good Witch because they are books as well as tv shows so I can experience the stories through both mediums. The world seems more extensive and immersive this way.
Anyway, I used to watch this early in a morning when I was getting ready for school and it was always a nice start. Again it is real-life drama, light-hearted, and it has great messages that endure today.
Some people don't understand why I love shows like this, with what they consider "old-fashioned" values but they're important to me and one of the only ways I can experience that in fiction is with these programmes. I did have a very moral-based upbringing (mainly in part to my grandparents) and sometimes just watching all of these shows reminds me of that.
I'm thankful that fiction, whether that be via books or tv, was given to me at an early age because I know I wouldn't have got through some of the harder parts of my childhood without it. It was an escape and the universal messages gave me a reason to keep going.
Anyway, that is it for this post.
---
What are some of the tv shows that you are thankful for?
Thanks for reading and have a brazzle dazzle day!
xx