Hello!
Over a month ago, I was tagged by Laura @thebookcorps to do the Narnia Book Tag.
I'm glad that I'm now in the right head space when I can get back down to blogging and doing these tags because they are so fun to write. I also love the world of Narnia, even though I've not read the whole series – only The Magician's Nephew, and The Lion, The Witch, and The Wardrobe.
Maybe this tag will give me the push I need to finish the series!
Anyway, let's get to it.
Narnia – A magical world you like to visit.
Oh, there are so many but I think like Laura, I would love to visit the City of Weep from Strange the Dreamer. It sounds really intriguing, and I'd love to know more about it. I can't wait for the next book so I can see how this world grows and develops.
The Magician's Nephew – a book you think is underrated.
The Bone Sparrow by Zana Fraillon. It came out last year and it is one Middle Grade/ Young YA Contemporary that I've heard no one talk about. It follows Subhi, a young refugee who was born in an Australian detention centre after his mother and sister fled the violence of their homeland. Whilst the events in this are obviously fiction, it is inspired by the true plight of refugees and how cruelly they are treated. If you want to check out my review, then I have left a link above, but I do think it is one book that needs more representation because it is incredibly powerful and heartbreaking.
The Lion, The Witch and The Wardrobe – A classic that you love?
I am not intentionally stealing Laura's answer to this question. We just happen to have the same favourite classic, honest! Besides, if you have been reading my blog for a while, you know how obsessed I am with it. Both of us even collaborated on a Pride and Prejudice tag a while ago which was really fun!
The Horse and His Boy – a book you picked up without knowing what it was about?
I've heard a lot of people talk about how good this book is, but I'm still not entirely sure what it is about though. All I do know is that it has something to do with time-travelling and I need to get to it soon.
Prince Caspian – A sequel that you loved.
I absolutely adore all three books in this series but The Song Rising is my favourite so far. It was such an amazing sequel with twists that I didn't expect and I am falling even more in love with this series. I cannot wait to see what Samantha Shannon does with it and I'm so glad that there are four more books to come!
The Voyage of the Dawn Treader – a quest you'd like to be a part of.
Joining Kell, Lila, Alucard etc on the way to Maris's Market, to find a binding ring. With everything that happens, I would probably end up terrified but it would be an incredible journey to be a part of. This is also one of my favourite fantasy worlds at the moment and I can't believe this particular trilogy is over.
The Silver Chair – a book you didn't expect to love?
I picked up this book on a whim just after it was released, and once I started reading it, I couldn't put it down. I liked the mystery of Juniper finding out who 'You' was meant to be and I adored the friendship. It was nothing like I expected, which was pleasantly surprising.
The Last Battle – A perfect ending to a series you love?
I don't know if it is necessarily a perfect ending, but I like the fact Alina finally gets to live the life she wants with Mal.
The Pevensies – A siblinghood or friendship you'd love to be a part of?
I have quite a few siblinghoods running around in my head but I think at the top of that would be The Weasleys. I love this family, how completely bonkers and tightly-knit they are, and you know that you'd be most welcome if you arrived on the doorstep of the Burrow.
Eustace Scrubb – A character who grew on you?
The only one I can think of at the moment is Jessamine from The Infernal Devices. I found her quite whiny and irritating at first but her story is quite tragic and I can't help but feel for her. She's stuck living this life she doesn't want to lead and then because she is incredibly naive, she falls into a trap she can't get out of. Actually, I've just realised that she reminds me of Rosalie from Twilight, and I wasn't a huge fan of her at the beginning either.
Tumnus – Your favourite mystical creature.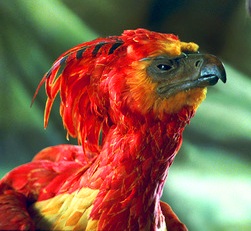 There are many, but one of my favourites is Fawkes from Harry Potter, aka a phoenix.
Reepicheep – a loyal character.
Radu from And I Darken. He is probably my favourite character from that book and he is an absolute sweetheart. I adore his loyalty and I wish he was my own brother!
The Wardrobe – your favourite hideout/place to read?
If I want to hide and read in silence, there is an armchair in one corner of our dining room that I like to curl up in. However, as that is also one of my mother's favourite hiding places, one of the living room chairs is just as good. There is one corner chair in particular that I like, and although it is right next to the tv speaker, I find I can tune it out when I'm completely engrossed in a particular book.
And that is that.
Thank you again, Laura, for the tag!
As I have no idea who has done this tag or not, I am going to leave it open!
---
Thanks for reading and have a brazzle dazzle day!
xx