Hello!
The end of September is now upon us and it is time for the monthly wrap-up. I usually love typing up these posts because it is great to look back over the books I've read and enjoyed, but today I don't feel that same excitement. In fact, I feel almost sad about it because compared to past months, September has been abysmal.
I do have books to share with you, but only 4 (not including the one DNF that I'm rather gutted about).
I might feel a bit like Eeyore when it comes to this post, but the books I did read to completion are still good and decent.
Anway, enough with the gloom.
---

The DNF:
Flame in the Mist by Renée Ahdieh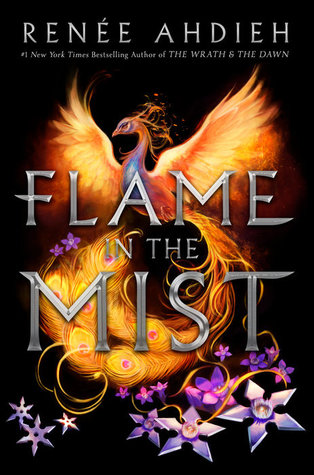 I DNFed this at around the 160-page mark and I think that was far enough. I found it incredibly slow, boring, and I couldn't find the motivation to continue reading. I also couldn't click with Mariko which was a shame because I really wanted to like her. Considering how much I really liked The Wrath and the Dawn, I was highly disappointed.
---
The Books:
John Doe by Tess Gerritsen:
A great short story that falls in between The Silent Girl (9) and Last to Die (10) in the Rizzoli and Isles series. It is centred more around Maura as she finds herself implicated in the murder of a man she met at a museum gala. I really liked this story as we see a more vulnerable side to the prickly and sophisticated medical examiner, and it reminded me very much of an episode from the TV series. I don't know if the story was the inspiration for that episode, but if so, it makes a lot of sense.
5 stars
(Spoiler alert for the next book)
Keep The Home Fires Burning: Spitfire Down by Simon Block:
A continuation of ITV's Home Fires which was sadly cancelled far too soon. It centres on the inhabitants of the small Cheshire village, Great Paxford, during the Second World War and picks up the story from where the final episode left off. ITV are rogues when it comes to ending series, and particularly period dramas, with cliffhangers and the ending to Home Fires left me emotionally scarred – a Spitfire crashed into the doctor's surgery, trapping quite a few of the inhabitants including a newborn baby. I was in a complete wreck, not knowing the outcome so I was incredibly over the moon when I found out that the series writer was continuing the story in book form over four instalments. Although, this doesn't seem long enough for a story that is set during wartime – at least it exists!
Once I downloaded it onto my kindle, I had to read it straight away and I wasn't disappointed. This first instalment does revisit that final episode before the cliffhanger but that was fine by me as I could refresh my memory and get further background details from some of the characters. In terms of the cliffhanger, I was happy with the resolution but at the same time, I kept thinking that it was rather unrealistic, especially from a series that was initially based on true wartime experiences of the Home Front (albeit surrounding the WI and not an entire village).
However, I still really liked it and I am looking forward to reading the other instalments. I will probably be reading mine in the form of the bind-up which is being released in e-book and paperback on 19th October.
4.5 stars
Shadow and Bone and Siege and Storm, by Leigh Bardugo (books 1 and 2 in the Grisha Trilogy)
These for me are a re-read as it has been a few years since I first read this series, in fact, it must be around three years ago as it was just before I discovered the online book community!
I fell in love with these books and I'm glad to realise that I still really like them so far. I'll admit that I'm starting to find Mal rather insufferable at times, especially in Siege and Storm, but I can understand why he is being a bit of an ass. I also completely forgot how much I loved the friendship between Alina and Genya, and how intriguing the Darkling could be.
All I am hoping is that this series brings me out of my reading rut. Besides, once I have finished this it means I can get to reading the Language of Thorns and I can't wait to discover more of Leigh Bardugo's fabulous storytelling!
4 stars.
---
And that is that.
What books have you read this month?
Thanks for reading and have a brazzle dazzle day!
xx