Hello!
I'm not really a fan of this month's Top 5 Wednesday posts so I will be bypassing them for my own topics, or picking one of their old posts from before I started blogging. One I have decided to do for this week is "books I want to re-read." This is the second instalment because I remembered that this was, in fact, a T5W post from November last year.
If you want to take a look at that post, I'll leave a link here.
Anyway
I've been thinking about this topic a lot recently, especially since I have found out that one of the books I will be talking about is being turned into a tv show. Also, I have been falling into some mini reading slumps recently and one of the ways I can get out of them is by re-reading something I've already liked.
There is an old T5W post for that too if you want to take a look.
As I do have those old posts, I will try to mention different books, and I think I will be able to.
So with that in mind, what are some more books and series that I want to re-read?
---
The Subtle Knife and The Amber Spyglass by Philip Pullman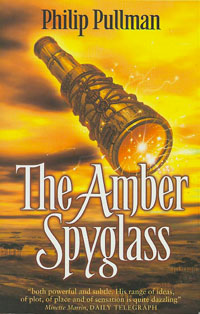 These two books are the sequels in His Dark Materials Trilogy (the first being Northern Lights/The Golden Compass) and apart from Harry Potter, it has to be one of the first fantasy series I ever read and devoured. Although I only read it once, I loved it. Lyra is a fabulous protagonist, the world building is amazing, and it is never boring. Whilst I re-read Northern Lights either late last year or early this year, I didn't pick these two up and I am actually glad of that because I didn't want there to be a huge delay between reading these and Pullman's newest book, Book of Dust: La Belle Sauvage, which will be released next month. Re-reading these has been a long time coming and I'm really excited to pick them up!
All Souls Trilogy by Deborah Harkness
If there is one trilogy that encompasses my love of witches and history then it is this. I can't quite remember when I read the first book, possibly back in 2011/12, but I know it is a series that took me a while to read because these books are very chunky. I really enjoyed it though and I ended up speeding through the final book in just a couple of days. My main reason for wanting to re-read this is that there is a tv adaptation currently in development for Sky 1 (the channel we use in the UK for Game of Thrones) and it is one I'm interested in watching. I also a little hazy on some of the details so I would like to go into the show remembering those.
The Inheritance Cycle by Christopher Paolini
Basically, the only fantasy dragon-centred series that I have ever read. It is also one of the most confusing. I read the entire series back in 2012 just after Inheritance was released and it was on the recommendation of two of my best friends who really loved it. I didn't love it as much as they did but I did enjoy it, and it has been one of those series that I'm always intending to read again. I don't plan on re-reading it right away but it is possibly one for the new year because yet again, it is fairly chunky.
Sherlock Holmes by Arthur Conan Doyle
Similarly to all the other books, it has been a few years since I read this. After catching a few of the BBC episodes, I decided it was worth reading, and I distinctly remember reading it whilst in the process of moving to France for 8 months. I know I enjoyed the original stories but I don't recall any of the later ones, so I am determined to revisit them and see what they are like. I think I also have the entire collection on audiobook (narrated by Stephen Fry) so I might actually give it a listen soon.
To Kill A Mockingbird by Harper Lee
Finally a standalone and a modern-ish classic no less. I read this book for the first time two years ago and it has constantly been in my mind ever since. Although the circumstances are different, I can relate to the messages in this book and they strike me as being some of the most powerful I have ever read.
---
And with that, I'll bring this list to a close.
If you re-read books, what's on your to re-read list?
Thanks for reading and have a good day!
xx