Hello!
Last week, I announced that I was starting a new series on the blog called Language Library where I would look at Disney and Books under a language spotlight. I am running it in conjunction with a couple other series on here, mainly my new Book Showcase and also Through the Decades, which is chronicling Disney's influence throughout the decades.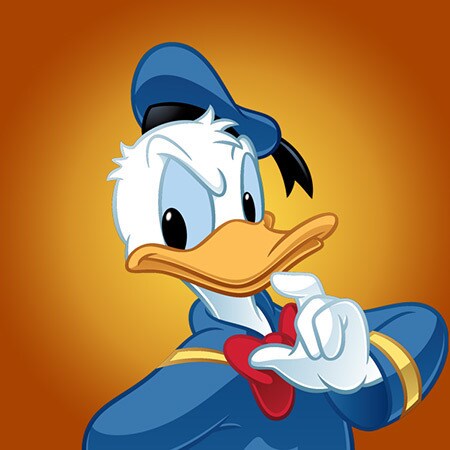 This particular Language Library is coming to you today as part of Through the Decades as I am now in the 1940s and ready to look at Disney's involvement in the Second World War. One character that featured very heavily during these years is Donald Duck, appearing in many propaganda shorts that Disney released to help with the Allied war effort.
He is also a very popular character in Europe so I think he will be great in lifting off this new series!
---

---
Through the Decades Facts
Created in 1934.
Most famous for his semi-intelligible speech and his mischievous but temperamental personality.
He has appeared in more films than any other Disney character, and he is the most published comic book character outside of the superhero genre.
Animator Dick Lundy is credited for developing Donald Duck as a character.
One of his most notable wartime films is Der Fuehrer's Face, released in January 1943. This same short film won the Academy Award for its prospective category.
Other shorts include a seven film mini-series chronicling Donald's life in the US Army, from his drafting to his experiences in basic training to his first mission as a commando under Sergeant Pete:
Donald Gets Drafted
The Vanishing Private
Sky Trooper
Donald's Tire Trouble
Fall Out Fall In
The Old Army Game
Commando Duck
He also appears as a mascot, i.e. in the Army Air Corps 309th Fighter Squadron and the US Coast Guard Auxiliary.
When he wasn't doing the wartime shorts, he created a new audience for himself in South America with films such as Saludos Amigos and The Three Caballeros. Both of these are package films that helped to boost Disney's output and investment at the time they were occupied by the US forces.
His popularity in Scandinavian countries means that he is recognised more than Mickey Mouse!
Due to his comic book appearances, he is also very popular in Germany and Italy. His character is also changed slightly to better fit their cultures.
---
I know if I listed nearly every single fact to do with Donald Duck and his wartime experiences, this post would go on forever. Luckily for all of you, I am going to leave it there but I will be back with more information at a later date.
So that is it.
---

If I can find them, what other languages would you like to see represented in Language Library? 
Thanks for reading and have a brazzle dazzle day!
xx