Hello!
Welcome back to another Top 5 Wednesday!
I'll leave a link to the Goodreads group here if you want all the info!
Today's topic – as you can obviously see from the title – is the series that improved/got better with each book.
I can say that all these series are ones I liked from the off but that I felt gradually improved, or are still improving with every book that is released. Yes, I am including the latter because I haven't read all the completed series on my shelves, and I'm rather bad at forgetting to finish them.
Although saying that, there is only one of those series on my shelves, and as that is the case I might as well get to it first:
---
Throne of Glass by Sarah J Maas
I know a lot of people will probably consider this to be a controversial opinion but my personal reading experience with the series does get better with every book. In terms of Empire of Storms, I am finally liking the direction the series is taking and I am connecting to the characters I was initially not a fan of i.e. Manon. Saying that I still have a love/hate relationship with Chaol. Also in terms of EoS, I read it with more ease than some of the others, particularly Queen of Shadows. I had a bad time reading that book so I was pleasantly surprised with how I responded to EoS. Sometimes I do find myself thinking about that ending, so if that doesn't prove to me the series is improving, I don't know what will.
Onto those completed series:
A Court of Thorns and Roses by Sarah J Maas.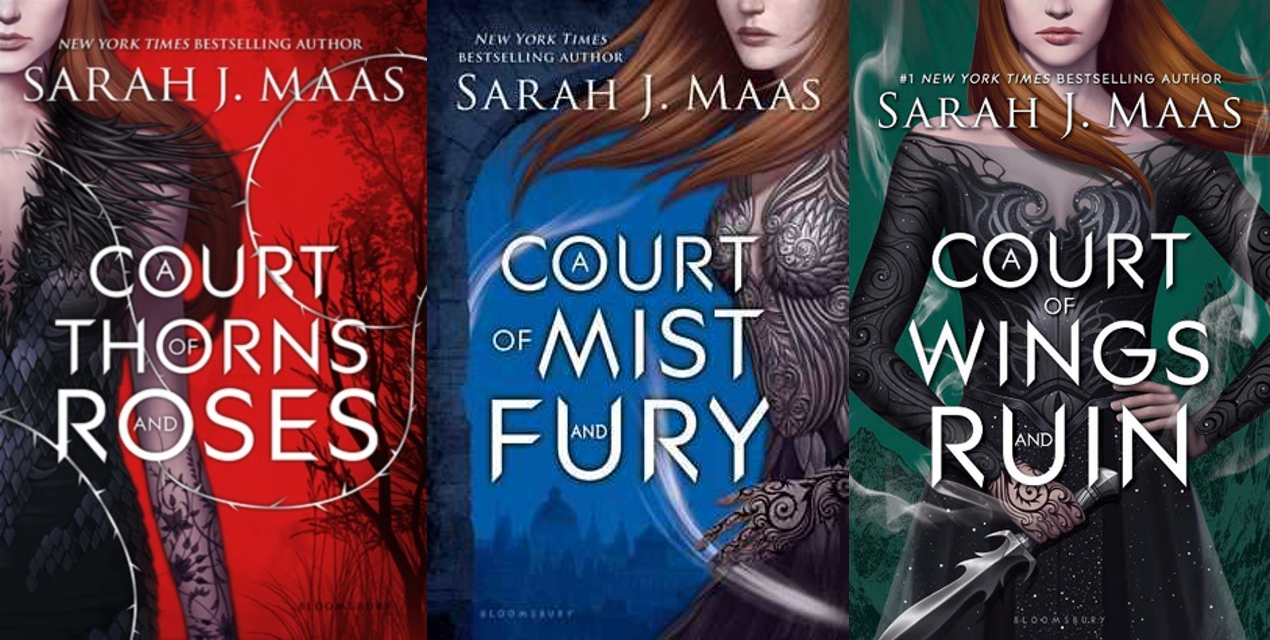 Again a series of hers I liked from the off but like with Throne of Glass, it took me a while to get into. A Court of Thorns and Roses was a struggle but from then on, I found it easier to connect to the story, the characters, and I actually cared about what was happening. There are still some bits that bothered me in both ACOMAF and ACOWAR but I enjoyed them a lot more than I was expecting.
Harry Potter by J.K Rowling
Harry Potter and I had a love/hate relationship up until The Order of the Phoenix was released. Even then, it was only until the final couple of films were released that I really jumped on the Harry Potter train. For me the improvement came with the introduction of the darker, mature themes and the development of all the characters. Also when Luna came in, I finally found a character that I deeply resonated with.
The Lunar Chronicles by Marissa Meyer
This is the series that I truly loved from the very beginning! I thought Cinder was fabulous, but each story continued to up the ante and go in directions I didn't expect. Also as we saw the gang come together, we were introduced to the wider world that I initially found a little lacking.
Murdoch Mysteries by Maureen Jennings
Obviously this is the only series on this list that is not a YA Fantasy! It is a historical murder mystery series comprised of 7 books, set in Victorian Toronto. I discovered the books after I first got into the TV show (of the same name) and whilst they are both completely different, I love them both. Anyway, I digress. This is a series that also like from the first book, but as it carries on I find the writing style becomes more accessible and each detailed crime is taken a higher level. The later books also have more Dr Ogden which is a good thing because I like her character a lot.
---
And that is that.
What would your list look like?
What current series do you think is improving?
As always thanks for reading and have a good day!
xx