Hello!
It has been a while since I have published a fairy tale and classic story post, so now it is time to rectify that with The Little Mermaid.
This is the one that proved to be a little bit more difficult for me, because compared to a lot of the previous fairy tales, I had only heard of one retelling. However it just takes a bit of digging to realise that there are more out there. I don't believe they are as well known, but maybe that's the nice thing about them. There's no hype, and then along with that, no pressure to like any of them.
So without further ado, let's discover some retellings:
---

The Seafarer's Kiss by Julia Ember.
Having long-wondered what lives beyond the ice shelf, nineteen-year-old mermaid Ersel learns of the life she wants when she rescues and befriends Ragna, a shield-maiden stranded on the mermen's glacier. But when Ersel's childhood friend and suitor catches them together, he gives Ersel a choice: say goodbye to Ragna or face justice at the hands of the glacier's brutal king.
Determined to forge a different fate, Ersel seeks help from Loki. But such deals are never as one expects, and the outcome sees her exiled from the only home and protection she's known. To save herself from perishing in the barren, underwater wasteland and be reunited with the human she's come to love, Ersel must try to outsmart the God of Lies.
This is the only one that I'd heard of, probably because it is a fairly recent release and there is a lot of chatter about it in the online book community. Reviews are mixed but I consider that to be a good thing,

Fathomless by Jackson Pearce.
Celia Reynolds is the youngest in a set of triplets and the one with the least valuable power. Anne can see the future, and Jane can see the present, but all Celia can see is the past. And the past seems so insignificant — until Celia meets Lo.
Lo doesn't know who she is. Or who she was. Once a human, she is now almost entirely a creature of the sea — a nymph, an ocean girl, a mermaid — all terms too pretty for the soulless monster she knows she's becoming. Lo clings to shreds of her former self, fighting to remember her past, even as she's tempted to embrace her dark immortality.
When a handsome boy named Jude falls off a pier and into the ocean, Celia and Lo work together to rescue him from the waves. The two form a friendship, but soon they find themselves competing for Jude's affection. Lo wants more than that, though. According to the ocean girls, there's only one way for Lo to earn back her humanity. She must persuade a mortal to love her . . . and steal his soul.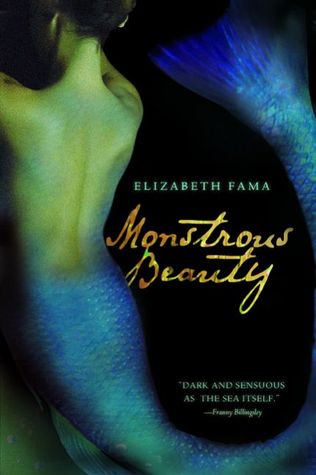 Monstrous Beauty by Elizabeth Fama
Fierce, seductive mermaid Syrenka falls in love with Ezra, a young naturalist. When she abandons her life underwater for a chance at happiness on land, she is unaware that this decision comes with horrific and deadly consequences.
Almost one hundred forty years later, seventeen-year-old Hester meets a mysterious stranger named Ezra and feels overwhelmingly, inexplicably drawn to him. For generations, love has resulted in death for the women in her family. Is it an undiagnosed genetic defect . . . or a curse? With Ezra's help, Hester investigates her family's strange, sad history. The answers she seeks are waiting in the graveyard, the crypt, and at the bottom of the ocean—but powerful forces will do anything to keep her from uncovering her connection to Syrenka and to the tragedy of so long ago.
Midnight Pearls by Debbie Viguié
"ONCE UPON A TIME"
IS TIMELESS
In a quiet fishing village seventeen years ago, one lone fisherman rescued a child from the sea. He and his wife raised the girl, Pearl, as their own daughter, never allowing themselves to wonder long about where she came from — or notice her silver hair, usually pale skin, and wide, dark blue eyes.
Pearl grows from a mysterious child into an unusual young woman, not always welcomed in the village. As all the other girls her age find husbands, she has only one friend to ease her loneliness. One very special, secret companion: Prince James.
But their friendship is shaken when trouble erupts in the kingdom — a conspiracy against the royal family combines with an evil enchantment from beneath the sea. Now, just when Pearl and James need each other most, bewitching magic and hints about Pearl's past threaten to tear them apart…forever.

Mermaid: A Twist on the Classic Tale by Carolyn Turgeon
Two sheltered princesses, one wounded warrior; who will live happily ever after?
Princess Margrethe has been hidden away while her kingdom is at war. One gloomy, windswept morning as she stands in a convent garden overlooking the icy sea, she witnesses a miracle: a glittering mermaid emerging from the waves, a nearly drowned man in her arms. By the time Margrethe reaches the shore, the mermaid has disappeared into the sea. As Margrethe nurses the handsome stranger back to health, she learns that not only is he a prince, he is also the son of her father's greatest rival. Sure that the mermaid brought this man to her for a reason, Margrethe devises a plan to bring peace to her kingdom.
Meanwhile, the mermaid princess Lenia longs to return to the human man she carried to safety. She is willing to trade her home, her voice, and even her health for legs and the chance to win his heart….
A surprising take on the classic tale, Mermaid is the story of two women with everything to lose. Beautifully written and compulsively readable, it will make you think twice about the fairytale you heard as a child, keeping you in suspense until the very last page.

Lost Voices by Sarah Porter
What happens to the girls nobody sees—the ones who are ignored, mistreated, hidden away? The girls nobody hears when they cry for help?
Fourteen-year-old Luce is one of those lost girls. After her father vanishes in a storm at sea, she is stuck in a grim, gray Alaskan fishing village with her alcoholic uncle. When her uncle crosses an unspeakable line, Luce reaches the depths of despair. Abandoned on the cliffs near her home, she expects to die when she tumbles to the icy, churning waves below. Instead, she undergoes an astonishing transformation and becomes a mermaid.
A tribe of mermaids finds Luce and welcomes her in—all of them, like her, lost girls who surrendered their humanity in the darkest moments of their lives. The mermaids are beautiful, free, and ageless, and Luce is thrilled with her new life until she discovers the catch: they feel an uncontrollable desire to drown seafarers, using their enchanted voices to lure ships into the rocks.
Luce's own talent at singing captures the attention of the tribe's queen, the fierce and elegant Catarina, and Luce soon finds herself pressured to join in committing mass murder. Luce's struggle to retain her inner humanity puts her at odds with her friends; even worse, Catarina seems to regard Luce as a potential rival. But the appearance of a devious new mermaid brings a real threat to Catarina's leadership and endangers the very existence of the tribe. Can Luce find the courage to challenge the newcomer, even at the risk of becoming rejected and alone once again?
---
And that is that.
Do you know of any more retellings for The Little Mermaids?
Which have I missed off?
Also, let me know what you think of the new graphics and blog design. I'd be interested to know your thoughts and what else I could do to improve things.
---
Thanks for reading and have a brazzle dazzle day!
xx