Hello!
In the spirit of that Friday Feeling and the fact that I haven't been posting any Top 5 Wednesday posts this month, now is the right time to do a Top 5 post. This time I'm focusing on classics and I feel like this ideal for me at the moment as I've been getting back into reading them.
Whilst I like them, they probably don't like me considering I abandoned them for the most part when I discovered YA fiction. However, I'm hoping this tide is turning with my desire to read more classics and I have found a few recently that I have really enjoyed.
In terms of this list, I have given myself a little rule. It cannot contain Austen's Pride and Prejudice. We all know how much I love and talk about this classic (if my two tag posts are anything to go by) and so being omitted from this list means that it can't overshadow any of the others and it gives them the chance to shine.
So before I ramble on any more, let's get started. Oh, and as always these are not going to be in any particular order.
---
1# Northanger Abbey by Jane Austen

Luckily for me, I did only omit Pride and Prejudice because if I had to call out my other favourite Austen, it would be Northanger Abbey.
This novel has a completely different tone from any of Austen's other works and it is rather refreshing. Written around the time that gothic literature was becoming the norm, it pokes fun at the genre and even references some of the novels of the time. The protagonist Catherine Morland is a booklover who thinks that life is like a Gothic novel and it a brings a lot of fun and wit to the narrative. What I also love about it is that you can tell that it was a novel meant for reading aloud in front of a family audience. Austen also addresses the reader and often highlights that Catherine is the heroine of her own story. Some people might think this is not a good thing, but it it makes a change for me knowing that she is not a perfect heroine and that she learns this difference between reality and fiction. I connected with her on a lot of levels and I love the fact there is another Austen protagonist next to Elizabeth Bennett that I can relate to.
2# Frankenstein by Mary Shelley
As a rule, I don't read Horror. It's a genre I wouldn't touch and yet I always felt the need to read this and discover how it has influenced literature and popular culture as a whole.
This book terrified me in a good way and it still makes me think deeply about humanity and how far scientific enquiry should go to improve our own mortal existence. It took me by surprise that Mary Shelley could write a novel that would always be relevant, no matter the decade or century.
If you want my more coherent thoughts on the novel then feel free to look at this review I wrote a couple of years ago on one of my older blogs.
I think I might actually re-read this soon as it is a book that requires more than one read.
3# Tenant of Wildfell Hall by Anne Bronte
I'll profess now that I really do not see the appeal of the over-dramatic, soap-opera like plots of Jane Eyre or Wuthering Heights so discovering in this novel that Anne Bronte was more focused on Victorian morals and challenging society's perceptions, was a huge breath of fresh air. It's clear in the acts of Helen Huntingdon (the main female protagonist) that she is a modern woman, opposed to drink, spousal abuse etc and who wants the absolute best for her and her child.
It is often considered to be a feminist novel and I certainly agree with that statement. With Anne Bronte caring more about realism rather than romanticism, she opens up another window into Victorian society and expresses those views that many prefer to keep silent.
4# Dr Jekyll and Mr Hyde by Robert Louis Stevenson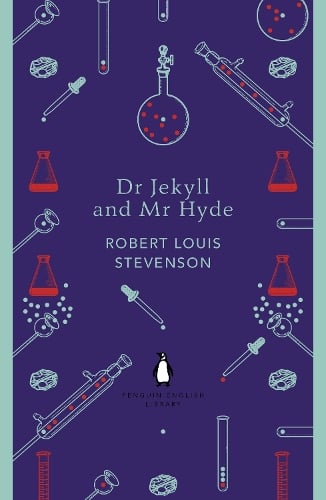 I am a fairly recent convert to this book despite it being one I've had on my TBR for ages. What I really like about this book is that it manages to contain so much detail, plot, and character study in such a concise manner and always keep you intrigued. It's also a classic that you can easily read in a day. In my edition, although the story is combined with a few others, it is only 54 pages long. If you're like me and can read 50-100 pages per day then it's nothing. If not then it is still a shorter read compared to most classics of 500 or so pages.
What I also like in this is Robert L Stevenson's writing style. It is fluid, poetic, and keeps you on your toes.
And in terms of the science fiction aspect, I kept comparing this to Frankenstein. I think that if you have read Frankenstein and enjoyed it, this classic is certainly another good one to go for.

5# Little Women by Louisa May Alcott
I've read reviews of this classic being too saccharine, sickly-sweet, and completely unbearable but when I first read it as a teenager, I was instantly struck by the relationship of Meg, Jo, Beth, and Amy and their transition from childhood to womanhood. Also the fact that they're all completely different and yet retain this strong sibling relationship. That is really important to me and I love seeing it in fiction!
I think I resonate with it in the way I do because it was one of the very first classics I read and it signalled that shift from the middle-grade fiction to more adult novels, just like the characters all transitioning into adulthood. It marked a change in what I was reading and when I do find myself in those transitional periods, I will go back to it (whether it be the book or the 1994 film adaptation) and it helps me to make sense of everything that is going on.
---
And because it is me, I can't leave this as it is without recognising just a few more classics that missed the cut:
Cranford by Elizabeth Gaskell
Wives and Daughters by Elizabeth Gaskell
A Christmas Carol by Charles Dickens
---
And there you have it.
Do you like classics?
If so, what are your favourites?
Thanks for reading and have a good day!
xx