Hello!
Welcome to day 6 of the 31 Day Disney challenge and today's question is your favourite heroine.
Out of them all, one of my top favourites is…
Esmeralda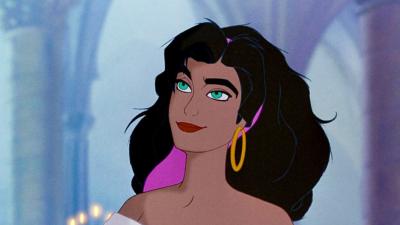 Like Belle, she is sensitive, caring, stubborn, and not afraid to speak the truth, no matter how much trouble she throws herself into. She is a staunch believer in standing up for one's own rights and by calling out Frollo and his dictatorship, she refuses to degrade her own self-worth as well as that of Quasimodo and anyone else who doesn't happen to fit into society's conventions. I greatly admire her for that and I wish Disney would promote her character more!
I have however seen her out and about in Disneyland Paris and I remember getting her character autograph during one of my first trips. There was also one moment when she was out near the front of the castle and Tweedle Dum and Tweedle Dee came down, teasing her and playing about in front of everyone. It was a really fun moment to watch!
That's all I've got for now.
---
Fun Facts:
In the film, she is the only singing character to be voiced by two actresses – Demi Moore, and Heidi Mollenhauer.
In the original story, she was killed by Frollo.
The white dress that she wears at the end of the film is actually an undergarment (in the 15 century at the time the original story is set, prisoners were denied clothing but permitted to keep their undergarments in order to protect their modesty)
---
Thanks for reading and have a brazzle dazzle day!
xx