Hello!
Anyone fancy going on an adventure, through the land of exotic tales full of excitement, wonder, and imagination?
I know I do, and Adventureland is one of those areas where exotic tales sit adjacent to the real world, and our cinematic heroes rub shoulders with characters from literary classics.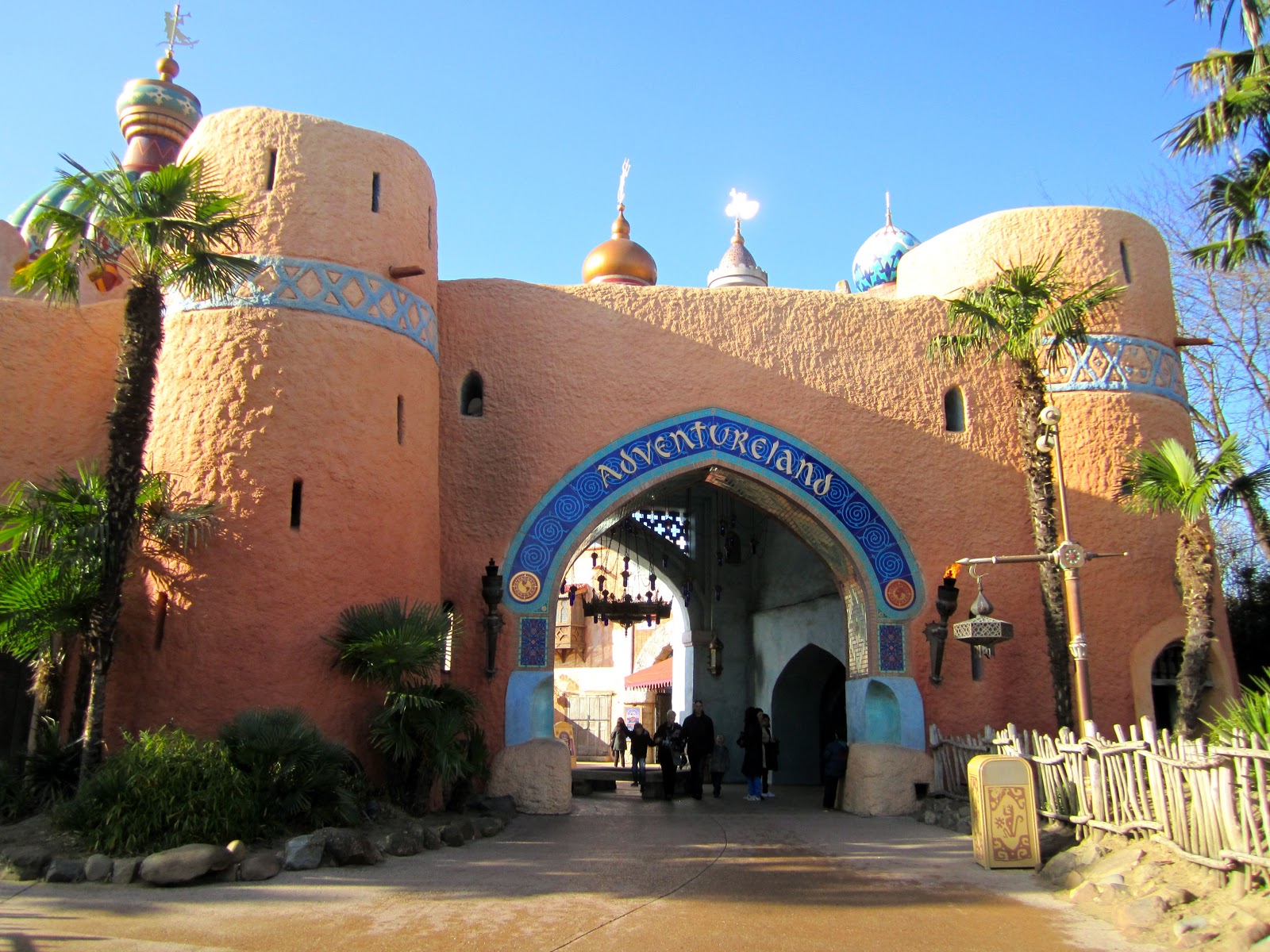 And what could get any better than this fantastic archway straight into the magic. If you look closely at the arch you should be able to see the compass hinting at the fantasy/life contrast – depicting the world's two hemispheres – that was the logo for Disney's True Life adventures. Hidden are also the letters WDI for Walt Disney Imagineering.
What instantly hits you on entering Adventureland is that it is not solely themed to the jungle that inspired the original lands in Disneyland and Walt Disney World. Here, Imagineers incorporated African deserts and tropical Caribbean islands to build on the different adventures, play on the notion that Europeans were/are always interested in the exotic, and create a more immersive environment that seamlessly transitions between both Frontierland and Fantasyland. Personally I can't get it out of my head that they were also hinting at France's colonial history, but that could always just be a mere coincidence.
As a result of this varied theming, the land is split into four areas:
Adventureland Bazaar – the recreation of Agrabah from Aladdin
African Deserts – mainly composed of shops and restaurants
Asian mysterious jungles – themed to explorers
Adventure Isle – where fantasy and adventure collide.
For a land that covers a vast amount of space, there aren't as many attractions as you'd expect, the majority of the land destined for exploration. The attractions are:
Pirates of the Caribbean
Indiana Jones et le Temple du Péril
Adventure Isle
La Cabane des Robinson
Le Passage Enchanté d'Aladdin
La Plage des Pirates
I'm not going to mention my favourites as they have already started to be posted under the DLP at 25 banner, but I will say that they epitomise classic Disney!
Instead, the land is rich with greenery that makes it incredibly beautiful. To make sure that all the different species of flora flourished with the changing seasons, Imagineers planted a forest of bamboo around the land, creating a micro-climate. All in all the land contains 250,000 flowers, 150,000 trees, and 450 varying species of bush.
Restaurants:
Blue Lagoon
Agrabah Café
Colonel Hathi's Pizza Outpost
Restaurant Hakuna Matata
Coolpost
Shops:
Les Trésors de Shéhérazade
La Girafe Curieuse
Temple Traders Boutique
Le Coffre du Capitaine
I often don't get the time to wander round Adventureland as much as I would like but it is the land where there is always something new to discover and explore. The adventures are exciting, swashbuckling, fantastical, and it incorporates the classic theming that Walt Disney was always inspired by.
It's also full of those classic stories that I want to read (Robinson Crusoe, Treasure Island etc) so I can further enjoy the many adventures on offer.
---
Fun Facts:
Captain Hook's Pirate Ship and Skull Rock are exclusive to Disneyland Paris although they were inspired by old attractions in Disneyland (they were removed to make way for a Fantasyland expansion)
Peter Pan is not the only story easing the transition between Fantasyland and Adventureland. Gepetto's stricken water craft can be found on the northern shores of the lagoon, very close to Au Chalet de la Marionnette.
La Cabane des Robinson stands at 77 feet tall and is the land's focal point. The tree was also called Disneyodendron semperflorens grandis and each of its 300,000 plastic leaves were attached by hand.
---
What do you like about Adventureland?
---
Thanks for reading and have a brazzle dazzle day!
xx