The battle between four magical Londons comes to a head in this stunning finale to the New York Times bestselling Shades of Magic trilogy by rising star V. E. Schwab.
London's fall and kingdoms rise while darkness sweeps the Maresh Empire—and the fraught balance of magic blossoms into dangerous territory while heroes and foes struggle alike. The direct sequel to A Gathering of Shadows, and the final book in the Shades of Magic epic fantasy series, A Conjuring of Light sees Schwab reach a thrilling culmination concerning the fate of beloved protagonists—and old enemies.
---
After a long wait, this is set to be released to the public this coming Tuesday (21st February).
However, I won't have to wait those extra few days because the amazing Waterstones sent me my pre-ordered copy today! It was a huge surprise this morning to open the door to the postman and see him carrying the book-sized box! Totally unexpected. Good job I was in the house alone because there was a lot of squealing and jumping about going on.
I came across this series last year when I was first discovering VE Schwab's writing and I loved it instantly. The magic system is unique, interesting, and utterly magical. Mix that with time travel and we've got one of the best fantasies I've read in a long time. It's also brilliantly written and devised.
Not forgetting to mention that I also adore the UK paperback cover. It looks great next to the other two: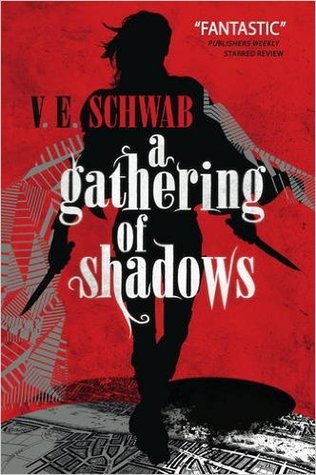 ---
Is anyone else excited?
I'm super psyched to start reading it but I'm not going to pick it up until March.
---
xx