Hello from one of the most beautiful and enriching lands in Disneyland Paris.
Here we honour the European countries that provide the backdrop for many of the early Disney classic films and bring them to life, not to mention their respective characters.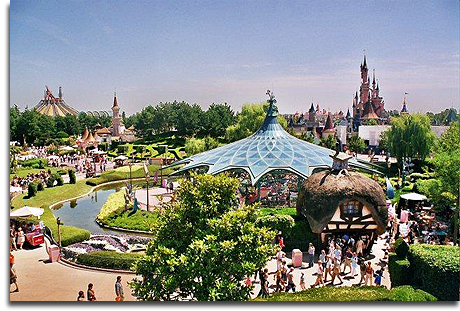 Whilst retaining the history and the European influence of these tales in the architecture, Imagineers wanted to emphasise the fantasy and escapist elements that were truly Disney – the beanstalk, Alice's teacups, a dragon, a wild maze etc… They also deigned to create a land that would reflect many different moments inspired by Disney classics.
Disney's famous dark rides include:
Peter Pan's Flight (newly re-imagined and updated)
Les Voyages de Pinocchio (Pinocchio)
Blanche-Neige et les Sept Nains
Alice in Wonderland has a big presence in Disneyland Paris' Fantasyland, having two popular attractions – Alice's Curious Labyrinth, and Mad Hatter's Tea Cups. Many of the characters also come out for regular meet and greets (Alice, the Mad Hatter, Cheshire Car, The White Rabbit…)
There is also:
Les Pays de Contes des Fees

Casey Jr, Le Petit Train du Cirque

Le Carousel de Lancelot

It's A Small World

Dumbo: The Flying Elephant
Alongisde the popular Fantasyland attractions, one original and now forgotten landmark is Les Pirouettes du Vieux Moulin. A windmill, it pays homage to one of Disney's short films made in 1937 – The Old Mill (and one I will be talking about in one of my next Through the Decades posts)
Restaurants include:
Auberge de C

endrillon

Toad Hall Restaurant

Pizzeria Bella Notte

Au Chale de la Marionnette
Shops include:
La Confiserie des Trois Fees
La Bottega di Geppetto
Sir Mickey's

.
More importantly, meet and greet's are a dime a dozen in Fantasyland. There are the permanent fixtures with the Princess Pavillion and Meet Mickey Mouse, but many other popular characters also make an appearance near the back of the land.
What I find particularly striking about Fantasyland is how seemless all the countries and stories have come together. We have England, France, Italy, Germany, Holland, Belgium, and because most of the stories are from different medieval time periods, they don't stand out against each other – it looks perfectly natural for Excalibur to be located right in the courtyard of Sleeping Beauty's Castle. Whilst some newer tales like Alice in Wonderland and Peter Pan mght be more Nineteenth/Twentieth Century, their fantastical elements (particularly the bright, engaging colours) blend into the fantasy created by the older tales. And then that in turn creates the perfect setting for It's A Small World as the attraction and the entire land play on the same universal themes.
I also like the land's atmospheric contrast between the chaotic adventures of each tale and then the slower journey that you have further exploring the older tales. Near the back by Princess Pavillion, It's A Small World, and Le Pays de Contes des Fees it is always quiter and calming – the majority of it due to the addition of water. It might be a bad place to be when it starts to rain heavily (very open with no cover) but I always like to walk around back there and discover more of the stories I grew up reading.
As a bookworm like Belle, Fantasyland is a perfect paradise. It is very easy to lose myself in the magic of the land and feel like I'm a part of each tale. It's also the land full of the Disney films I love the most.
More importantly, it is the most accessible in terms of attractions – chariots for Le Carousel de Lancelot were specifically made for guests unable to ride the horses. There is something for everyone and it is the land that truly unites Disney stories and creates the Disney family that we all want to be a part of.
____________________________________________________________
Fun Facts:
Compared to just one horse on the DL and WDW carousels, all of the outer horses on Lancelot's Carousel are "lead" horses. The glimmer and shine that reflects off the armour as they turn creates a royal kind of magic.
Casey Jr is the first ever attraction to use Disney's unique "OnBoardAudio" techonology.
Pizzeria Bella Notte was built from an animator's approach. It uses a technique called 'squash and stretch' that redistributes mass in an animated character or object. Normally we don't notice it as it happens quickly but when it is slowed down or freeze-framed, there is an interesting redistribution of shape that makes the character or object more animated. Examples of this diversion are the swaying walls and dancing pillars!
The score for It's A Small World was played by the London Philharmonic Orchestra.
_____________________________________________________________
Thanks for reading and have a brazzle dazzle day!
xx