If there is one computer game that used to keep me captivated for hours, it was the Sims. I would play it for ages, forgetting that everything else existed. My sister and I used to play it together – she would create the families and I would be the architect, building a lot of houses from scratch. I loved it.
I've seen this book tag floating around for the last few months and whilst I don't really play on the Sims that much anymore, I couldn't pass up the opportunity to join in.
---
So with that out of the way, let's get started:
The Original Sims – The best author debut
This is the only book I can think of for this question and when I first read it, I loved it. Whilst I like everything else Victoria Hislop has written, this will always be my favourite.
The Grim Reaper – Saddest character death
I'm not mentioning names, but the death hit me right in the feels. 😥
Sims Getting Stuck – A character that just got in the way
Manon Blackbeak. Whilst I have warmed to her character, I'm still not a huge fan of her and her chapters are a huge slog whenever I'm trying to read one of the later Throne of Glass books.
Simlish – A book with amazing writing
I couldn't choose the one book because for me, Laini Taylor's writing is what makes these some of my favourite books at the moment. It's fluid, descriptive, and beautiful. It might not be for everyone but I love it.
Expansion Packs – a series where the books keep on getting better.
The storytelling was always great from the beginning but through all the 7 books, everything just gets smoother, easier to understand and more captivating. It might be a completed series (book wise – the tv show is ongoing) but it still counts.
Sim Romance  – The worst case of insta-love
I didn't like how the main character (River) instantly falls for Fenrin, the supposedly, most perfect boy in the entire school. I was shaking my head in disbelief. Suffice to say that really put me off this book.
Cheats – a book that was entirely unrealistic
Truthfully I want to say every YA Contemporary under the sun that is heavily focused on romance, but the one I will go for is…
If there was a book to ever put me off reading anything else from a particular author then it was this. I'm sorry but who in the world creates a theorem about dating a girl with one specific spelling of a rather common name (even if it is one I like)? I get that Colin is a child prodigy but at the same time he is clueless, stupid, and to quote Mary Poppins, he can't see past the end of his nose. It's so unrealistic and dull that it makes me want to scream!
Needs fulfilment – a character that makes all the wrong decisions.
Can I copy my above answer and say Colin? However I will choose a different answer and say Adam from…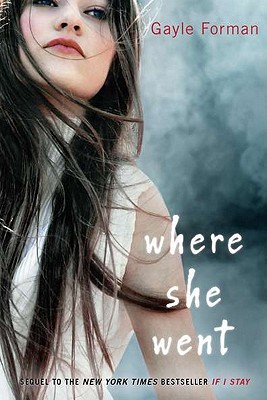 Oh Adam, stop being a selfish wannabe and get a grip. Whilst I completely understood his motivations in If I Stay, he was infuriating, but he was was even worse in this. He was so wrapped in his own self-contained bubble that he didn't care and every decision he made, ultimately backfired. I actually loved If I Stay but he really put me off liking this book.
Error Code 12 – A series that started off great but went downhill from there.
The only series that comes to my head is….
I say that in relation to both the books and the TV series. I was really curious about it at first and as I got into it, I started to rather like it but it soon got very old, very fast. I get why it is popular but the super-angsty teen drama, highly problematic plots, and never-ending "twists" drove me round the bend. The one thing this series needs to do is end for good before it gets far more far-fetched than it already is.
The Sims Vortex – A book/series that completely engrossed you.
There are loads of books but one that instantly comes to my mind is:
I have so much love for this series, especially since it threw me into the world of fantasy fiction. I adored it when I was 11/12 and it is still one of my favourite trilogies. The richness of the storytelling is amazing, it has great characters, and it's a world that always offers up something new every time you dive into it.
---
And that is it.
I had such a blast writing this up even though finding answers wasn't always plain sailing.
I don't know who I would want to tag so I tag everyone who reads this and wants to join in on the fun!
---
Has anyone else read any of the books in the tag?
What do you think?
What answers would you give?
---
Thanks for reading.
xx