Hello!
I'm ready to use Aggie Cromwell's broomstick and portal to take me and the rest of you all the way back to the 1920s to see the early life of the Walt Disney Studios. Because there is quite a bit to these early years, I'm splitting the 1920s up into two segments. The second segment will be posted at a later date.
So hold on tight for this instalment, because here we go:
1921-23: Walt Disney and Ub Iwerks founded Laugh-O-Grams in Kansas, Missouri.
They both started to animate short reels based on classic tales and Aesop's Fables. Nearly all of these films survived and have been available as bonus features on DVDs, particularly the Blu-ray Beauty and the Beast, and 60th anniversary Blu-ray Alice and Wonderland. All of these films have now fallen into the public domain due to their date of publication:
Newman Laugh-O-Grams (1921)
Little Red Riding Hood (1922)
The Four Musicians of Bremen (1922)
Jack and the Beanstalk
Jack the Giant Killer
Goldie Locks and the Three Bears
Puss in Boots
Cinderella
Tommy Tucker's Tooth – mostly live action and this film in particular was commissioned by a dentist Thomas B.McCrum for the Missouri School system, in order to promote dental hygiene. The money made from this film was invested in the original development of the Alice Comedies instead of going to the studio's creditors.
Alice's Wonderland – the pilot film for the Alice Comedies starring young actress Virginia Davis. Her initial contract was signed on 23rd April 1923, giving her 5% of the receipts from the short films.
When the studios fell into bankruptcy, Walt sold his film camera and moved to Hollywood, bringing with him an unfinished reel of Alice's Wonderland.
---

16th October 1923 – The creation of the Disney Brothers Cartoon Studio that would eventually become the Walt Disney Company.
The date is synonymous with when Walt signed the distributing contract with M.J.Winkler – the New York Distributor of the Alice Comedies.
---

1923 – 1927 – The Alice Comedies
Bringing his brother Roy on board to handle the finance and the main running of the studios, as well doing a little bit of film-making, Walt and Ub Iwerks could work on continuing these popular shorts.
Fifty six films were produced and over the years, he had 3 other actresses to play Alice after Virginia Davis – Dawn O'Day, Margie Gay, and Lois Hardwick.
The moderate success from these shorts enabled Walt and Roy to set up the studios on Hyperion Avenue in February 1926.
With the films appearing in cinemas, Walt invited many people besides Ub Iwerks to join the new studio. He wanted to seek talent that was superior to his own, knowing that they would improve the overall quality of his films.
---

1926 – Oswald the Lucky Rabbit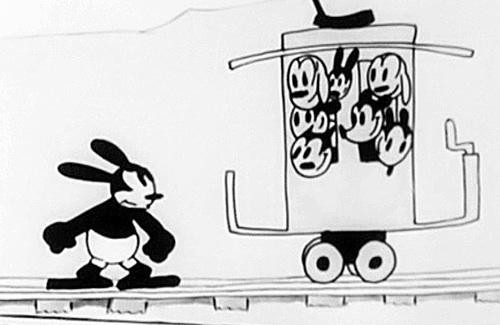 By late 1926, Universal Pictures asked Disney's new distributor – Charles Mintz – for a new cartoon series. Walt gave him sketches for a new character called Oswald the Lucky Rabbit.
The first Oswald Cartoon, Poor Papa (1927) showed him as an old rabbit with an aggressive attitude. It was poorly received by Mintz and he demanded a better, younger version of the rabbit. However it was significant in introducing Oswald's children who would later reappear in later shorts.
He was launched into his own series through Trolley Troubles, portrayed as a small and mischievous rabbit who often found himself in trouble.  His luck would however save him, hence his name.
Similarly to later characters he also had a love interest. His original interest was called Fanny, a sultry rabbit. However she would later be replaced by a cat called Ortensia in The Banker's Daughter.
Before he became one of Mickey's main adversaries, Pete was also an enemy of Oswald's. The two were bigger rivals, often at odds for different reasons. Oswald however would always come out on top due to his constant strokes of luck.
The luck he brought was great for Disney at the time, becoming so popular that he sparked the first Disney merchandise.
However, Walt Disney's luck with Oswald ran out when in 1928, he asked for an increased budget. Mintz told Disney that he was going to cut the budget and if Walt did not agree, Mintz would take Oswald for himself. Of course this happened and Mintz hired all of Disney's animators away from him, with the exception of Ub Iwerks. What stunned Walt more was finding out that he didn't own the copyright for Oswald. Instead of accepting any more deals to continue with Oswald, he left the character and Universal behind.
Ironically with Universal, Oswald's popularity and appearances in films would lessen with every year until he fell into obscurity. Ultimately he was forgotten by the public and possibly Universal itself.
---
What is the overall significance for the Walt Disney Company?
Laugh-O-Grams – They kept Walt Disney interested in imagining later films inspired by classic fairy tales and stories, particularly Cinderella.
Alice Comedies – as a mixture of live action and animation, they helped to create the technology and future advancements for some of the later hybrid films such as Song of the South.
Oswald the Lucky Rabbit – Walt Disney would have learnt the hard way about the importance of copyrights and also the universal acclaim that would come with a fun, perky and likeable character. Although the end result for the character was unlucky, he gave Walt Disney the determination to imagine and create a universally-loved mouse that would push the studios into recognition. The studios would also spend 80 years fighting with Universal for the character, finally succeeding in the 2000s.
---
So that's everything up to now.
I'll be back with the second part at a some point within the next couple of weeks.
Thanks for reading and have a brazzle dazzle day!
xx