Hi everyone..
Wow. I can't believe how fast time is passing at the moment. People are getting into the Christmas spirit (not me just yet), my village has had its annual November Victorian Day/Christmas market, I've only got two/three weeks left of Brownie leading and it won't be long before one of my favourite BBC series comes back on the air. It's scaring me. On the plus side I read and re-read a few books! But then if I hadn't, I wouldn't be writing and posting this.
As always I will try to remain spoiler free.
First Time Reads:
The Graces by Laure Eve
I didn't write a review for this book but I did have a bit of a love/hate relationship with it. When I heard it was about witches I knew I had to read it, but almost instantly it gave off a lot of Twilight vibes some of which are problematic and not very likeable. A lot of it was down to the characters and I was annoyed with the prospect of suspected insta-love, and everyone as well as the main character swooning of the clichéd beautiful, not-a-hair-out-of-place male interest. Whilst there were bits of this book I did like, if someone would ask me to choose this or Twilight, I would go for Twilight.  I have heard that there will be a sequel and I don't think I like it enough to want it.
Rating – 3/ 5
Deadly Decisions by Kathy Reichs:
This was another book that for me fell a bit short of the mark. I like Kathy Reichs as a crime/mystery writer as she uses her own scientific ability and profession (forensic anthropology) to make the specific and detailed science in her writing as realistic as possible, but there needed to be more to it than that. This time the plot – rival motorcycle gangs and crossfires – didn't appeal to me and it dragged much more than her previous books did. Secondly Dr Temperance Brennan (a very different character from her Bones counterpart) made some not so smart moves that are questionable considering she's meant to be intelligent and observant. However one thing I did like from a very personal point of view was Brennan dealing with her own ignorance over a deaf FBI colleague. It just didn't stand out to me as the previous books did, although I don't want to feel discouraged from reading the other books in the series.
Rating – 3/5
Tales from the Shadowhunter Academy by Cassandra Clare
You can go here to read my thoughts on this bind up of novellas but I loved it. I love anything to do with the Shadowhunter world, the character of Simon Lewis (though not my favourite – that's Magnus Bane), and the different dynamics between all of the main characters. When it comes to Simon in particular, he sees the world for what it is and what I found to be an important character development is him helping the other mundanes/Shadowhunters to realise that the world is not split into good and evil, right and wrong. Those lessons are intertwined throughout all ten novellas and it's great to see a popular series focus on such important themes. The only downside to this bind up is that I wish I'd finished all of these novellas in e-book format before I'd read Lady Midnight and specifically the short story at the end. Regardless I still loved and flew through it.
Rating – 5/5
The Collectors by Philip Pullman
This is a really short companion story to His Dark Materials Trilogy (one of my favourite fantasy series) and offers a glimpse into the mysterious and antagonistic character more commonly known as Mrs Coulter. As it is really short I can't say anything without divulging spoilers but I'll say that if you are a fan of the series, I highly recommend reading it.
Rating – 4/5
Re-Reads
The Life and Times of Call the Midwife by Heidi Thomas
I've mentioned quite a few times how much I really enjoy this BBC series. One thing I always love about tv shows and films is going behind the scenes and finding out everything there is to know about what makes them successful, and iconic, and this companion is no exception. Based on the first two series of Call the Midwife, it is a great insight into the creation of the show and how it developed from books into a television institution. Combined with fantastic photographs it is must have for anyone who likes this series and is interested in behind-the-scenes workings.
Rating – 5/5
Dr Turner's Casebook by Stephen McGann
I originally read this earlier in the year but after reading the above companion, I wanted to re-read this and savour what makes this particular tome stand out. What this one does differently is combine fiction with fact and it's done to the high quality that we expect from the show and the BBC. I rambled a lot about it in a review I posted earlier this month but it was great to see how important Dr Turner has become to the series and how intertwined he is with the goings on of Nonnatus House.
Rating – 5/5
Let Sleeping Vets Lie by James Herriot
I also listened to the latter half of this on audiobook (unfortunately abridged).
Again another series I will always praise but this third book follows brilliantly on from the previous two. There's still all the antics, James' comical courtship of Helen Alderson, and the warmth that radiates from the general storytelling. I love it and nothing will change.
Rating – 5/5 although I'd knock a point off the audiobook for missing out the antics of Boris the grumpy and irritable cat!
Aristotle and Dante Discover the Secrets of the Universe by Benjamin Alire Saenz.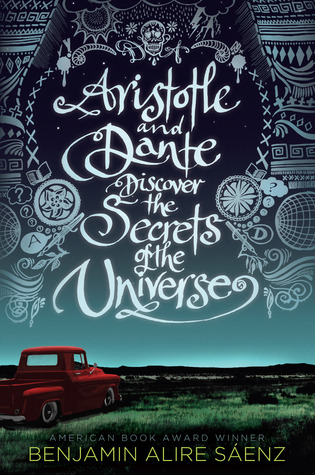 I am definitely leaving the best until last because yet again this book blew me away, not to mention ripping my soul in two and tugging at my heartstrings. What particularly stands out about this book compared to a lot of YA Contemporaries is that are two families that have their own struggles but remain strong, loving, and determined united fronts. It's a very rare combination and fantastic to read about.
Rating – 5/5
And that's it.
What books did you read this month?
What were your favourites?
Have you read any of these books?
What were your opinions?
xx