Welcome back to this weekly challenge of cutting down one's growing Goodreads TBR. It was created by Lia over at Lost in a Story and the rules are as follows:
Go to your goodreads to-read shelf.
Order on ascending date added.
Take the first 5 (or 10 if you're feeling adventurous) books. Of course if you do this weekly, you start where you left off the last time.
Read the synopses of the books
Decide: keep it or should it go?
However, just before I get going I want to lie down some regulations of my own, mainly because the explanations for deciding to get rid of books are rather repetitive.
I don't fancy the plot anymore
I'm past the stage of wanting to read every YA paranormal romance under the sun
They'd end up being pushed all the way down to the furthest end of the tbr pile and never picked up.
The reviews are less than stellar (yes I do take those into consideration, especially when they're written by people I trust and who have similar tastes to me)
With that out of the way, let's get started:
The Tiger's Curse by Colleen Houck
Passion. Fate. Loyalty.
Would you risk it all to change your destiny?
The last thing Kelsey Hayes thought she'd be doing this summer was trying to break a 300-year-old Indian curse. With a mysterious white tiger named Ren. Halfway around the world. But that's exactly what happened. Face-to-face with dark forces, spellbinding magic, and mystical worlds where nothing is what it seems, Kelsey risks everything to piece together an ancient prophecy that could break the curse forever.
Decision – go.
The Guardian by Katie Klein
Seventeen-year-old Genesis Green is living anything but a charmed life. As far back as she can remember, she and her mother have been bouncing from town to town, struggling to survive on Ramen noodles and minimum wage.
Late one evening, Genesis and her boyfriend are in a car accident. Carter's SUV rolls, and Genesis finds herself injured, lying on the pavement. Just before she slips into the darkness an unfamiliar voice calls out to her, promising everything will be fine.
His name is Seth, and he's the Guardian assigned to protect her.
When Genesis begins having bizarre visions, the Guardians believe she could be useful to them. To Seth, this means stepping into the middle of an epic battle between angels and demons. Even with supernatural protection, there's no guarantee he can keep Genesis safe, something that's becoming more important to him by the day.
The line between reality and the celestial becomes so blurred that Genesis can't decide who's real and who's otherworldly, and worse: who's good and who's evil.
Decision – go
Suite Française by Irène Némirovsky
Beginning in Paris on the eve of the Nazi occupation in 1940. Suite Française tells the remarkable story of men and women thrown together in circumstances beyond their control. As Parisians flee the city, human folly surfaces in every imaginable way: a wealthy mother searches for sweets in a town without food; a couple is terrified at the thought of losing their jobs, even as their world begins to fall apart. Moving on to a provincial village now occupied by German soldiers, the locals must learn to coexist with the enemy—in their town, their homes, even in their hearts.When Irène Némirovsky began working on Suite Française, she was already a highly successful writer living in Paris. But she was also a Jew, and in 1942 she was arrested and deported to Auschwitz, where she died. For sixty-four years, this novel remained hidden and unknown.
Decision – keep
The Mangle Street Murders by M.R.C Kasasian
After her father dies, March Middleton has to move to London to live with her guardian, Sidney Grice, the country's most famous private detective. It is 1882 and London is at its murkiest yet most vibrant, wealthiest yet most poverty-stricken. No sooner does March arrive than a case presents itself: a young woman has been brutally murdered, and her husband is the only suspect.
The victim's mother is convinced of her son-in-law s innocence, and March is so touched by her pleas she offers to cover Sidney s fee herself. The investigations lead the pair to the darkest alleys of the East End: every twist leads Sidney Grice to think his client is guilty; but March is convinced that he is innocent. Around them London reeks with the stench of poverty and gossip, the case threatens to boil over into civil unrest and Sidney Grice finds his reputation is not the only thing in mortal danger.
Decision – keep
The Enchanted Castle by E.Nesbit
Jerry, Jimmy, and Cathy stumble upon a mysterious castle with a beautiful princess asleep in the garden. The princess is really Mabel, the housekeeper's niece, who is only pretending to be royalty. But when she shows them a secret room filled with treasure where they discover a magical ring, enchantment becomes a reality.
Decision – keep (but moved to a different tbr shelf I have)
The Sleeper and the Spindle by Neil Gaiman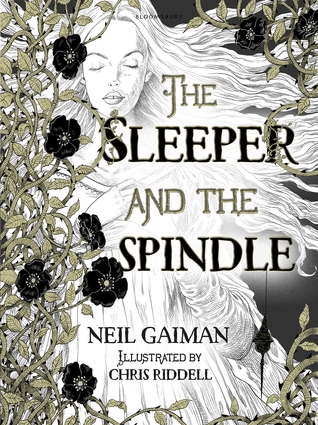 On the eve of her wedding, a young queen sets out to rescue a princess from an enchantment. She casts aside her fine wedding clothes, takes her chain mail and her sword and follows her brave dwarf retainers into the tunnels under the mountain towards the sleeping kingdom. This queen will decide her own future – and the princess who needs rescuing is not quite what she seems. Twisting together the familiar and the new, this perfectly delicious, captivating and darkly funny tale shows its creators at the peak of their talents.
Decision – keep
The Assassin's Curse by Cassandra Rose Clarke
Ananna of the Tanarau abandons ship when her parents try to marry her off to another pirate clan. But that only prompts the scorned clan to send an assassin after her. When Ananna faces him down one night, armed with magic she doesn't really know how to use, she accidentally activates a curse binding them together.
Decision – go
Yellow Crocus by Laila Ibrahim
Mattie was never truly mine. That knowledge must have filled me as quickly and surely as the milk from her breasts. Although my family 'owned' her, although she occupied the center of my universe, her deepest affections lay elsewhere. So along with the comfort of her came the fear that I would lose her some day. This is our story…
Decision – go
From Doon With Death by Ruth Rendell
There is nothing extraordinary about Margaret Parsons, a timid housewife in the quiet town of Kingsmarkham, a woman devoted to her garden, her kitchen, her husband. Except that Margaret Parsons is dead, brutally strangled, her body abandoned in the nearby woods….
Decision – keep
The A.B.C Murders by Agatha Christie
There's a serial killer on the loose, bent on working his way through the alphabet. And as a macabre calling card he leaves beside each victim's corpe the ABC Railway Guide open at the name of the town where the murder has taken place. Having begun with Andover, Bexhill and then Churston, there seems little chance of the murderer being caught – until he makes the crucial and vain mistake of challenging Hercule Poirot to frustrate his plans.
Decision – keep. 
And that is all.
xx
Have you read any of these? What are your thoughts?