Back when I was a child, every film I watched was a Disney animated classic. They were my childhood, they are what have influenced my cinematographic taste, and I believed that Disney magic was the purest form of happiness. I saw the joy on my little sister's face when she looked into the animation and experienced everything that makes Disney special. I've explained before what Disney means to me, but if it hadn't been for all of the animated classics, I don't think I'd be here now blogging and sharing all this with you.
After a difficult few hours going through all 54 animated films I have managed to narrow them all down into a list of 10 favourites. At the moment I think it is still a preliminary list as some of the middle films might likely change, but I am not going to obsess over something that will never be permanently set in stone.
Now I've got that out of the way, let's get down to business:
---

10. Lady and the Tramp:
I've not watched this for ages but it is still a long-time favourite of mine. Released in 1955 it takes all the charm of small-town America and canines and throws them together to create a story of prejudice and romance. I think I was originally drawn to it because there was no defined villain. There is an antagonist in Aunt Sarah but she's more misunderstood and ignorant than evil as her intentions are well-meaning. What defines this film more than anything is the romance between Lady and Tramp, and that spaghetti sequence under the backdrop of Bella Notte has become the quintessential Disney romance. Whilst that is one of the most famous scenes from the film, it is more than just a romance. It deals with acceptance and getting past those first impressions which I really appreciate.
9. The Great Mouse Detective.
I mentioned in the Dark Disney Era Tag that I found this film to be the most underrated classic of that era and I still stand by that. I would rank it higher but it is one of lesser known classics that I've only been introduced to within the last few years and watched a couple of times. What drew me to it was the Sherlock Holmes connection, the Victorian setting (something I adore in fiction) and Professor Rattigan as the villain. He's evil but comedic and it's a combination I like very much. Everything about it is appealing but similarly to Lady and the Tramp, I need to give it a good re-watch to figure out how I really feel about it.
8. Tangled.
Romance, action, a great villain, well-rounded protagonists, a brilliant soundtrack by Alan Menken and Glen Slater, and stunning animation. It has everything that makes it a fantastic film and worth the accolade of being the 50th classic. However, as it is a modern film for a modern day audience, I think it loses a little bit of the charm and timeless quality that we see with the previous animated fairy tales. Don't get me wrong, I can still feel it in the beginning sequences and specifically in I See the Light, but because I've grown up watching all the classics from previous eras I'm still getting used to the loss of fully hand-drawn animated films. Regardless, it doesn't take anything away from the story and I'm still of the impression that I See The Light is one of my favourite scenes in DLP's Dreams!
7. The Aristocats
A forgotten film that in my opinion is rather underrated. In the grand scheme of things I think it is not the most memorable of films, but it holds a dear place in my heart. It is one of those films that my whole family enjoys watching and that is very rare nowadays. What I particularly love about it is the comedic thwarting of Edgar's plans. Nothing seems to go his way and at the end of the day it teaches us a valuable lesson about jealousy whilst making us laugh.
6. The Princess and the Frog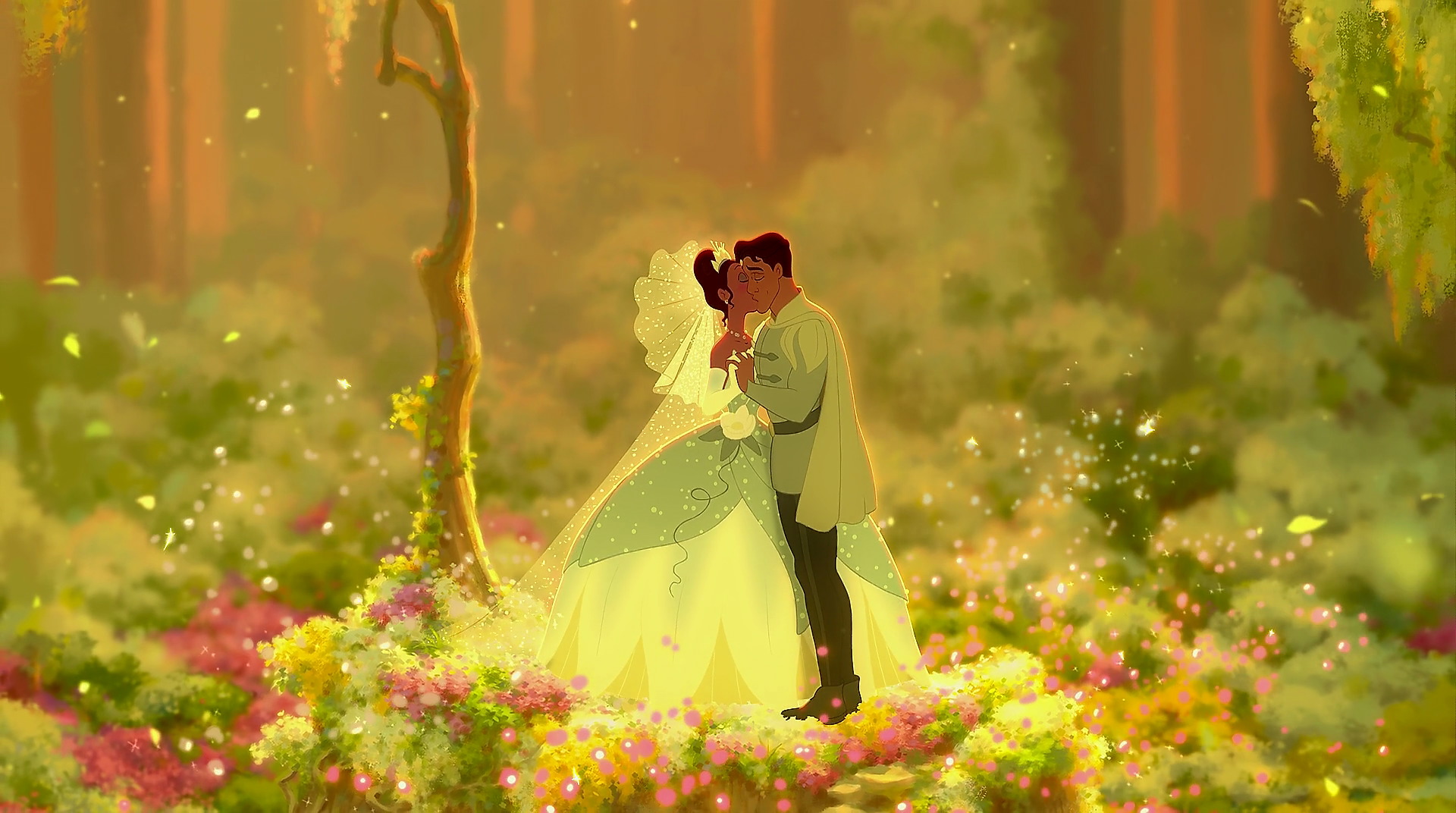 The last of Disney's animated films to be made with traditional hand-drawn animation, it does so much more than introduce us to Tiana as the first black princess. I'm going to be honest though and say that I wasn't a fan of the film when I first watched it. I liked the story but not the music – I thought Alan Menken would have been a better choice than Randy Newman. However, I was wrong. Over time I have really come to appreciate the music and its style in relation to the story because the songs hold some of the film's most important messages, in particular Almost There and Dig A Little Deeper. What I also like a lot is the friendship between Tiana and Charlotte. I'm a big believer in friendship and it is great to see one so strong and caring. At the end Charlotte could see that Tiana and Naveen had a relationship that she would never have and to sacrifice her feelings over those of her friend is sweet and thoughtful.
5. Snow White and the Seven Dwarfs
As it was the first animated feature film that started it all, it felt only right to include it. I watch it with my family and I am always amazed by it's timeless quality and story telling. We're never going to have another film like it so it is as much a cultural icon as Mickey Mouse and one of the Disney castles. I just enjoy experiencing all the magic and wonder that went into creating the characters because without it and Walt Disney's own determination and stubbornness, we wouldn't be able to experience any of the films on and off this list.
4. 101 Dalmatians
Here's a classic childhood favourite that has stood the test of time. Back when I was younger I enjoyed the film for the story and I was obsessed with dalmatians, but now I see it as a fantastic piece of culture and animation. Out of all the classics, it was the first to truly be set in the time it was made and to me it does almost feel like a piece of social history. I never really noticed that until recently but it has given me a greater appreciation of what went into the creation of this film. The xerox style of animation, the music, the human characterisations… it's a more realistic style and it's a nice, refreshing change from the perfectionism of previous films.
3. The Hunchback of Notre Dame
I have a hard time describing this film because it is so many things. It was one I never really watched as a child and I'm glad I didn't because I doubt I would have liked it. I wouldn't have seen past the darkness. However, regardless of the dark themes, it is a stunning film with a great cast of characters, and brilliant music. Judge Claude Frollo in particular has to be one of the scariest villains in Disney existence because you know that you could come across someone like that in real life. The fears he holds dear to him are fears that are prevalent in the world at the moment and it almost gives the film that quality of always remaining relevant and consistent. Similarly to number two on this list, it is the main character of Quasimodo that draws me in. Despite what he faces he is kind, loving, and just wants to experience life in society. It is a great testament to the film writers to have him question who he is because it's something we all do in our own lives and it makes him well-rounded.
2. Cinderella
The film that taught us to have courage and be kind. That phrasing might be more of a catchphrase for the live action film but it is there in the original animated film too. Together with the breathtaking animation and memorable music, it is truly one of the golden stars in the vault that will never lose its charm and timeless quality. A Dream is a Wish Your Heart Makes is a Disney anthem; Bibbidi-Bobbidi-Boo is the epitome of magic and imagination, and So This is Love is a classic example of fairytale romance. You take all that Disney magic that has accumulated over the years, put it into an animated film and Cinderella is the end result. For me no traditional princess film will be like it and it will forever stand the test of time more so than its recent live action update. I was and still am drawn to Cinderella as a character – she's kind, compassionate, loyal, and rises above the abuse she constantly receives from her stepmother and step sisters. It is that strength that makes her a great role model because she never loses sight of herself along the way.
1. Beauty and the Beast
If you've read my answers to the Disney Renaissance Era Tag  and my Disney Life facts post then it shouldn't surprise you to find out that this particular animated feature film is my favourite.
Next to the incredible score, beautiful animation, and fabulous choice in voice actors, I was always attracted to this story for its underlying messages. It might be cliché to say that "beauty is skin deep" and "don't judge a book by its cover" but it's that original prejudice and town perspective of Belle, Maurice, and the Beast that, for me, makes Beauty and the Beast seem real. I found myself relating to this a lot whilst at school, and like Belle I found my happiness and escape in books. It's the books and the giving of the library that truly connect Belle and Beast, and it showcases the power that they truly possess. Together they share that kinship of being outcasts in society and Belle in particular makes it okay to feel different and want something more than what society deems appropriate. I could write an essay on what makes Beauty and the Beast stand out for me but at the end of the day I think it was the film that gave me a love of Disney from such an early age, and I believe it has shaped how I think about society and the wider world.
---
It has taken me a long time to get to the finish line but here we are. That's my top 10 Walt Disney Animated Studios films.
---
Hope you enjoyed reading this rather long post,
and have a brazzle dazzle day!
xx